Sarah Ferguson Honors Lisa Marie Presley At Her Funeral With Touching Queen Elizabeth Quote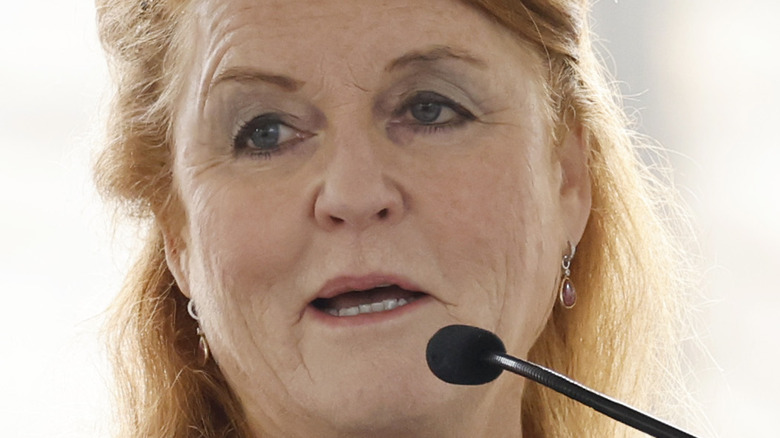 Jason Kempin/Getty Images
Family, friends, and fans flocked to Graceland on January 22 to pay tribute to Lisa Marie Presley following her heartbreaking death earlier this month. The public memorial attracted Memphis locals, admirers from far and wide, and diehard Elvis Presley fans, reports The New York Times. Several famous names were also in attendance, including music legends Alanis Morissette, Billy Corgan, and Axl Rose, who each offered solemn performances in honor of their late friend. Film director Baz Luhrmann, who just accompanied Lisa Marie at the Golden Globes on January 10, also appeared at Graceland to pay his respects.
Lisa Marie's mother, Priscilla Presley, also spoke at the ceremony, reading a statement written by her granddaughter Riley Keough: "She knew it was close to the end. Survivor's guilt, some would say, but a broken heart, is the doing of her death. Now she is home where she always belonged, but my heart is missing her love."
Another well-known figure to make an appearance was Sarah Ferguson, the Duchess of York. The royal made a touching speech to eulogize her friend that included a befitting quote from Queen Elizabeth II.
Sarah Ferguson's speech subtly paid tribute to the queen
Sarah Ferguson just made an appearance at the queen's funeral in September 2022, and now, she mourns her close friend, Lisa Marie Presley. The Duchess of York honored Presley in front of an audience at Sunday's Graceland memorial, sharing the nickname the two women used. "I stand here with great honor because we called each other sissy, and I've been with you all for all your lives really," the duchess remarked.
She continued, taking inspiration from Queen Elizabeth: "Sissy this is for you with affection. My late mother-in-law used to say that nothing can be said can begin to take away the anguish and the pain of these moments because grief is the price we pay for love, and how right she was."
The moment simultaneously paid tribute to the late queen and honored Ferguson's close bond with Presley. According to The Mail on Sunday, the friends first met in 2007 and went on to form a "sister-like" relationship. Shortly after Presley's death, the duchess commemorated their friendship on social media. Alongside a photo of her and Presley posted to Instagram, Ferguson wrote, "I say hello to you everyday and I love you my sissy and I will continue to say hello to you everyday. [...] You have been my devoted friend for many years and I am here for your family to support and love them. I am deeply saddened my sissy, you are in my heart."