The Blush Trend Emily Ratajkowski Doesn't Approve Of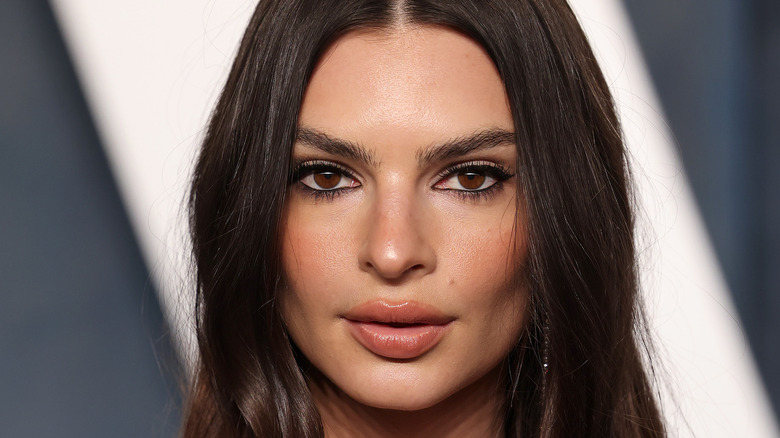 John Shearer/Getty Images
Emily Ratajkowski has made a name for herself in the worlds of fashion and beauty. Besides Ratajkowski's consistent modeling gigs and TV and movie appearances, she released "My Body" in 2021, a book of essays reflecting on bodily autonomy and how her own image is used in the media. In 2022, she premiered her new podcast, "High Low with Emrata," where she breaks down "everything from politics and feminism to sex and Tik Tok," as she wrote on Instagram. 
The mogul has also been vocal about her favorite beauty looks, and she is always ready to try new makeup techniques. Some past favorites have included the sunburn blush look — which had other users replicating her blush techniques and basing their looks off of TikTok's sunburn filter — as well as the cold girl look, which she rocked at events in 2022. 
Emily Ratajkowski, aka Emrata, is known for her signature pouty lips and dramatic eyeliner, but other parts of her routine — like using lipstick as blush — are less conventional. Plus, she's not shy about what beauty strategies don't work for her, proving that TikTok makeup trends aren't one-size-fits-all.
There's one look she'll always stand by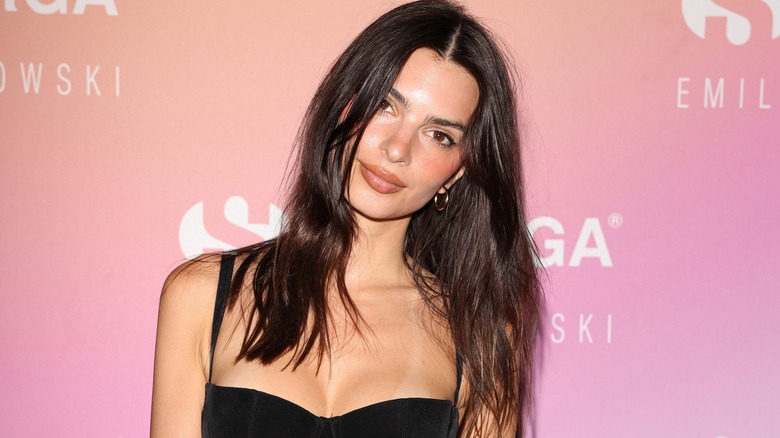 Stefania M. D'alessandro/Getty Images
Emily Ratajkowski has been open about her skincare and beauty routines for years, but there's one element of her look that's had major staying power. She told British Vogue in 2020, "I don't have a lot of natural redness in my face... I think [it] is really pretty when girls have rosy cheeks." To achieve the look, Ratajkowski has perfected a few unconventional moves. She called using lipstick as blush a "controversial trick that I've done since I was 18." She explained, "I like the texture of it a lot more than a powder."
Now that there are more cream blushes on the market, Ratajkowski stands by Patrick Ta's blush palette. She told Byrdie in 2023, "I love any cream blush so much, and I like to put it like on my cheeks and on the tip of my nose." The model explained, "Blush is just so underrated. Whenever I get my makeup done I'm like 'put more, put more!'" She also added, "I want to look sunburned," in a possible nod to the 2022 blush trend.
As internet trends go, the model sticks to what works best for her. She told the outlet, "I love the anti-clean girl aesthetic. I love the messy, like throwing on your makeup and not trying to be perfect." In an interview with Glamour, she affirmed that she prefers any individual's thrown-together style over limited and homogenous trends like the clean-girl look. 
And there are plenty of trends she can do without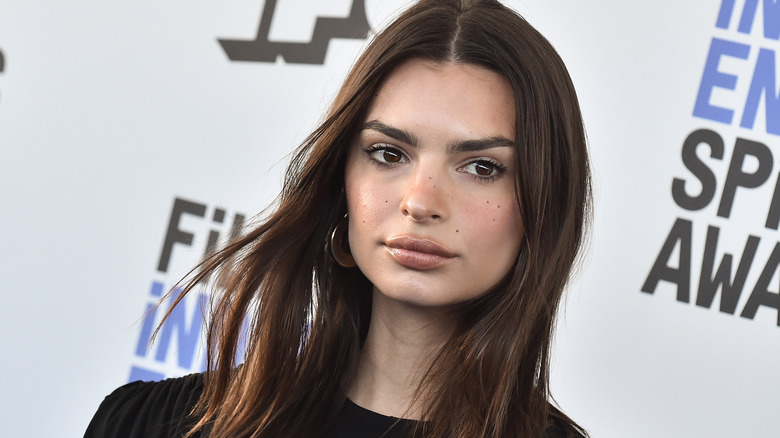 DFree/Shutterstock
Emily Ratajkowski doesn't hold back when it comes to trends she isn't a fan of. She shared with Byrdie, "I feel like this was an older trend, but like where people were putting blush so high on their cheekbones...I did not like that." She explained, "It looked bad on me."
The mogul encouraged fans to experiment with their looks however they want. She said, "Know your face and figure out what looks good on your face specifically. Don't pay attention to the trends!"
Ratajkowski also told Glamour how she would fix common blush missteps. She prescribed "doing it where the sun hits you, rather than trying to contour or anything like that, or bringing it up or putting it too low." She added, "Nothing bothers me more. Blush placement can totally change your face."
Emrata always seems to be out in front of makeup and fashion trends, so it would make sense that fads don't typically influence her. "I have my look and what I know I like, and that's kind of it," she told Glamour. "So, I do blush a certain way. I put it over my nose and on my cheeks and I draw on freckles."
Emrata also told the outlet she's ready for a serious change, and that "more diverse beauty standards" would dramatically improve the beauty industry. "What I'd love overall, conceptually, is if we could appreciate what makes people unique rather than what makes people look the same."