Why You Might Not Want To Tight Line Your Lip Liner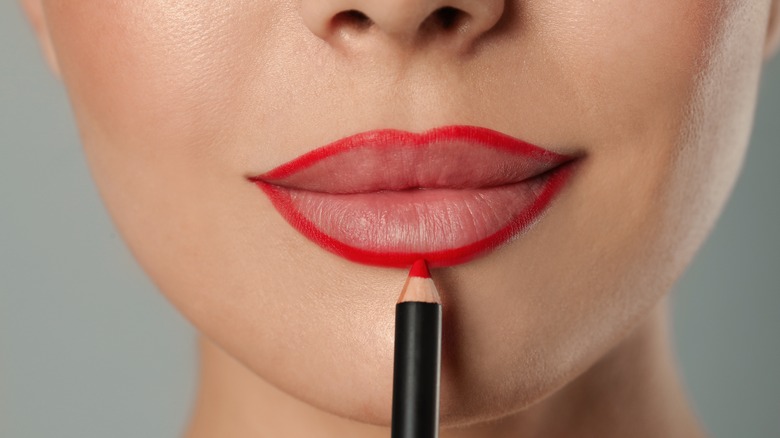 New Africa/Shutterstock
Lip liner is no longer a dated pencil your mom pulled out of her bag every now and then. Now it's a powerful tool used by beauty influencers all over social media.
Plenty of people like to give Kylie Jenner exclusive credit for the current lip liner boom in the beauty market. While she does deserve a nod, early celebs were already clued in on the transformative powers of a good tube of lip liner. Per Marie Claire, Clara Bow and Marlene Dietrich were women from the past that showed the world how you can play up your cupid's bow and rock a visible liner for shapely, sexy lips.
Today, there are so many #lipliner hacks you can use to get the shape, size, and color lips you want. One of the hottest hacks right now has to be the "tight line" technique. But with so many other lip liner tricks out there, is tight lining your lips really the best choice for you?
It may not be beginner-friendly
Huda Beauty calls it TikTok's lightning speed liner hack. Another name for this beauty phenomenon is tight lining. Much like the similarly named eyeliner hack, this liner technique gets its name from the position you hold your lips in while applying the liner. To get started, first push out your lips to their full size, then tuck them in so that all you're able to see is the natural outline of your lips. From there, take the lip liner and run it over the outline a few times until the color shows up in the shade you want. The tautness of the skin combined with a smaller canvas makes tight lining an incredibly easy hack to try.
However, experts warn against seeing TikTok lip liner tips as a "one-size fits all" situation. Talking with Byrdie, professional makeup artist Courtney Hart said that the technique could wind up being counterproductive, because it can easily cover and distort your lip shape. Lip liner's job is to accentuate the natural shape, so we can see why Hart says newbies might want to steer clear of the tight line hack.
How to fix tight lined lips if you make a mistake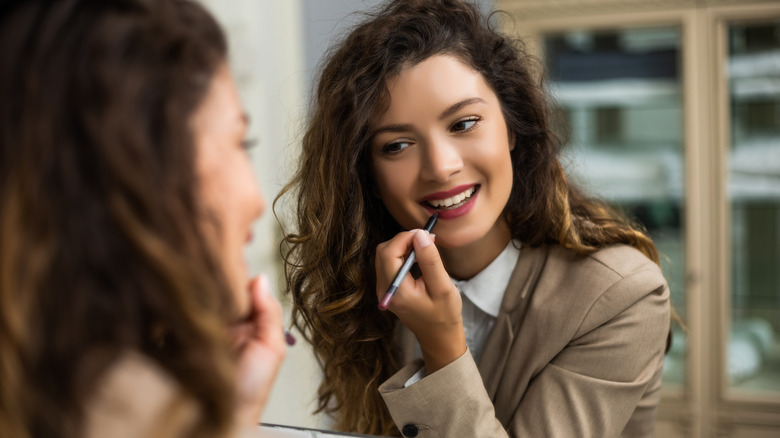 Littlebee80/Getty Images
If you tight line your lips and find out the liner didn't blend with your lipstick, IPSY recommends using a lip brush or your fingertip to gently combine the two. Then use a tissue to lightly dab away any excess color.
You should never be afraid of touching up your lips after you've applied liner. Despite tight lining being a supposedly easy hack for fuller lips, you will rarely ever get perfectly lined lips with just a few swipes of your liner.
Even pro makeup artists say they keep touch-up tools at the ready when they're applying lip liner. For makeup artist Yuki Hayashi, the best tool you can use to fix liner mistakes is concealer. "I apply it to the edges of lips before using lip liner and after applying lip liner," Hayashi explained during an interview with Vogue. Try brushing on a bit of concealer if you find your liner has strayed to areas it shouldn't while you were tight lining your lips.