How To Know If TikTok's 'Oval Layer' Haircut Is Right For You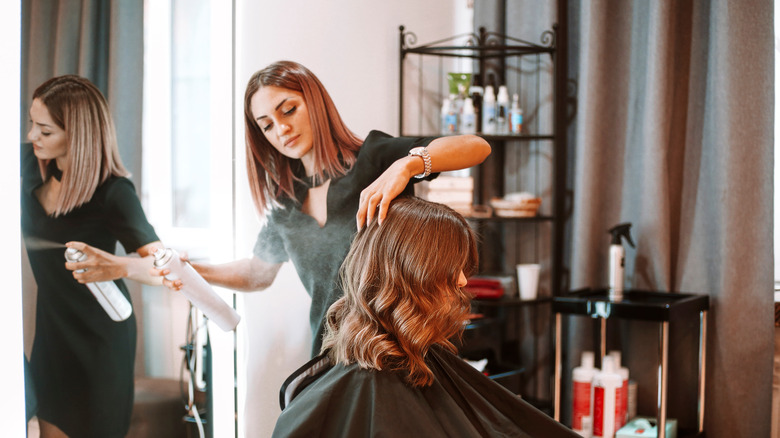 Dasha Petrenko/Shutterstock
TikTok has become the perfect place to find beauty and fashion inspiration. Want to learn how to perfectly blend your makeup on TikTok? The app has a trend for that. How about a beauty trend that actually saves you money on TikTok? Creators on the app have you covered on that as well. In April 2022, the app's beauty hashtag raked in 88.2 billion viewers, which has only continued to grow (per Refinery29).
Beauty and skincare tricks are not the only trending style topics on the platform. Haircare and cuts have taken over as well, and style casters believe we will see many of these trends out and about in 2023 (via Who What Wear). Curtain bangs, pixie cuts, and high ponytails are among some of the trending styles that are moving from online to the runway. One cut, in particular, is gaining traction on TikTok. If you scroll on the app often, you've probably seen the viral "oval layer" cut. Here's what you need to know if you want to try out the look for yourself.
The oval cut is inspired by the '90s
The oval layer haircut trend has exploded on TikTok. The look is heavily inspired by the '90s and totally gives off some Rachel Greene from the early season of "Friends" vibes. Unlike other trends that have taken a cue from the decade, this cut features layers with a more balanced look that create ovals — hence the name (per Refinery29). Gone are the days of messy layers, this style aims to be more polished.
Over the last decade, the layered cut fell out of style. However, there's now a more modern take that's booming in popularity. "The modern-day layered cut respects the different hair types and the individual's texture much more than it did in the past. They are more bespoke and less formulaic," stylist Brixton Cowie told Harper's Bazaar. "They are designed to give a more relaxed style and they allow the hair to be more low-maintenance, without much styling involved, and allowing the natural texture to be enhanced."
The oval layer cut is becoming one of the most prominent layered looks thanks to TikTok, but how can you recreate the look yourself?
Is this trendy style for you?
The viral oval layers cut can be flattering on various face shapes, as well as different hair lengths and textures, which has made it explode on TikTok. However, the look might not be perfect for everyone. Hairstylist Stephen Buller told Refinery29 that ultimately, your stylist should weigh in on whether or not the oval layer cut is for you.
You may run into issues with the cut if your hair weighs on the finer side. The layered look TikTokers accomplish can't always be replicated on those with thinner hair. Make sure you get your stylist's opinion before taking the plunge! Another thing to note about the oval layer cut is that it requires maintenance. You'll need to make sure your layers get trimmed at least every eight weeks.
If you're looking to jump on this trend, TikToker @rzfany_ has some oval layer tips for you. She recommends asking your stylist to frame your face with curtain bangs first. Then, keep the ends blunt or have them cut at a slight angle, which will make your hair appear thicker.