The Important Mistake You May Be Making With Olaplex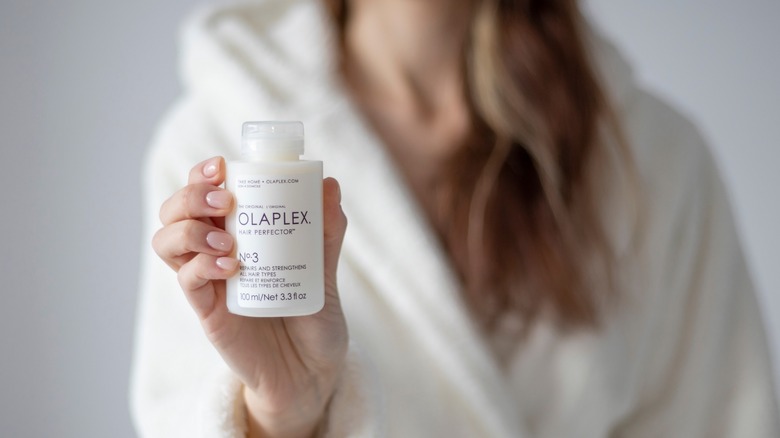 Zaruna/Shutterstock
What do Kim Kardashian, Drew Barrymore, and Jennifer Lopez have in common? They all use Olaplex. Olaplex is a brand of hair care products, ranging from shampoos to styling serums. The company explains on its website that its patented bond-building technology sets it apart from other products you'll find in drugstores or at your local salon. Essentially, Olaplex's formulas repair strands from the inside and undo damage caused by heat styling, chemical treatments, friction, and the environment.
Besides its loyal celebrity following, hairstylists also rave about the brand. Nicola Clarke, Creative Color Director at John Frieda Salons, called it a "game-changer" to Marie Claire, while colorist Yoshico-Alexis Ogawa told Allure, "Olaplex [...] prevents further damage, makes the hair strong, healthier, shinier, and also helps mend some of the previous damage."
These miracle-in-a-bottle results are most commonly associated with the brand's No. 3 Hair Perfector, a treatment so popular that one sells every 3.5 seconds (per Olaplex). However, one common mistake might prevent the holy grail hair product from working its magic.
Leave Olaplex in longer for best results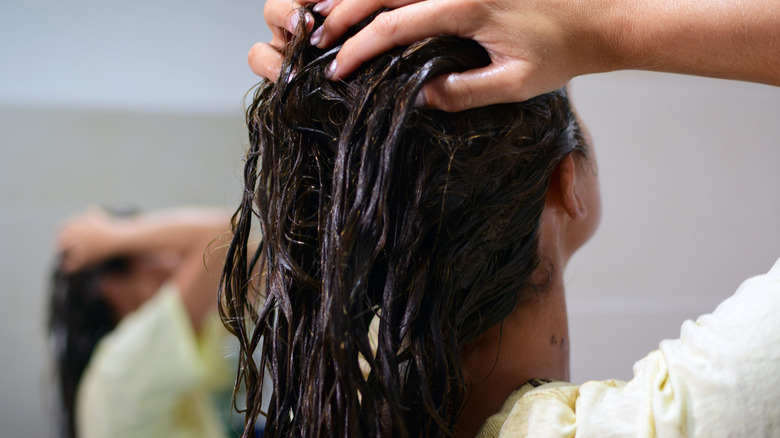 Adam_lazar/Getty Images
If you check your Olaplex No. 3 bottle, you'll notice the official directions say to leave the treatment on your hair for a minimum of 10 minutes. However, if you wash it out this soon, you might not get the product's full benefits.
Olaplex states that No. 3 actually "reaches its max efficacy at 30-45 minutes," though it continues working as long as your hair stays wet. The brand adds in a blog post, "Keep in mind, the longer it's on, the more effective it is, especially for hair that is compromised. We've seen great results from people who leave it on 30 to 90 minutes!"
Tracey Cunningham, a celebrity hairstylist, also recommends using No. 3 for far more than 10 minutes. "Put a quarter-size amount in your hair, work it through and leave it on for an hour or so in the morning," she told InStyle. However, Lloyd Court, Color Director of Seanhanna Salons, believes the benefits of leaving Olaplex in longer are limited. He told Cosmopolitan, "Generally, for any treatment, the time on the bottle is the optimum time. Once the hair has started to dry, the product will not work any further."
Can you leave Olaplex on your hair overnight?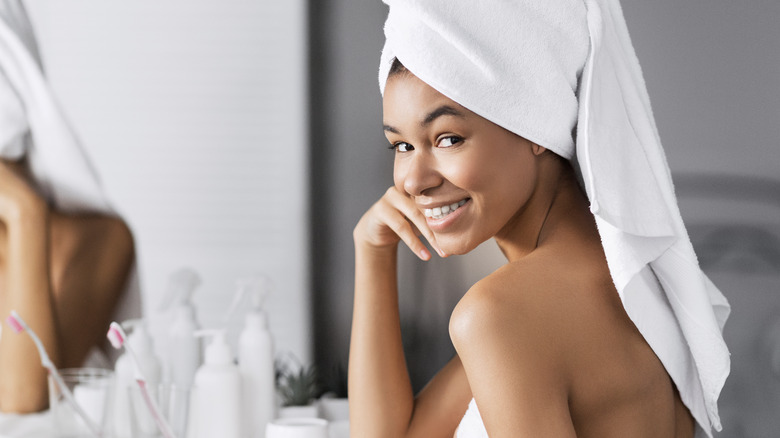 Prostock-studio/Shutterstock
Though Olaplex No. 3 may stop working once hair begins to dry, you might consider leaving it in overnight to save time and up your beauty sleep game. But does it work? Olaplex notes on its website, "As a company, we do not recommend sleeping in OLAPLEX treatments as it could get into your eyes. However, we have received great feedback from people who have used it this way."
Some of that feedback comes from the likes of Kim Kardashian. During a live beauty event, Kardashian told the crowd, "I like to do a treatment called Olaplex. When your hair is really damaged, if you sleep in that, it really works. I notice a huge difference!" Aura Friedman, a colorist at Sally Hershberger, also recommended this method to The Cut.
Steve Wynder Hair & Beauty, an Australian hair salon and brand, offers another option if you'd rather not soil your pillow: Apply a small amount of No. 3, then blow-dry your hair as you would with a leave-in conditioner. Then, wash it out during your next shower.