The Best Leave-In Conditioners For Everyday Use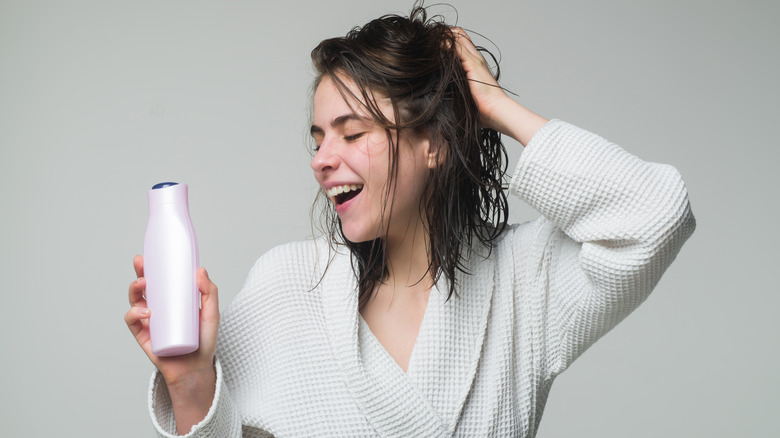 Volodymyr TVERDOKHLIB/Shutterstock
Leave-in conditioner: It's like that one best friend who will never leave you hanging. And if you don't have one in life — either the conditioner or the best friend — you're definitely missing out. According to Bustle, a good leave-in conditioner will moisturize your hair, prevent breakage, and promote hair growth. And using a leave-in conditioner is especially crucial now that we're facing cold, dry temperatures during the winter months.
Celebrity hair stylist Jen Atkin said it best when speaking to Vogue about leave-in conditioners, "Regardless of your hair type, hydration is important for the health of your hair. It's a perfect product to prep hair before heat styling, regardless of the type of styling tool." Just use a wide-tooth comb to detangle your wet hair after taking a shower, and apply the leave-in product evenly throughout your hair before styling it to yield these hydrating results. 
Adding one more step in our daily routines may seem like too much, especially for those with busy routines. But fear not! There are plenty of easy-to-use leave-in conditioners for those who prefer a more low-maintenance haircare routine. 
Try a leave-in conditioner spray for quick and effective application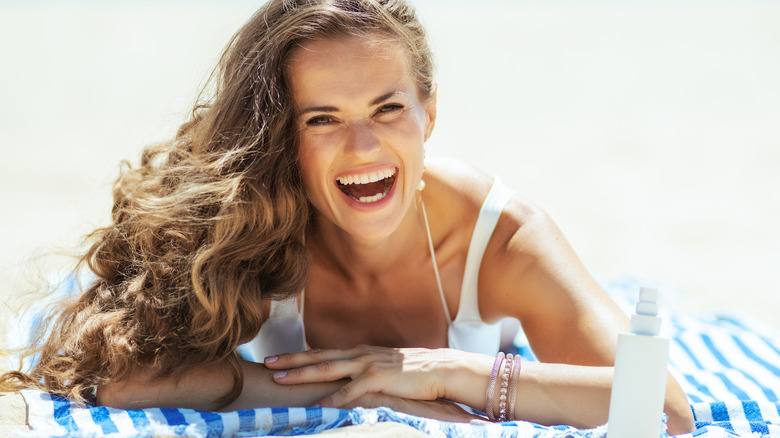 Alliance Images/Shutterstock
For starters, opting for a leave-in conditioner spray is a simple, yet effective, way to apply leave-in conditioner quickly and easily (per Vogue). Briogeo's Rosarco Milk Leave-In Conditioning Spray is one you might consider buying. We recommend buying two sprays — one to keep in your bathroom, and one to keep in your handbag for whenever you need to condition your hair on-the-go. This product works on wet and dry hair, which makes it perfect for those who find their hair dries out with the cooler, drier weather. The spray has rosehip, coconut oil, and argan oil, that work together to smooth and detangle hair. Briogeo's spray also works well in the summer, as it prevents your hair from frizzing in humid conditions.
If your natural hair has a curly or coily texture, Pattern Hydrating Mist is a leave-in conditioner that offers lightweight hydration thanks to its combination of coconut oil, aloe vera, and avocado oil. And for wavy hair, NBC recommends Ouai Leave-In Conditioner, which smooths hair and leaves it moisturized and shiny. Vitamin E, hydrolyzed proteins, and tamarind seed extract in the formula work together to strengthen your locks.
For those with natural hair, ApHogee Curlific! Moisture Rich Leave-In is an affordable option that de-tangles and adds indulgent moisture (via Bustle). Another affordable option is Jane Carter Solution's Revitalizing Leave-In Conditioner, which works well on second day hair, protects hair against damage, and softens follicles to make detangling a piece of cake.
Leave-in conditioners that will leave your hair soft and moisturized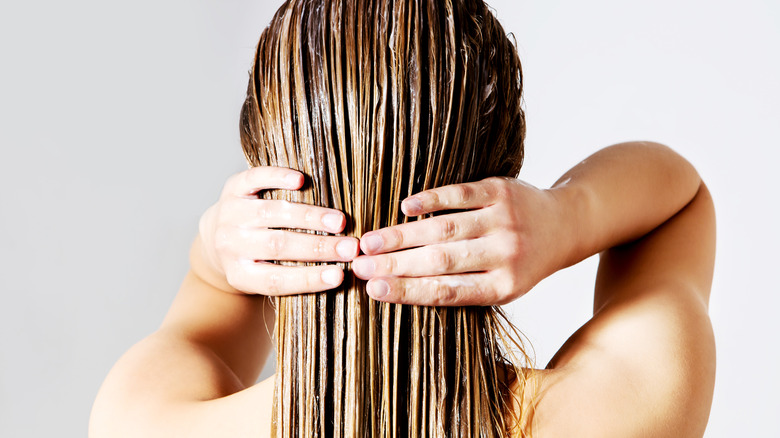 B-D-S Piotr Marcinski/Shutterstock
If you want a more emollient leave-in conditioner, then a cream might be a better option than a spray. According to Mirror UK, Giovanni Hair Care Direct Leave-In Conditioner works on all hair types and adds lightweight moisture to your tresses. This conditioner contains sage, rosemary extract, and grapefruit seed for shinier and healthier hair. This can be used on wet or dry hair, and this protein-infused product is also natural hair-friendly, per Bustle.
Another leave-in that works for all hair types, but is especially beneficial to those with natural hair, is As I Am Leave-In Conditioner (per Forbes). This product contains hydrating ingredients like apple extract, coconut oil, and lemon extract. A rich, buttery option for curly and coily hair types is Design Essentials Almond Butter Express Conditioner. While it's technically not a leave-in conditioner, it's a fan-favorite product that can be used like one to battle shrinkage and define curls (per NBC). 
A leave-in conditioner that's bound to be a hit among you and your friends is Lolavie Perfecting Leave-In, from Jennifer Aniston's haircare line (per InStyle). The winter-friendly product smooths and softens hair, with 99% natural ingredients. Like a good friend, this product will stay true to itself, and it'll keep your hairstyle intact all day long. Of course, with any of these leave-in conditioners, you can count on your real friends asking you what hair products you use during your next brunch date.