For A No-Makeup Makeup Look, Use Concealer To Highlight Your Face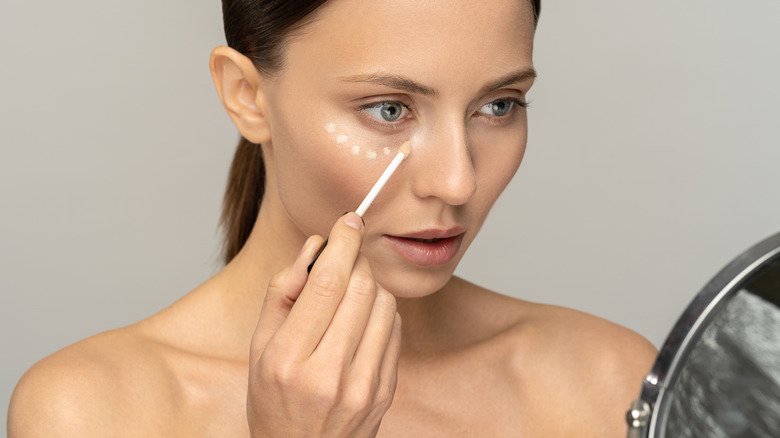 DimaBerlin/Shutterstock
We may receive a commission on purchases made from links.
No-makeup makeup is dominating social media, with the hashtag amassing well over 700 million views on TikTok alone. "No-makeup makeup is makeup that you wear that just slightly enhances your features in a very natural and minimal way," makeup artist Lindsay Katsuk informed Ipsy, adding, "No-makeup makeup has many different interpretations, but for me, it's highlighting what's already there. For people who want to 'look like themselves but polished,' no-makeup makeup is the way to go." Best of all, you don't need "Euphoria"-level makeup skills or even added extras to perfect the look — just a few products and maybe a beauty blender. 
For starters, celebrity makeup artist Erin Ayanian Monroe recommended opting out of foundation altogether (via Byrdie). Instead, apply only your go-to skincare and some oil-free sunscreen as a base. However, if you're looking for a touch more coverage, invest in a lightweight tinted moisturizer, ideally one that will let your natural skin shine through. According to Vogue, cream blush, clear brow gel, and color-correcting concealer are crucial. "The minimalistic look will definitely be here to stay," celebrity makeup artist Alexx Mayo stated emphatically. "It's quick, easy, and great when you just want to look like you and get a boost of confidence." 
To go all-in on no-makeup makeup, put away your highlighter and rely on concealer instead for a more natural glow. 
Concealer palettes are the way to go
Katie Jane Hughes, a celebrity makeup artist who's worked with the likes of Emmy Rossum and Kerry Washington, showed her TikTok followers how to highlight using just concealer. Hughes applied the lightest shade from her palette — a bright white — to the top of her cupid's bow, just below her browline, at the bottom of her chin, on the tip of her nose, and on the highest point of her cheekbones. She then blended it out with a tiny applicator brush.
Fellow makeup artists Elisa Flowers and Joanna Schlip also recommend concealer palettes, per Allure. Not only can they be used to highlight, but they're also helpful when it comes to contouring and color correcting. For starters, check out this Aesthetica Cosmetics cream palette. If your skin is dry, opt for a hydrating liquid concealer like this Maybelline eraser stick — best of all, it comes in 18 shades and has close to 6,000 five-star reviews on Ulta.
BareMinerals makeup artist SJ Froom suggested selecting a concealer between "two to three shades lighter than your foundation" to highlight. "If you have cool undertones, choose cool concealer shades to highlight and contour," Froom advised Cosmopolitan. "For neutral undertones, go for neutral concealer shades, and for golden skin tones, choose warmer shades." Flowers prefers one shade lighter though, noting that pale yellows work well on lighter skin, "Honey and peach colors are great for medium skin tones, while darker skin tones look stunning in amber and toffee." 
Mix your concealer with liquid highlighter for subtle sparkle
To achieve a dewy glow, TikToker Amanda Frisch suggests mixing liquid concealer with liquid highlighter. She applies a few strokes of concealer underneath her eyes before adding a single drop of Liquid Luminizer from Rare Beauty. The online creator then blends out the mixture with a brush, and voila — the perfect remedy for tired mornings. Who needs expensive eye creams? According to makeup artist Stephanie Flor, you can even mix liquid highlighter with your foundation for a full face shimmer, as she informed InStyle.
Refinery29 also draws attention to TikTok's viral blush and concealer combo. As makeup artist Saffron Hughes pointed out, "Adding a little blush to your concealer can help reduce your dark circles and offer a much brighter under-eye appearance." She added, "Pink is opposite to blue-green tones so it makes sense that using a pink concealer would help minimize the appearance of these areas on the skin." The bottom line? No need to confine your favorite makeup products to their intended areas. Instead, learn how to achieve a no-makeup makeup glow with just a few unconventional concoctions.