Should You Incorporate Hair Butter Into Your Beauty Routine?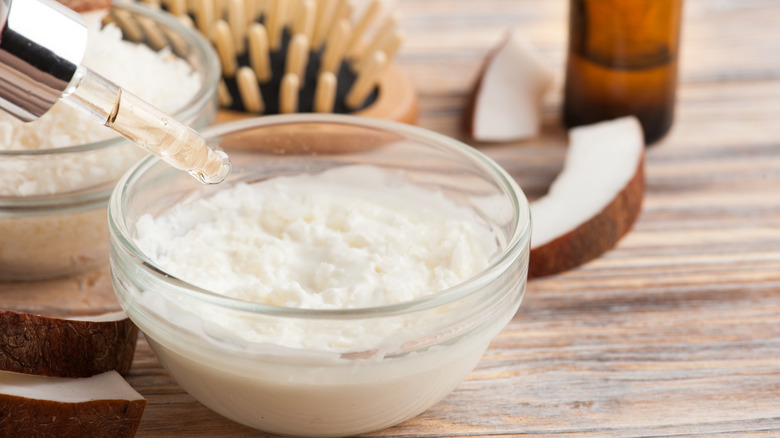 Irinabort/Getty Images
We may receive a commission on purchases made from links.
Achieving smooth, healthy hair isn't as easy as it might seem. No matter your hair type, you have likely stocked your shower and bathroom counter with everything from leave-in conditioners to hair masks, oils, and more. 
After years of damaging our hair, this year, people are focusing on healing their hair and keeping their natural locks healthy and nourished, per Allure. Hairstylist Clayton Hawkins told the publication that after many years of clients cutting their hair short, he is now seeing them return, asking for help to make their cropped locks grow long again. Because of this, things like scalp treatments, bond repair treatments, and products that strengthen the hair have been growing in popularity. Other products, like hair butters, have also made their way into mainstream trends.
If you are just now learning about hair butter, you may be wondering if you should be adding that to your routine as well. According to PureWow, hair butter mixes butters like shea and cocoa with oils to help hydrate the hair and reduce the appearance of frizz. And while hair butter can be a great product for some, others should steer clear.
Who should use hair butter (and who should avoid it)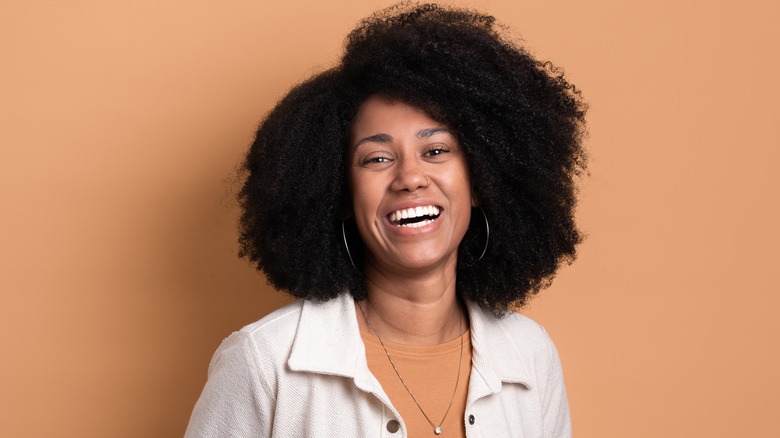 Vergani Fotografia/Shutterstock
Hair butter has a ton of benefits. If you have curly hair, it can help really define your curls, giving you that truly coily style without the frizz and heaviness you likely want to avoid, per PureWow. It can also help hydrate the hair, leaving it healthy and free from split ends and dryness. But while people of all hair types can benefit from these things, not everyone should use hair butter.
According to Naturally Curly, hair butter is great to use when trying to style thicker hair into a sleek bun or braid. It's also ideal for brittle hair that is susceptible to damage from nature, and it's great for caring for 4B curly hair. But if you are hoping for a straight style, skip the hair butter that day. 
Additionally, certain hair types should avoid adding hair butter to their routine. If you have fine hair, the heaviness of the butter can weigh your hair down, causing your locks to look greasy and dull. It can also result in product buildup, which can wreak havoc on your scalp over time. But if you have coily, coarse, brittle, or thick and dry hair, hair butters can be an amazing addition to your routine.
How to use hair butters
Hair butter is more of a styling product that should be used at the end of your hair care routine. Naturally Curly recommends using it after washing with shampoo and conditioner and before you style it. You can also use hair butter as a mask, leaving it on for an hour or so (or overnight if your hair is super dry) before washing it out, per Style Craze. No matter how you use the butter, make sure you are only applying it to clean hair, as it can lead to unwanted buildup. You also want to ensure you don't overload it — when it comes to hair butter, a little goes a long way.
If you want to try hair butters, Aunt Jackie's Flaxseed Recipes Seal It Up, Hydrating Sealing Butter is a popular option and it's super affordable, so it's a great way to try the product without sinking too much cash into it. If your hair is coily and dry, Carol's Daughter Coco Creme Coil Enhancing Moisture Butter is a great choice, as it moisturizes hair while still enhancing your coils. Other great hair butters include the OGX Hydrate & Repair + Argan Oil of Morocco Creamy Hair Butter and the Maui Moisture Smooth & Repair Vanilla Bean Anti-Frizz Hair Butter Treatment.