Valentine's Day Looks You'll Love That Aren't Just Pink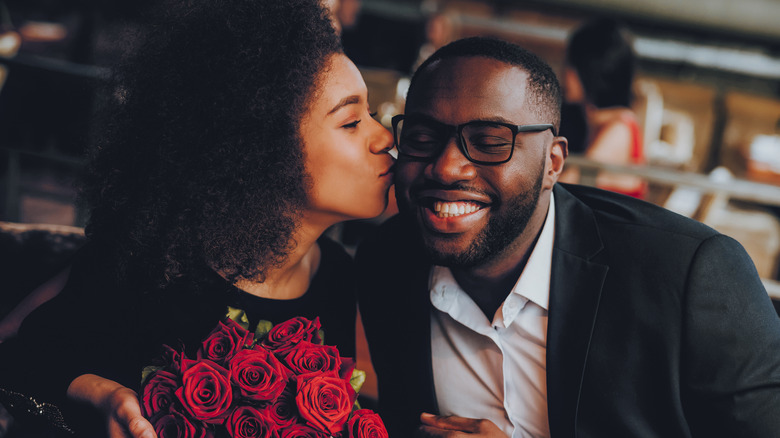 VGstockstudio/Shutterstock
Valentine's Day is just around the corner, so it's time to start planning your loved-up look. Date at a fancy restaurant? Afternoon tea at a cute cafe? Casual strolling around museums and holding hands? There are plenty of ways to celebrate Valentine's and plenty of looks to suit your plans.
The most popular color associated with the season of love is pink, closely followed by red, but you don't have to wear those colors to be on theme. Any color can be just as romantic as pink if styled properly. Plus, the stunning rainbow of colors you can choose from means you can get more creative. Without pink, that means pastels, neutrals, and everything in between have a chance to shine this Valentine's Day.
Whether your plans revolve around picking a movie to Netflix and chill with on Valentine's Day or you're excited to hang out with your friends for Galentine's Day, we've rounded up a ton of outfit inspo so you can slay all day (and night).
A bag is a versatile way to make your look Valentine's themed
If accessories are the way to your heart, a bag with literal hearts on is the perfect accompaniment to any Valentine's outfit, a la Instagrammer rebyrose_. Accessories are also an easy way to dress up an understated look; for example, a white sweater dress or jeans and a blouse. You can show you're in the spirit of love without having to buy a whole new outfit or wear something you're not comfortable in. 
Embrace soft romance with a lilac outfit
Lilac is a dreamy color that's perfect for spending the day with someone you love, so why not take the romance vibes to the next level with a satin dress? It's just the right amount of dressy, and you can make your look more feminine by choosing a dress with ribbons or bows like the one in lovefashionista's TikTok. Dip your toe into the monochrome fashion trend by pairing your dress with some lilac heels and a headband for a preppy look.
Casual and comfy still slays the Valentine's game
Sometimes, a nod to the occasion is all you need. Follow Instagrammer vanshitasehgal's advice: A pair of pants like these straight-leg jeans with graffiti hearts from Cider is the perfect way to look as though you're making an effort to dress for Valentine's Day but aren't trying too hard. You can either dress down the jeans with a cute tank top or dress them up with a blouse. Sneakers and heels would both match well, making heart jeans one purchase that can be worn all year round. 
Mix sexy pieces with more casual ones for an effortless look
Newsflash — lingerie isn't just reserved for the bedroom anymore. If you haven't heard, a corset is now acceptable outdoor wear. Corsets can be easily styled in many ways, and they're a good choice for Valentine's if you want your outfit to be on the sexier side. If you love the idea of corsets but prefer a more modest look, wearing a turtleneck underneath is a good alternative way to rock the trend, especially if your chosen corset is see-through. Or pair it with wide-leg jeans and a cardigan, as pictured above on Instagrammer best.dressed, to cover up a bit more.
You can keep your everyday aesthetic when picking out a Valentine's outfit
Much like Wednesday Addams and her preferred soft goth aesthetic, even those allergic to color can partake in dressing up for Valentine's Day. Add a simple contrast to an all-black outfit with white socks, as seen styled by YouTuber Hope Cee. A black pleated skirt is one of the most understated basics you can have, as you can dress it up or down. The same goes for a black top like the above, which has on-theme cutout hearts featured on the arms and front.
Balance neutrals with hearts for a cool-girl vibe
Feel extra lovey-dovey with this cute outfit inspired by love itself. Simple yet sweet, TikTokker hannahstyl balanced carefully chosen neutrals with a black mini skirt and a tank top decorated with mini hearts. To complete the look, why not add heart-shaped earrings or a necklace? Though a small detail, jewelry can elevate your look from basic to chic and will accentuate the Valentine's theme of your outfit even more. Her entire look is from Brandy Melville, including this copper red heart necklace that will go with almost anything, but it's easy to recreate with items you already own.
A slip dress is a statement that will never go out of style
You can never go wrong with a slip dress, especially one that's made out of a silky or satiny material. This is another item that is suited to both flat shoes and your highest heels. Plus, the flattering midi length of many slip dresses is another confidence booster. Though black is always a solid choice, a richly colored slip dress in toffee will look beautifully elegant — like it does on YouTuber idesign8 above — as will a dress in jewel tones like emerald green and sapphire blue. 
Burgundy is the grown-up sister of pink
Take notes from YouTuber Brittany Ngia: Burgundy is a great color for Valentine's Day. It has the romantic connotation of red but with a sexier and more sophisticated appeal than a brighter red hue. For extra edge, platform boots and an oversized leather jacket will complement a mini dress perfectly, particularly if you want to offset the sexiness of a plunging neckline. Burgundy also matches well with both black and white, so you can get creative when it comes to accessories. 
Embrace picnic vibes with this Valentine's outfit combo
If you're planning to go on a more low-key date, a sweet midi dress and cardi combo is an ideal choice, like YouTuber Gigi MW above. The best thing about this look is that any midi dress will do, whether it's patterned or plain. If you live in a colder climate, you could add a sweater on top instead of a cardigan for slightly more warmth. This look additionally ties in with the cottagecore aesthetic, so you'll be able to get some gorgeous photos for the 'gram on your date.
You don't have to go full glam to be on theme
Prefer platforms over party heels? You can still create a gorgeous Valentine's Day look, as demonstrated by TikTokker _anettelam. The turtleneck and chunky Dr. Martens boots make this look suitable for day and night, whereas the dark purple and wine-red bodycon dress lends it a sexy edge. This outfit combo is a great option if you're doing something semi-formal like meeting up for drinks after work. Throw a coat on top for extra warmth.