Why An 'Engagement-Moon' Is The Relationship Test You Need Before Marriage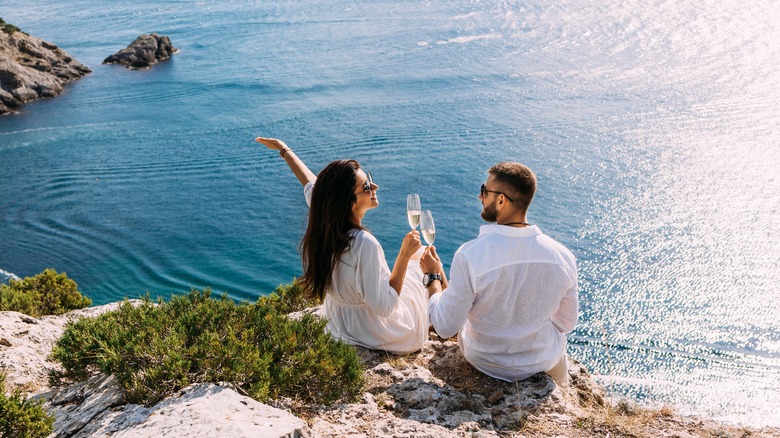 Sotnikov Misha/Shutterstock
Whether your boo just popped the question or you're years into wedding planning, there's nothing quite like the glow of being engaged. You find yourself dramatically gesturing with your left hand and highlighting your ring finger in every picture, and we don't blame you — after all, you still haven't gotten used to the weight of your trendy engagement ring on your finger!
Most of your time as a fiancee will be spent counting down the days until you're married, but don't forget to enjoy your time as an engaged couple! The relationship status change from boyfriend and girlfriend to fiancees is a big step that is worth celebrating. While an engagement party with all your loved ones is a fun time, and your honeymoon will surely be a blast, sometimes wedding planning is so stressful you need a vacation just to get through it. Introducing: the engagement-moon.
An engagement-moon does not usually replace a honeymoon; it is a smaller getaway for couples prior to their big day as a way to de-stress from the wedding planning process and enjoy each other's company (via Inside Weddings). An engagement-moon is also a great way to test your relationship before your big day finally arrives.
Test how well you and your partner handle stress by traveling together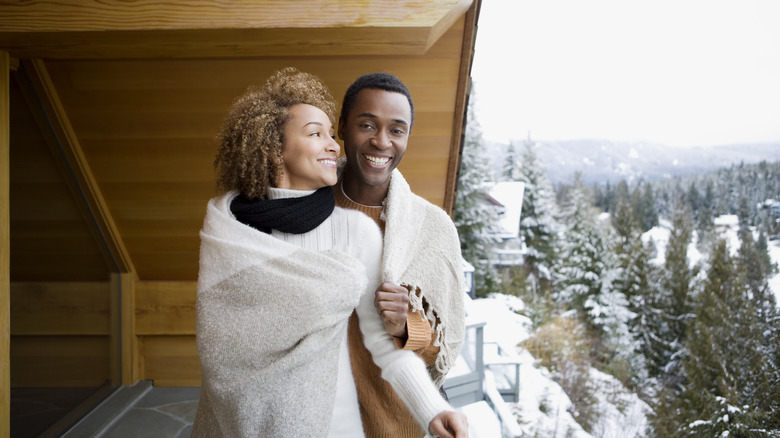 Image Source/Getty Images
One of the best ways to ensure you and your partner are compatible is by taking a trip together. Event planner Marisa Manna Ferrell told Real Simple that "traveling together gives you a chance to see how you each handle stressful situations." Even a perfectly planned trip is bound to hit a few speed bumps. Per HuffPost, the unpredictability of traveling somewhere new allows you to see the worst in each other when things go wrong and informs how you work together to solve problems. When you take a trip as a couple, you'll also find out how you both vacation: do you enjoy relaxing in the hotel or spending your time sightseeing all day? Compatibility during travel is important. You may not enjoy your vacation if your partner doesn't relax the same way you do (via Mel Magazine).
According to Today's Bride, there are a few rules to follow during an engagement-moon: the most important of all is no wedding planning discussions. Treat your partner to a stress-free vacation where you celebrate your love for one another rather than stress about your upcoming event. While relaxing, check in with your partner. Do they see a big move in the future or maybe a new addition to the family? Make sure you have the same ideas of what your future holds after the wedding day dust has settled.
Tips for choosing your engagement-moon destination
If you find yourself dreaming of a far-away vacation while you're deciding on color schemes and finalizing guest lists, you might want to consider an engagement-moon. But before you hop on that expensive couple's cruise, consider a smaller, more intimate vacation. After all, you are most likely spending a good chunk of change on your wedding day celebrations and your honeymoon. Your engagement-moon does not need to be expensive or extravagant in order to be meaningful.
When you're looking for the perfect destination for your engagement-moon, think about places you two have spent time together. Maybe there's a destination that has meaning for each of you or somewhere you have both always wanted to see (via Today's Bride). Take a road trip an hour out of town to a bed and breakfast or play tourist in your hometown and spend the night in the nicest hotel you can find. Whether you're a couple that loves to camp or relaxes best while lounging on a beach, there are plenty of ways to escape the wedding day stress without breaking the bank.
While on your engagement-moon, consider taking some candid engagement photos! TikTok user @laurenfarrfarraway shared that she and her fiance took engagement photos while on their engagement-moon, and we are obsessed with the results! The photos are intimate, romantic, and highlight the natural beauty of the lakeside trip they took.
So, next time you find yourself drowning in wedding details, take a breath and start planning an engagement-moon.