The 'Magic' Concealer Zoë Kravitz Swears By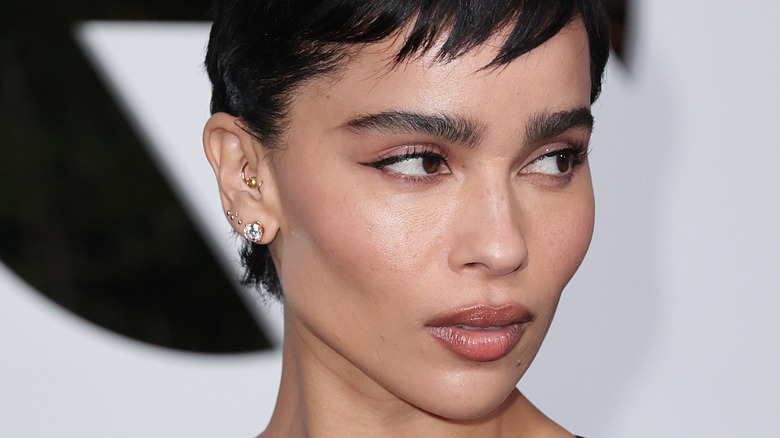 Momodu Mansaray/Getty Images
We may receive a commission on purchases made from links.
The daughter of stars Lenny Kravitz and Lisa Bonet, Zoë Kravitz, has been in the spotlight since before she could walk. In 2007– at 18 years old — she starred in her first film, the romantic comedy "No Reservations," alongside Catherine Zeta-Jones, per GQ. In the decade-plus since, Kravitz has cultivated an impressive portfolio, appearing in blockbusters like "Divergent" and "X-Men," as well as beloved limited series like Hulu's "High Fidelity" and HBO's "Big Little Lies."
Along the way, the actress has developed a reputation for her "cool girl" style, an effortless blend of grunge and chic, casual, and couture (via British Vogue). How can we forget her stunning Catwoman-inspired dress at the 2022 premiere of "The Batman?" Or that mesh moment at the 2021 Met Gala? In addition to her wardrobe, Kravitz is known for her "no-makeup makeup," even demonstrating her daily routine in a 2021 Vogue "Beauty Secrets." "There are different kinds of makeup, and everyone finds their own style, but I do like to try to encourage people to enhance the things that you love and not try to change your face completely or reshape your face completely," says the "Fantastic Beasts" star, adding, "Everyone is so pretty in their own way." As the global ambassador for YSL Beauty, Zoë Kravitz is no stranger to their products, advocating for their concealer in particular.
Zoë Kravitz can't live without her YSL concealer
In 2016, Zoë Kravitz became the face of Yves Saint Laurent Beauty. As the actress tells Essence, "I work with truly wonderful people, and I've had the opportunity to go to some really amazing places," adding, "I also love how YSL Beauty embraces individuality. I get to be a part of representing and inspiring people when it comes to their beauty journey." YSL products have become an essential part of her real-life beauty routine as Kravitz explains in Vogue's "Beauty Secrets," she'll regularly forgo foundation and opt simply for her YSL Touche Éclat All-Over Brightening Concealer Pen. As Kravitz herself notes, the formula is illuminating without being too heavy. She applies a light layer under her eyes, around her nose, and on top of spots.
"I call it my little magic wand," she tells Byrdie. "I live in New York City, and I'm always in transit, so it's perfect because it fits in my purse, and I can just click it and use it. It brightens my skin and under my eyes and covers up my blemishes." "The Batman" star is also a fan of YSL's Rouge Pur Couture The Slim Matte Lipstick, pairing it with a subtle lip liner for a daily pop of color.
Find a budget friendly dupe at your local drugstore
If you're hoping to avoid dropping $38 on a concealer, Elf has you covered – literally. The brand's Flawless Brightening Concealer comes in 18 shades — beating YSL's list of 14. Best of all, it's just $6. TikTok beauty creator @missmonolids does a side-by-side comparison, using Zoë Kravitz's preferred YSL wand on one eye and the Elf stick on the other. Ultimately, she notes the impressive similarities between their consistency and finish despite the price discrepancy. "Tell me that doesn't look the same," says the creator. "10 out of 10 is a dupe."
The Strategist also recommends opting for Elf, noting that, if anything, it's more long-wearing than the YSL original. However, neither concealer provides full coverage. Check out the viral Nyx Bare With Me Concealer Serum to fully erase those dark circles and hide blemishes. Best of all, it's well under $10 on Amazon.