Is It Possible To Use Olaplex Overnight?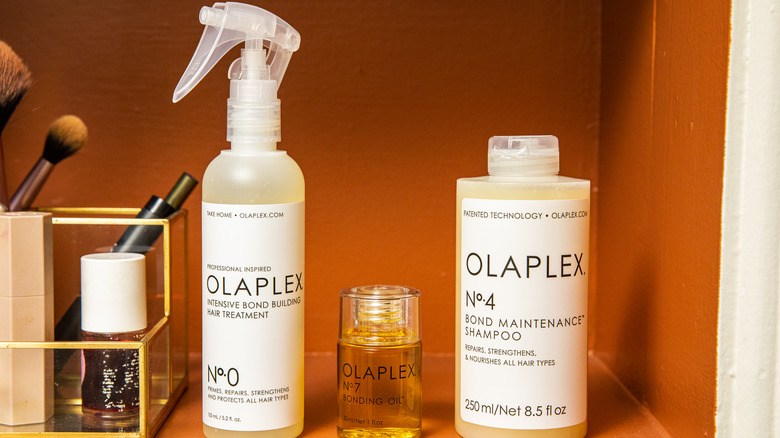 Bloomberg/Getty Images
Olaplex hair treatment has taken over as one of the most popular hair care product lines on the market. The wide range of options offered by the company stands out because of its aim to guard your tresses from chemical damage (per Allure). Olaplex has become a staple for stylists and their customers alike, as it can help keep chemically-treated hair healthy.
"Sometimes — most of the time when we do crazy colors — the integrity of a client's hair is already badly damaged," hairstylist Yoshico-Alexis Ogawa told the outlet. "Olaplex not only protects the hair from the process to get a desired color, but it also prevents further damage, makes the hair strong, healthier, shinier, and also helps mend some of the previous damage."
Olaplex's products focus on a precise system to help keep your hair healthy. Each product is numbered, and while choosing the perfect Olaplex number may seem overwhelming, the company's No.3 Hair Perfector is by far their best-selling product for all hair types (via StyleCaster). 
No.3 is a treatment you can slather onto your hair from the comfort of your home. According to Olaplex's website, it's to be used once to three times a week and applied to damp hair for about 10 minutes, then rinsed out in the shower. Fans of the product can't get enough of it, but is it possible to keep No.3 on for too long?
Should you sleep with Olaplex on?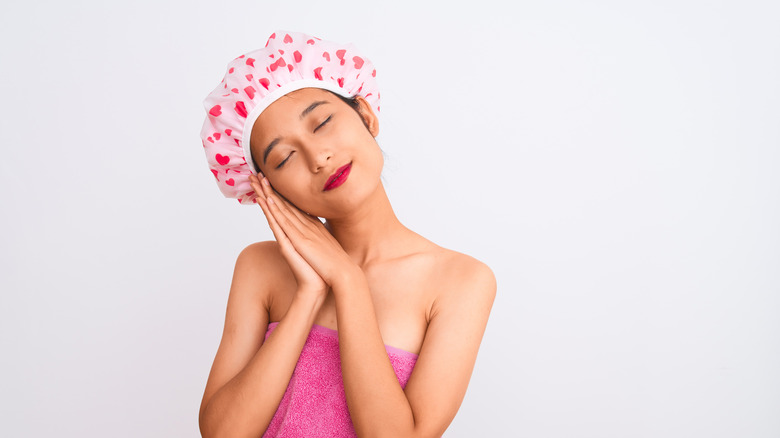 Krakenimages.com/Shutterstock
If you're considering slathering on a layer of Olaplex No.3 Hair Perfector and letting it soak in overnight, you may want to hold off. Melanie Aman of Woman's World found that leaving the product on for so long was a bad idea. Not only did they wake up with an itchy scalp, but the whole process was uncomfortable from start to finish. Sleeping with a shower cap on was enough to throw in the towel alone.
They were not the only outlet advising against an overnight soak in No.3. Olaplex tackled this topic themselves in a question and answer page on their website.
"There are no added benefits to leaving No.3 in the hair overnight," the company shared. They added to follow the instructions on the bottle for best results.
It's important to remember that No.3 is not a leave-in treatment. It is designed to be rinsed off in the shower, followed by your typical shampoo and conditioning routine.
Just follow the directions on the bottle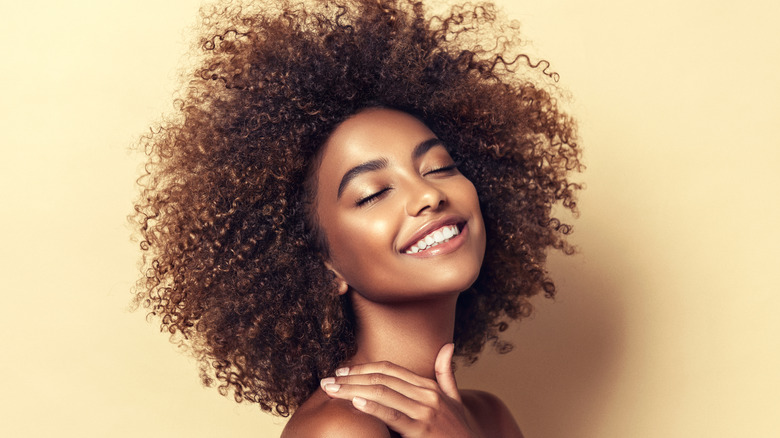 Sofia Zhuravetc/Shutterstock
Olaplex has a cult following. Statista conducted a survey and found that 35% of those asked knew what Olaplex was, 23% of them were fans of the products made by the brand, and 4% considered themselves loyal to the company for all their hair care needs.
The company has its products down to a science. Hairstylist Bianca Hillier explained the process to StyleCaster. "Olaplex patented bond-building technology penetrates the hair shaft working on the entire hair structure to rebuild the hair throughout. It builds a permanent bridge between the disulfide bonds," adding, "At the same time, it lessens and eliminates damage caused by molecules that eat protein from the hair by working faster than the damage can occur."
The beloved No.3 Hair Perfector by Olaplex helps rehydrate and mend chemically damaged hair. It helps strengthen your hair in just 10 minutes, and you should leave it at that. Applying Olaplex No.3 to your hair overnight is a no-go.