Donald Trump's Return To Facebook And Instagram Comes With Strict Conditions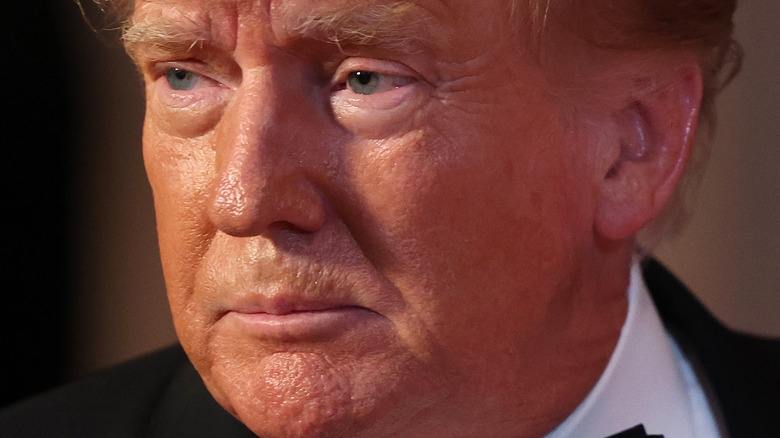 Joe Raedle/Getty Images
Despite his historic loss during the 2020 United States presidential race, Donald Trump's 2024 campaign is inevitable. Another Trump-related inevitability? His return to social media. At the beginning of this month, Trump's presidential campaign sent a letter to Meta, the company behind Facebook and Instagram, requesting his access to the popular social media sites be restored, per NBC News. The letter read, "We believe that the ban on President Trump's account on Facebook has dramatically distorted and inhibited the public discourse." Trump was banned from the social media platforms following the insurrection at the U.S. Capitol in 2021, as many believed that Trump's continued presence on the platforms would empower him to incite further acts of violence (via CNBC). 
According to Vanity Fair, Trump will soon no longer have an agreement with his own social media platform, Truth Social, ensuring that all of his posts must be shared on the platform before being posted elsewhere. Consequently, it's clear that Trump has been preparing for a move back to other social media platforms. Well, as of today, the president of global affairs at Meta, Nick Clegg, has confirmed this change. According to Clegg (via NBC News), Trump's Facebook and Instagram accounts will be back up and running in a few weeks. That doesn't mean, however, that Trump will have the power to say anything and everything he wants to the masses like he once did. Here's what it does mean.
The rules in place for Trump's social media presence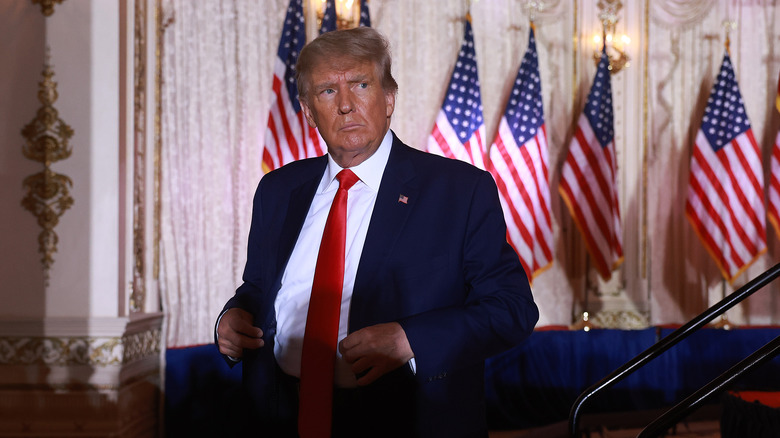 Joe Raedle/Getty Images
It seems that while we're likely to see Donald Trump back on social media platforms, Facebook and Instagram, soon enough, the former president will have rules in place to ensure his history of inciting violence via social media doesn't repeat itself. A statement on the Meta website was posted on January 25, titled, "Ending Suspension of Trump's Accounts With New Guardrails to Deter Repeat Offenses." In it, Nick Clegg highlights said guardrails, stating, "heightened penalties for repeat offenses — penalties which will apply to other public figures whose accounts are reinstated from suspensions related to civil unrest under our updated protocol. In the event that Mr. Trump posts further violating content, the content will be removed and he will be suspended for between one month and two years, depending on the severity of the violation."
According to NBC News, Meta's new policy change has come into play just after Republicans took control of the House of Representatives. This is noteworthy, since the new Speaker of the House, Kevin McCarthy, previously promised to "rein in big tech power over our speech" –– a fairly obvious commentary on Trump's ban. As for whether or not Clegg's "guardrails" will keep Trump in line on Facebook and Instagram and whether or not he will also return to his old favorite platform, Twitter, only time will tell.