Prince Andrew Reportedly Snubbed Out Of His Lavish Buckingham Palace Apartment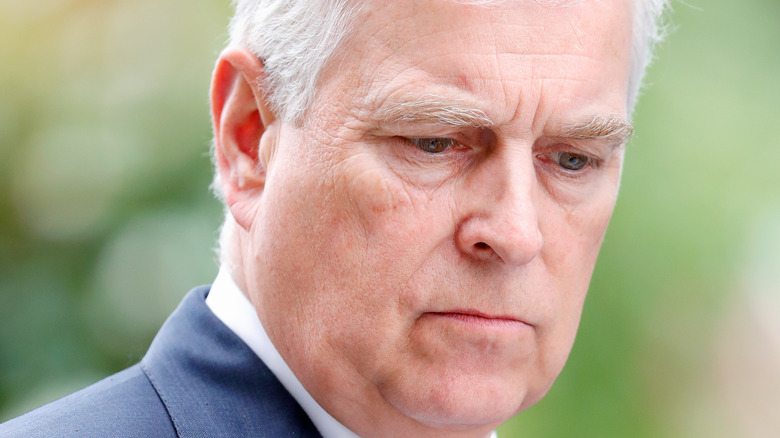 Max Mumby/Indigo/Getty Images
Following months of turmoil, it seemed like things were finally looking up for the Duke of York when reports emerged that Prince Andrew could get his titles back thanks to King Charles. Royal expert Ephraim Hardcastle shared in the Daily Mail that, according to his well-placed sources, the disgraced royal was testing out using "HRH" again, to see if he could gradually ease his way back into royal life — with the help of his brother, of course. The only problem seemed to be Charles' fears of generating further controversy.
Andrew's sex abuse scandal repeatedly took over headlines last year, and with tensions running high over Prince Harry's tell-all memoir and his Netflix docu-series with Meghan Markle, the timing definitely wasn't great. According to The Guardian, the Duke of York continued holding out hope that he could return to the fold, especially after being front and center at the funeral of his mother, Queen Elizabeth II. But Joe Little, the managing editor of Majesty Magazine, asserted there was no chance of him coming back.
And now, it seems Little's dire prediction is coming true, as the prince has reportedly been thrown out of his lavish digs.
The Duke of York has been turfed out, along with his stuffed animals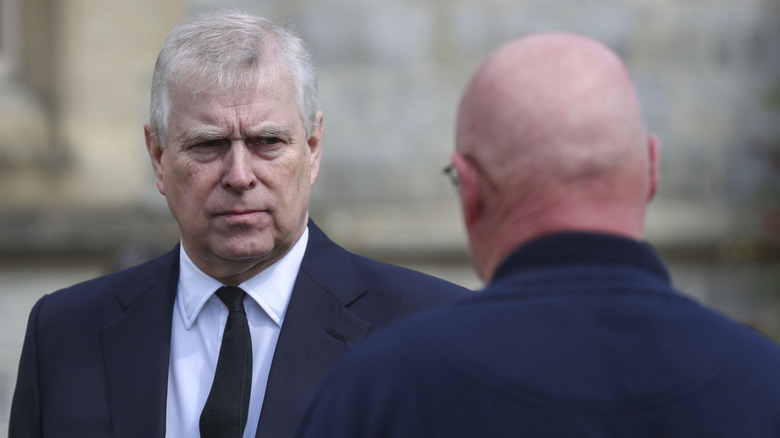 WPA Pool/Getty Images
According to The Sun, Prince Andrew is being booted out of his residence at Buckingham Palace — meaning he'll have to find a new home for his cherished teddy bear collection, too. The palace is currently being renovated, and the Duke of York has been offered the similarly plush St. James's Palace as an alternative in the meantime if he wants to remain in London rather than return to Windsor, where the disgraced royal is predominantly based. The refurbishment is slated to continue until 2027 and, back in December, Andrew was instructed not to use his palace office as an address anymore.
An insider revealed, "The king has made it clear that Buckingham Palace is no place for Prince Andrew. First, his office closed last year, and now his sleeping quarters." The duke entertained dates at the palace following his split from Sarah Ferguson. The source argued, "A bachelor's flat in St James's Palace doesn't have the same allure for a single man." However, despite this latest setback, Andrew's luck may be about to change.
The Daily Mail claimed that Andrew has been telling close friends that information that will repair his damaged reputation will soon be released. Apparently, something will be announced next month, and it's believed to be related to the settlement Andrew agreed to pay his accuser, Virginia Giuffre. Whatever happens, he won't be making any statements from Buckingham Palace.
Prince Andrew's removal coincides with rising worry over reclusive habits
Max Mumby/Indigo/Getty Images
Coinciding with the Duke of York's removal from Buckingham Palace, sources close to Prince Andrew share concerns about his newly reclusive lifestyle. Living alone at the Royal Lodge in Windsor, the royal reportedly has little to no communication with friends and family as he focuses on restoring his reputation. As one source told The Independent, "He's seeing nobody, there's a real element of isolation there, it feels like he's becoming a recluse." With him and his belongings formally removed from Buckingham Palace, this isolation seems more cemented than ever.
In addition, the Duke's PR advice is said to have ended in December, leaving his legal team as his only remaining consultant. "There are fears he's making judgments in isolation and only speaking to his lawyer," sources say. "He is desperate for rehabilitation, but does not understand the humility and penance he needs to show following the case."
One recent legal decision may be a direct result of Prince Andrew's reclusion, with the Daily Mail expecting the Duke to challenge the now-settled sexual abuse case made against him by Virginia Giuffre. Since Giuffre has dropped charges made against U.S. lawyer Alan Dershowitz, it's reported that the royal believes this might be the chance he needs to clear his name.