Olivia Rodrigo's Go-To Foundation Doubles As Skincare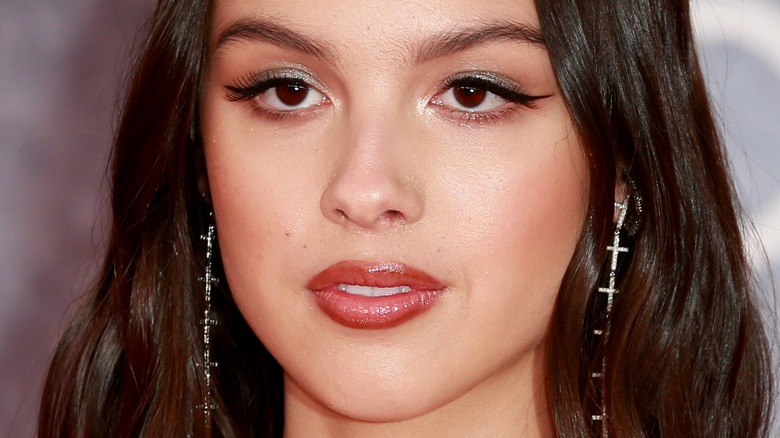 Fred Duval/Shutterstock
Olivia Rodrigo's army of fans flock to her for songs that cure heartbreak, but maybe they should be coming to her for skin-friendly makeup recommendations. The "Driver's License" singer broke down her beauty routine in a YouTube video for Glossier, revealing that she uses a dermatologist-approved foundation in her everyday makeup routine. In the "Get Ready With Me" video for the cult beauty brand's YouTube channel, Rodrigo shared that she has "a very minimal skincare routine." She noted, "I try not to do too much. And usually, if I do a lot, my skin kind of reacts really poorly."
While the fresh-faced starlet's everyday routine is admittedly minimalistic, it's still effective and incorporates a special product with known skincare benefits. This less is more mindset might be part of the reason Rodrigo partnered with Glossier, a brand known for its barely-there makeup look that enhances natural beauty. In the video, the singer shares that she incorporates items from her debut makeup collection with Glossier into her everyday beauty routine, such as the Olivia Rodrigo x Glossier ultralip in pisces and the Olivia Rodrigo x Glossier monochromes eyeshadow in mist. The pop singer primarily uses items from this brand to create her everyday look, along with beauty products from Anastasia Beverly Hills, Rare Beauty, and Supergoop. 
The product that stands out above all though is her killer choice of foundation that's packed with skincare benefits. 
So, what is this special beauty product?
In her "Get Ready With Me" video for Glossier, Olivia Rodrigo dished on the secret behind her lustrous skin: Exa's High Fidelity Foundation in the shade of Allie 390. This dermatologist-approved foundation is concentrated with active ingredients and antioxidants that are typically found in skincare products, such as hyaluronic acid, microalgae actives, and maqui berry. The company was able to combine those ingredients into the product while keeping it lightweight, which makes it a strong match for Rodrigo's barely-there makeup style.
Not only does this serum-like foundation provide an instantly even skin tone, but it also locks in moisture, protects against free radicals, and supports the skin's barrier against pollutants. This protection against pollutants is surely an absolute godsend for someone like Rodrigo, who lives in a city as highly polluted as Los Angeles. Given her sunny LA postcode, it's par for the course that a foundation with these benefits — along with Supergoop's unseen sunscreen — has made its way into her daily skincare routine.
It's a testament to Gen Z's skincare skills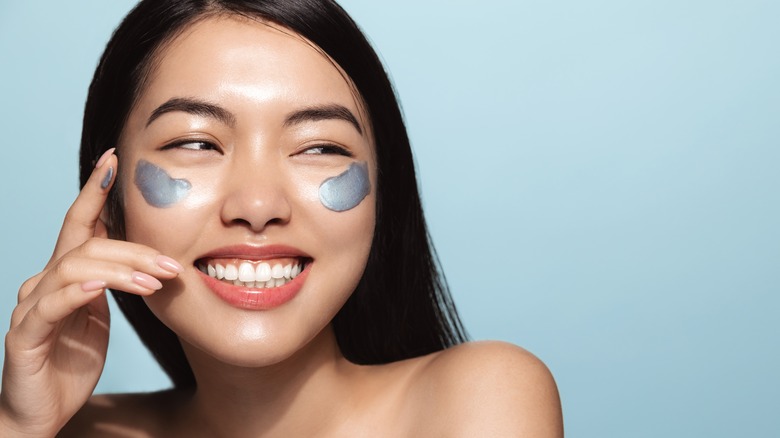 Lyubov Levitskaya/Shutterstock
Go on any forum (or even just TikTok) and you'll see that Millennials are quick to point out how beauty savvy Gen Z is, prcolaiming that a lot of the younger generation skipped the "awkward phase" while growing up. Olivia Rodrigo is seemingly no different and her preference for health-conscious makeup is aligned with a larger trend recorded within Gen Z. According to a report by Vogue Business, Gen Z is interested in science-backed skincare that provides long-term benefits. They take cues from their favorite beauty influencers on YouTube, because they want tried and tested opinions from people that they trust. 
This could be why Rodrigo's "Get Ready With Me" video for Glossier's channel was so effective, gaining over one million views in just a couple months. The "Brutal" singer is a Gen Z fan-favorite for her songs, of course, but also for her efforts as a social activist (visiting the White House to urge young people to get vaccinated and making statements during concerts about causes she cares about). 
Her socially responsible nature and preference for sophisticated skincare is a great example of how Gen Z is changing the makeup and skincare industries by demanding more from companies. Not only are they more skilled at makeup from an earlier age, but they're also getting more from the brands they love.