Blurred Lip Application Is The Go-To For Downplaying Your Cupid's Bow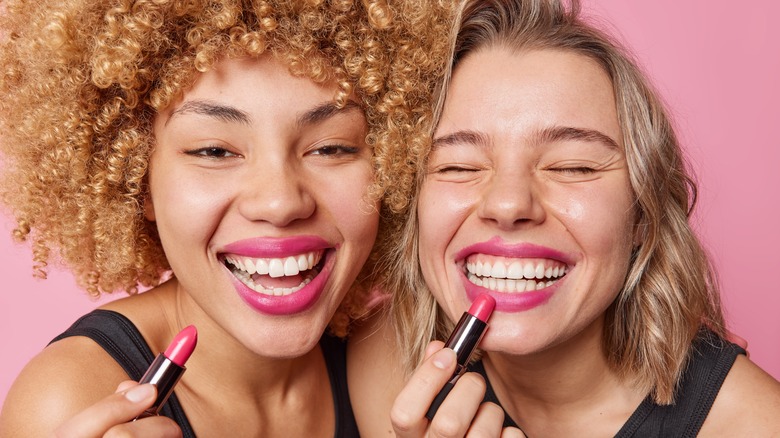 Cast Of Thousands/Shutterstock
The dip in the center of your top lip is commonly referred to as a cupid's bow. While lip shapes vary, this feature is standard on most faces, although the size of the distinctive curve differs from person to person, per Healthline. There is also a whole range of preferences when it comes to heightening or downplaying this feature. Fans of the defined cupid's bow might want to draw inspiration from Taylor Swift's makeup looks. 
"Taylor's lips are perfect," Dr. Julian De Silva, a facial cosmetic surgeon, gushed to Insider. "She has a gorgeous voluptuous pout and a beautifully-shaped cupid's bow which so many women want." However, even though this feature is named after the god of love's bow, not everyone rates a sharply-defined heart shape front and center. Some fans of the rounded or Bratz lip (so-called after the doll) prefer a circular look for a more anime vibe. 
As Marina Mansour, the head of Beauty Partnerships at Kyra, informed i-D: "It became known that it made your lips look fuller and a lot of makeup users liked the way it looked." For those who would prefer to forego their cupid's bow, the blurred lip trend beautifully minimizes this common facial feature.
Concealer and blurred lip products can minimize your cupid's bow
To blur the lines of your lips, start by applying concealer to the edges. As makeup artist Ashli Carnicelli explained to Dermstore, you can just do the edges or cover the entire lip depending on how dark your lipstick is. Next, L'Oréal Paris instructs you to apply lipstick from the center out. Then, use a lip brush to blur the color, creating a soft edge to your lip shape. Alternatively, you can use your finger since it doesn't have to be perfect. "The goal for this is to look effortless, so if you get outside of the lines, you did it right," celebrity makeup artist Jamie Greenberg clarified to Ipsy.
In her tutorial, Youtuber Snitchery starts by putting on lip balm to ensure her lips are moisturized. Next, she applies concealer to the sides to make them appear slightly taller. To minimize her cupid's bow, Snitchery uses a lip pencil to draw a line straight across. Then, with one finger, she blends the color in. This technique is similar to the one advocated by celebrity makeup artist Tobi Henney (via Byrdie). 
Even simpler, TikToker onigiri.nanaaa takes liquid lip color and draws a short upward line just above the middle of her top lip (she warns viewers to do this with a relaxed lip to avoid making the line excessively high). Afterward, she makes a horizontal line down to the lip on each side, eliminating the cupid's bow entirely. 
To achieve your best blurred lip choose sheer, blendable colors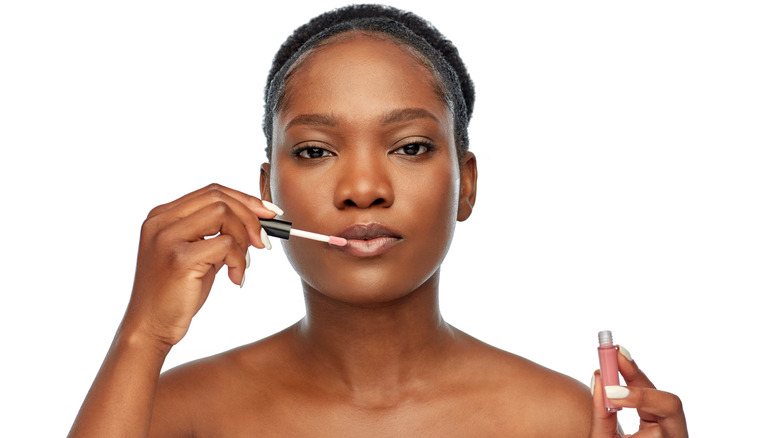 Dolgachov/Getty Images
As Stylecraze points out, when looking for a lip-friendly concealer, it's important to choose products that are moisturizing and will be safe to use on ultra-sensitive skin. For an option that's 98.5% natural, Burt's Bees concealer contains a delicious blend of avocado oil and shea butter. If you're looking for a hypoallergenic choice, Covergirl Smoothers Moisturizing Concealer Stick actually applies like lipstick.
To create a blurred lip, focus on formulas that are easily blendable. Lime Crime Soft Touch lipstick is super light, with a smooth consistency that's intended for blurred lip styles. It's also vegan and cruelty-free. Product names can even offer helpful clues about whether they're suitable, such as Saie's Lip Blur Soft-Matte Hydrating Lipstick. In this case, berry fruit wax helps create the desired blurred effect. 
Elsewhere, M.A.C.'s Powder Kiss lipstick comes in a whole swath of shades and is also highly smudgeable and moisturizing. M.A.C. even has a step-by-step video tutorial to help newbies create blurred lips with their products. If you're looking for a liquid lip color like onigiri.nanaaa uses in her tutorial, check out Colourpop Lux Liquid Lip. It's a budget-friendly choice with a soft finish that's ideal for a blurred look. 
For a lip pencil to eliminate your cupid's bow with one easy swipe, like Snitchery, try NYX Professional Makeup Slim Lip Pencil Creamy Long-Lasting Lip Liner. It comes in 30 shades, has a creamy consistency, and boasts a low price point to boot.