Diane Keaton On How Maybe I Do Breaks Free From Stereotypes About Romance - Exclusive Interview
Amy Sussman/Getty Images
Valentine's Day is approaching soon, but not everyone is going to be looking forward to the day. According to a 2022 poll by YouGov America, U.S. residents ranked Valentine's Day at the bottom among all holidays, with 58% of respondents stating that they don't think Valentine's Day is "a real special occasion." One major factor YouGov cited was that just over a third of the people polled mentioned being let down by a partner on the holiday.
If you're in the category of people who have had negative experiences with the day, then watching a comedy might be just the answer to getting through Valentine's Day. One rom-com that features a storyline where everyone has experienced their share of disappointments in their love lives and shows that love isn't always easy is "Maybe I Do." 
The film features Emma Roberts and Luke Bracey, who play Michelle and Allen — young adults who are looking for guidance from their parents on taking the next step and getting married. However, the parents, played by Diane Keaton, Richard Gere, Susan Sarandon, and William H. Macy, all have relationship problems of their own that often come with marriages over time.
In an exclusive interview with The List, Keaton spoke about her role in "Maybe I Do" and how the storyline addresses the struggles older adults often face in established romantic relationships.
The film focuses on older adults' marriages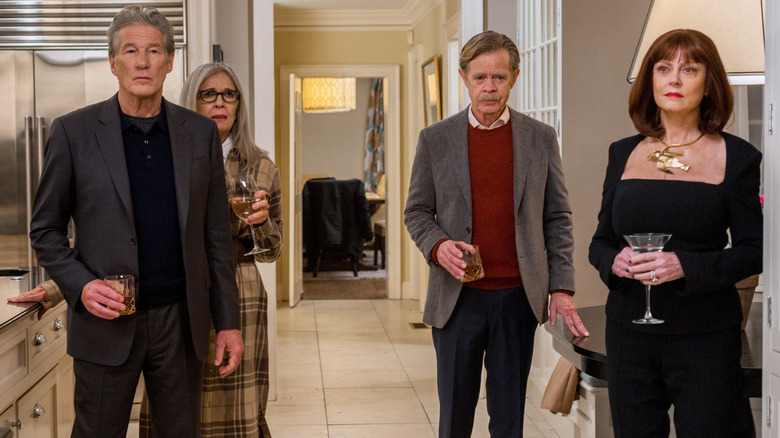 R&C PMK
With Valentine's Day season upon us, we're going to see a lot of rom-coms. What sets "Maybe I Do" apart?
I think what sets "Maybe I Do" apart is it's an adult film. I mean, it's about adults who are grappling with their marriages, their issues, and it's unusual in that regard. Then there's also the younger couple and what they're going through in the very same kind of thing, but different because they're young.
In that regard, our director, [Michael] Jacobs, did a great job on this movie because it's a very specific kind of movie. You're talking about marriage, being together for so many years and [it] not working, and then somehow coming back together and making it work and having problems with friends. I thought it was really interesting and unique, and I'm in it.
[As] you said, most rom-coms feature a younger couple, but [in] this, the meat of the storyline was actually around the older adults and the relationship issues you face as time passes in marriage. How important do you think it is for Hollywood to continue featuring narratives like this that women of all ages can relate to?
For me, I just like certain kinds of films. I'm happy that I was fortunate enough to be in that film and play that role. And the people were fantastic and really good, so it's tricky.
It's unique because you don't usually go to a theater and sit down and ... I've done that a lot, though, going to the theater, especially these last few months of [the strange situation] we've been having. I go a lot to the movie theater, and usually there's only about five people there. And maybe I'll have a friend with me, but I love it.
We see how your character, Grace, feels about love and marriage, especially in relation to some opposing opinions from other characters. What is your personal take on marriage and whether it should be seen as the "end all, be all" that society sometimes treats it as?
I'm pretty sure that I'm weird because I've never been married. It's just who I am and what I am going to do. I learned a lot from what I saw with my parents, and I loved them, but I went a different path.
"Maybe I Do" debuts in theaters today, January 27.
This interview has been edited for clarity.