Queen Camilla's Stylist Spills Her Hair Color Secrets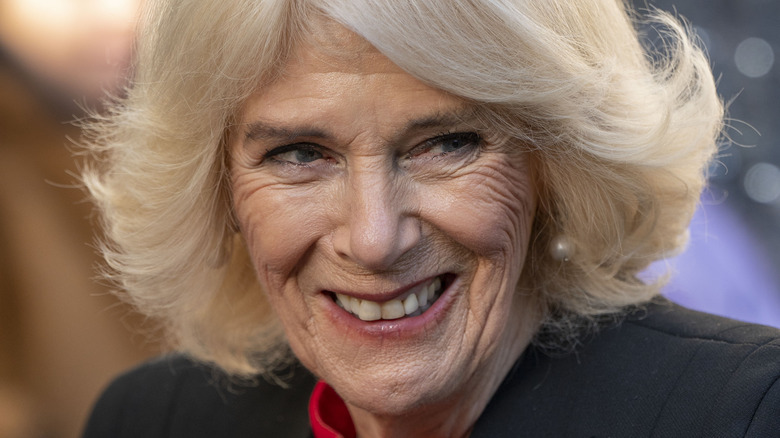 WPA Pool/Getty Images
Those who follow royal fashion noticed that when King Charles III ascended to the throne after the death of his mother, Queen Elizabeth II, his wife Camilla Parker-Bowles made some subtle but significant changes to her appearance (via Hello Magazine). Upon becoming Queen Consort, Camilla chose to update her hair, which had long been a light, ashy blonde that appeared to be almost a natural white/grey for a woman her age. When she took her more forward-facing role as the wife of The King, however, Camilla began sporting more buttery, golden-blonde highlights. 
She also cut her hair just a tad shorter to frame her face more intentionally than the slightly longer bob she had worn before she took the title of Queen Consort. Now, thanks to Camilla's own stylist sharing her secrets with the public, we know just how she got the warmed-up eye-catching look, and why the shift seemed like the best choice.   
What Queen Consort Camilla's stylist shared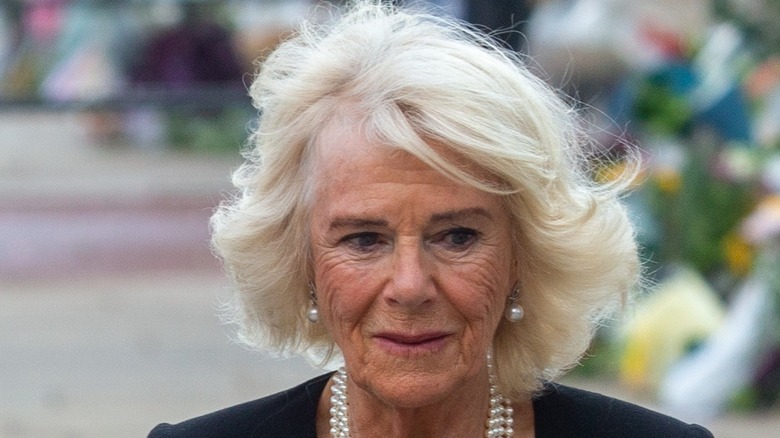 I T S/Shutterstock
Well-known royal editor Rebecca English has tweeted a screenshot of a print-only article from the U.K.'s YOU Magazine, in which famous hairdresser Jo Hansford, who happens to be the personal stylist to Queen Consort Camilla, opened up about her royal client's golden blonde locks. The change in color, says Hansford, was a subtle one that shifted little by little over a period of time in order to remain flattering on Camilla's skin tone, which has naturally changed with age. 
"I've changed her over a period of time as obviously everyone's skin tone changes as they get older," Hansford said in the article, "so I've made Camilla's much warmer now, more honey than white blonde."
The royal stylist went on to explain that Camilla's new hue "really compliments her skin color and it was a mutual decision between us because that's how it has to be." She went on to say that, "The color really suits her and if you see it in real life it looks much softer." 
Royal fans love the honey hue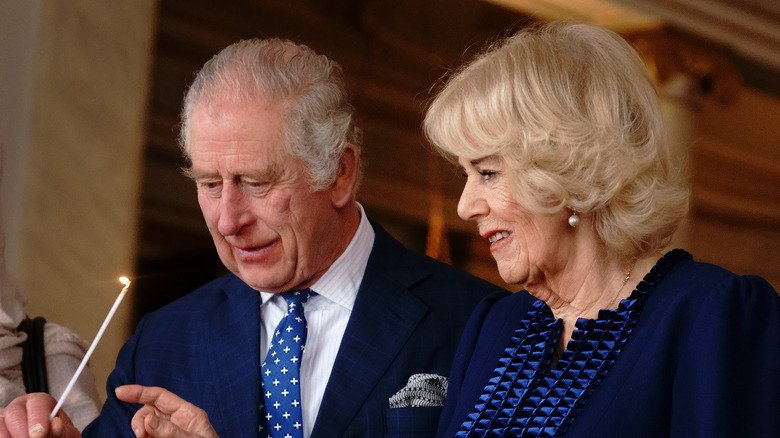 Wpa Pool/Getty Images
In response to Rebecca English's tweet sharing the article from YOU Magazine, some royal fans have shared their thoughts about The Queen's warmer look, and the overall tone of the comments seem to be positive.
One person replied to English by saying, "I thought her hair had more of a honey color to it. Looks very nice on her. I'm glad she did it, the lighter color was starting to make her looked washed out. Well done!" And another Twitter echoed the sentiment that the more golden color was better suited to the Queen Consort than her previously lighter, whiter shade, tweeting, "That new color is very flattering to The Queen, much more so than the previous color. Kudos!"
For those of you looking to make a change to your own hair color, Jo Hansford notes in the YOU Magazine article that the biggest hair color mistake people can make as they get older is to keep dyeing their tresses the same color they used twenty years prior. "You're not twenty anymore, Darling, and you have to realize your skin tone may have changed completely," she tells readers. So taking a tip from the Queen Consort's willingness to adapt might be the best bet for you, too!