Days Of Our Lives Star Brandon Barash Announces Heartbreaking Family News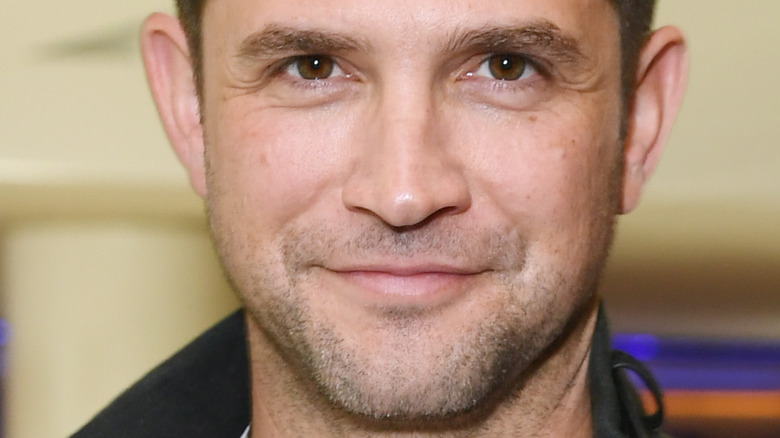 Jc Olivera/Getty Images
Actor Brandon Barash has built up quite the soap opera fan base over the years. While currently playing Stefan DiMera on "Days of Our Lives," Barash previously played Johnny Zacchara on "General Hospital," and he made quite an impression as the mob scion. 
As many soap actors do, Barash has shared his life experiences with his fans, including his amicable relationship with former "GH" co-star Kirsten Storms. The two got married in 2013, and although they divorced in 2016, they've continued to share their friendship on social media, including adventures with their daughter, Harper. Barash credits his daughter with being a matchmaker to him and his current wife, Isabella Devoto, according to People. Barash also stays connected to the fans as a member of the cover band Port Chuck with fellow soap stars Steve Burton, Bradford Anderson, and Scott Reeves. 
Not one to shy away from sharing insight into his life, Barash previously posted about the heartbreaking death of his father, Jerry Lee Barash, in 2017. In 2021, he again paid tribute to his dad on Instagram, saying, "Today would've been my Pop's 70th. While June 7 is always a sad, heavy day, I'm uplifted by the solace and power I find in the love he left behind. I love you, Pop. #stillhere." Fans, family, and friends all gave heartwarming sentiments to the soap star. Now, Barash has posted another heart-wrenching announcement about his family.
Brandon Barash pays tribute to his stepmother
In 2018, "Days of Our Lives" star Brandon Barash posted a Mother's Day tribute on Instagram, saying, "I'm lucky enough that this life gave me two moms. Double the love. Double the fun." He was referencing not only his birth mother, but also his stepmother, Karen Barash. 
Sadly, Karen died on January 27, and the actor announced her passing on Instagram, writing, "Finally. You're free from your disease. Finally. The shackles of Alzheimer's constrain, restrain, rein in no more. Finally. You and dad are reunited. Infinitely, I shall love you. Fly free, sweet KB. Finally."
His "Days" co-star, Daniel Feuerriegel responded, "Much love buddy." Other co-workers past and present including Laura Wright, Kristian Alfonso, Robert Scott Wilson, and Stacy Haiduk paid tribute and offered their condolences. Many people posted words of comfort including one who stated, "I'm so sorry Brandon. They're never far away from you — they're just in a different form. Sending so much love your way." Quite a few people could relate to Karen's Alzheimer's illness, as plenty of fans have had experiences with family members that were dealing with it. One stated, "Sorry for your loss! I lost my Mom a few years ago to dementia."
Our hearts go out to Barash and his family as they recover from the loss of Karen.