Why Sulfur Is The Solution To All Your Dry Hair Problems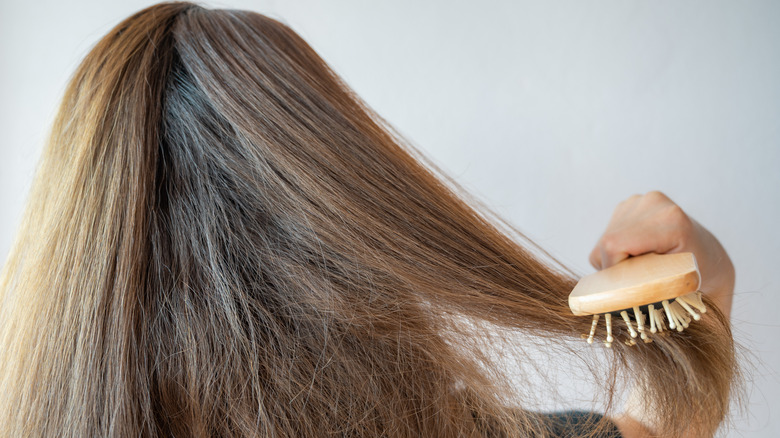 Boyloso/Getty Images
We may receive a commission on purchases made from links.
Dry hair can be a huge nuisance that is hard to fix. According to Healthline, dry hair occurs when our strands are not well moisturized, either because they're not getting enough nourishment or can't hold on to it, and that can cause our mane to look dull or frizzy. Sometimes having dry hair is out of your control — many people who live in dry climates, spend a lot of time outdoors, or swim regularly can suffer from dry hair. But your tresses can also dry out if you use hot tools, wash it too often, put chemicals in your hair such as color or treatments, or use the wrong products.
But not all products are created the same. According to award-winning stylist Dominick Pucciarello, if you have dry hair, you want to stay away from anything with an intense fragrance, as this is a tell-tale sign that it is drying to the hair, via WebMD. He also says to avoid any type of product that promises volume, like hairspray. On the other hand, products that contain glycerin can be great for dry hair. But, there is one product that you should consider if your locks are downright parched — and it may surprise you.
Why sulfur is great for dry hair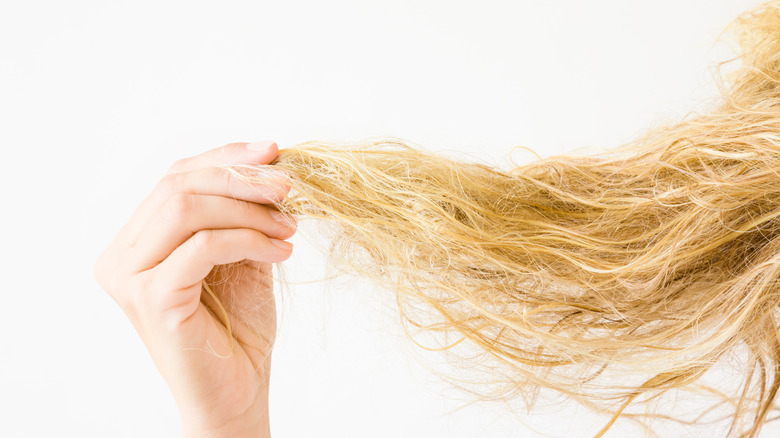 Fotoduets/Getty Images
Sulfur may have a bad reputation for being that smelly chemical we used in high school science class, but it can actually be transforming for your hair. According to Marisa Garshick, MD, a board-certified dermatologist and clinical assistant professor at Cornell University, sulfur can work wonders when added to your hair routine, as she told Byrdie. The chemical not only strengthens hair, but it also helps keep your scalp healthy, improves the elasticity of your tresses, and even helps your hair grow.
And while sulfur-based hair products are great for any type of hair, those with a dry mane or who have dangerously damaged hair can really benefit from them. Even more so, according to Joe Cincotta, Ph.D. and chief chemist at Color Wow, if your locks are dry due to over-processing, hot tools, coloring, or any type of damage, sulfur products can somewhat reverse that damage and give you that healthy hair you desire (via Byrdie). In addition to products, according to The Natural Medicine Journal, not consuming enough sulfur in your diet can also contribute to brittle strands, so adding it not only topically, but internally as well, can really help your hair.
The best sulfur products for dry hair
If you are now on the hunt for the ultimate sulfur product, make sure you are buying it at the store. Via Byrdie, Joe Cincotta advises all consumers to avoid making a DIY sulfur product, as it could cause more harm than good. Instead, look for a sulfur-based shampoo, mask, or leave-in treatment that can be used on wet, clean hair.
Some of the best sulfur products include the Paul Mitchell Tea Tree Special Shampoo, which is great for those hoping to repair their scalp. Sulfates are mixed with tea tree oil, peppermint, and lavender to give you not only great-smelling hair, but also a relaxing shower. If you want a leave-in product, the Color Wow Dream Cocktail Kale-Infused Leave-in Treatment strengthens your hair and reduces breakage in just one use. We also love the Chris Appleton + Color Wow Money Masque, which not only repairs your mane, but also protects it from heat, making it the ultimate product for dry, damaged hair.