Hallmark Loveuary 2023 Movies We Can't Wait To See
Hallmark movie lovers, you're in luck: The romance doesn't end with Christmas. And with Valentine's Day right around the corner, how could it? Hallmark has lined up a full slate of movies for you to enjoy in the lead-up to St. Valentine's. Starting on February 4 and continuing throughout the entire month, Hallmark will air at least one new film a weekend, filled with intrigue, laughs, and most importantly — love.
Grab your bestie, your significant other, or settle in for a solo movie night. And good news! For those of you who don't have the Hallmark channel, all of these films will drop on Peacock at the same time they air on Hallmark (via Decider).
The films not only promise some fun twists and turns, but some familiar faces as well, including "Spy Kids" alum Alexa PenaVega, "Desperate Housewives" star Brenda Strong, and a cameo from "American Idol" winner Ruben Studdard (via Us Weekly). The full list of films includes "Sweeter Than Chocolate", "Curious Caterer: Grilling Season", "Welcome to Valentine", "Made For Each Other", "A Nashville Legacy", and "A Paris Proposal". But which movies on the Loveuary slate are poised to become the breakout hits?
A BBQ situation gone very wrong
Picture this: Your friend died in an unfortunate barbecue explosion and you're the one who's being found at fault. That's exactly the sticky situation that caterer Goldy Berry (Nikki DeLoach) finds herself in for "The Curious Caterer: Grilling Season" — particularly since Goldy was the last one to use the grill. Naturally, Goldy sets out to clear her name, with Detective Tom Schultz (Andrew Walker) by her side. We have a feeling that by the time the pair get to the bottom of the mystery, plenty of sparks will have flown between Goldy and the detective.
It appears Walker and DeLoach have a sweet off-screen relationship, too. The pair previously collaborated on three other rom-coms before diving into the adaptations of the Goldy Bear Culinary Mystery series, written by Diane Mott Davidson (via Southern Living), first with "The Curious Caterer: Dying for Chocolate".
"I feel like it was such a gift to be able to do it with Nikki," Walker told Southern Living of the first "Curious Caterer" film. "We said...because we'd already done three movies together, we have the trust of the audience so let's try to do something and bring something to people that's much different than anything they'd ever seen us in."
A mix-up in Paris
If we've learned anything from "Emily in Paris", it's that Paris, the City of Lights, is one of the most romantic places in the world. But as "A Proposal in Paris" highlights, it's also a place prime for mishaps and misunderstandings. When Anna (Alexa PenaVega) is sent to Paris by her boss to try to land a huge account with Durand Diamonds, it's unfortunately with her colleague Sebastian (Nicholas Bishop) in tow. Even more unfortunately, the potential clients at Durand Diamonds mistakenly believe that Anna and Sebastian are married, which means the two have to keep up the ruse, even though they don't even get along. Given the Hallmark pattern, Anna and Sebastian will have found a way to see eye-to-eye by the end of the tale.
PenaVega has plenty more films in her future: Hallmark staples Alexa and her husband Carlos PenaVega recently signed an overall deal with the company.
"Hallmark has become a second home for our family. Over the last four years they have given us opportunities to grow as actors and producers all while raising our children, even if it means having the family on set!" the pair said in a joint statement (via TV Insider). "Developing projects alongside them has been a highlight of our careers thus far. We are thrilled to be able to continue creating content that is family friendly and current, while maintaining its core values that we love so much."
One for the music fans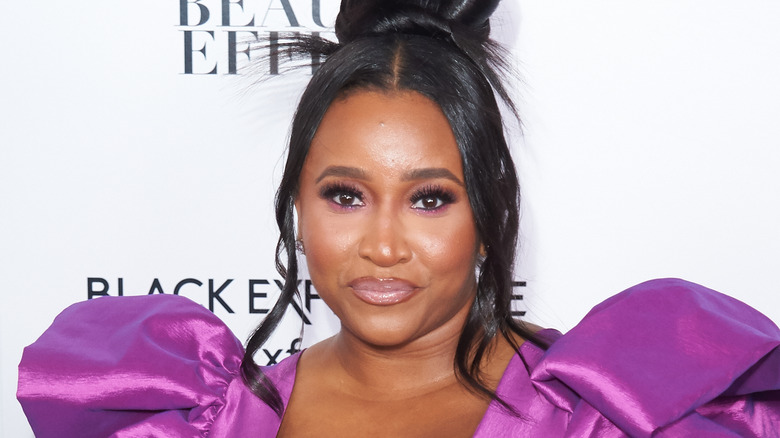 Unique Nicole/Getty Images
Music fans, look no further: If you want a love story that combines your interest in the music biz with a romantic love story, then "A Nashville Legacy" is the film for you. The movie follows Naima (Andrea Lewis), who moves to Nashville and meets Damian. It's your classic girl meets boy; except it turns out the boy is actually the son of Franklin Berryhall and is set to someday take over the Berryhall Records label. Together they connect through song, and if we were to guess, fall in love in the process.
The film boasts cameos from Curt Chambers and Ruben Studdard, and hopefully features at least a musical number or two. But that's not the only music bona fide here: The film also stars Stan Shaw, son of famed saxophonist Eddie Shaw (via Illinois Entertainer).
"Make sure you write down the premiere date and place it HIGH PRIORITY on your list! We may get arrested for murder... b/c we killed it!" Shaw wrote of the film on his Instagram.