Days Of Our Lives' Judi Evans And Vincent Irizarry Recreate Iconic Guiding Light Pics From The '80s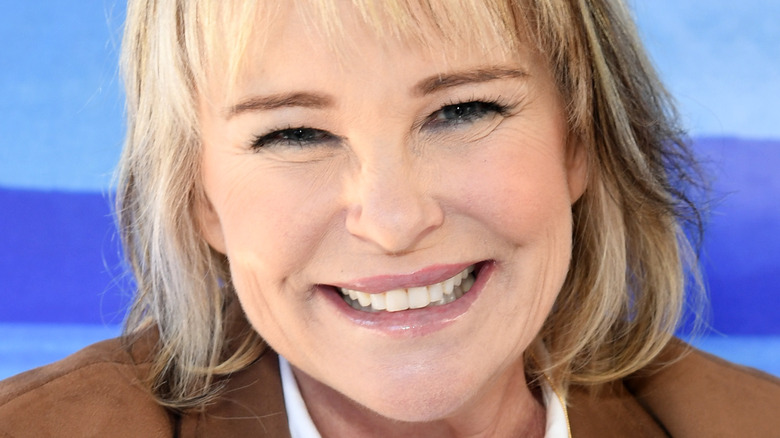 Jc Olivera/Getty Images
The soap opera world is full of great actors who embody their characters perfectly. Of course, fans know that many of those actors often jump from one sudser to another during different times in their careers. In fact, "Days of Our Lives" has many cast members who have appeared on other soaps through the years. One actress, Judi Evans, has appeared in multiple roles on many classic sudsers.
In the early 1980s, Evans began her soap opera career when she was hired to portray the character of Beth Raines on "Guiding Light" (via IMDb) as well as one of her most well-known roles as Adrienne Kiriakis on "Days of Our Lives." Evans also pulled double duty in Salem when she later played Bonnie Lockhart. The actress also appeared on "Another World" as Paulina Cory and "As The World Turns," where she played Maeve Stone, per Soaps.
Of course, with all of Evans' former characters, she has also piled up a list of leading men along the way. Recently, she reunited with of those leading men, Vincent Irizarry, and the pair gave fans a special treat when they recreated a fabulous 80s moment by getting back into their classic soap characters.
Beth and Lujack together again
Judi Evans and many of her current and former co-stars gathered together in Orlando for a "Days of Our Lives" fan event, and things got interesting. While in Florida, Evans appeared to be joined by past and present Salemites such as Kevin Spirtas, Bryan Dattilo, Patrika Darbo, Kassie DePaiva, and Vincent Irizarry. Based on photos posted by a fan via Instagram, the gang looked to be having a great time together.
However, Evans and Irizarry took it one step further. While "Days of Our Lives" viewers know the duo as Adrienne Kiriakis/Bonnie Lockhart and Deimos Kiriakis, the actors were once an on-screen couple when they starred as Beth Raines and Brandon "Lujack" Luvonoczek on "Guiding Light." To mark their reunion, the pair opted to pose together in a set of snaps that recreated some of their former characters' most iconic photos. "Beth and Lujack 4Ever #GuidingLight #GL #BethandLujack," Evans captioned the photos, which she posted to her Instagram.
Of course, fans couldn't get enough of the pictures. "How cool is that that you recreated those photos," one fan commented. "Love this! Vincent was my first soap opera crush! I was always rooting for Beth and Lujack!" another wrote. "many hours of my young adulthood wrapped up in this love story," another fan stated.
Although Beth and Lujack will likely never be seen on screen together again, the recreated photos surely brought back great memories for fans and showed that the actors still have love for each other after all of these years.