Why It's Essential To Wear A Sports Bra When Working Out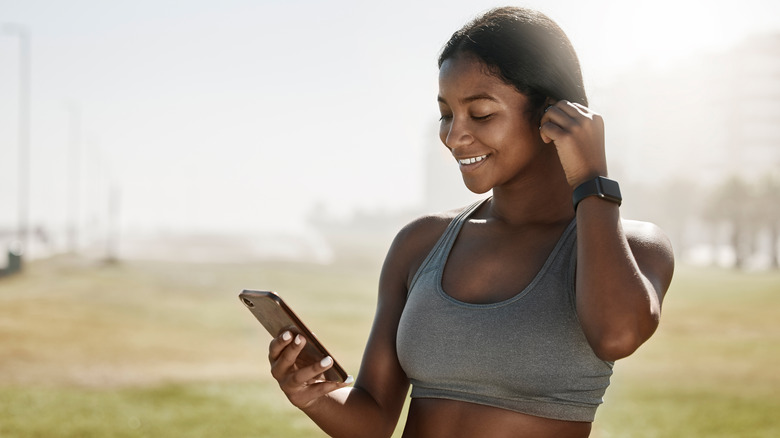 Peopleimages/Getty Images
From training bras to push-up bras to bralettes, it feels like there are a million choices for those growing up with breasts to choose from. Whether we learned alongside Lizzie McGuire buying her first bra, Punky Brewster's "over the shoulder boulder holder," or "Codename: Kids Next Door" characters talking about "Battle Ready Armor," the mystery surrounding the bra doesn't necessarily go away when we get older.
Wearing the "wrong" bra size is still extremely common, and it's difficult to master the bust-to-ribcage ratio for sturdy and well-fitted support. The world of sports bras is further complicated by different impact levels, which might be confusing for those unfamiliar with workout attire. World-class athlete Serena Williams teamed up with Berlei for their In Support of You campaign, which emphasizes the brand's commitment to supporting those with breasts in all their endeavors. Williams told Women's Health, "I need to feel my best on the court [and] an uncomfortable bra is the last thing that you want to be worried about while you're playing."
In 2021, Women's Health teamed up with Under Armor for their #ItStartsWithABra campaign, which donated 2000 sports bras and hosted free yoga classes in West London to provide more people with the opportunity to exercise comfortably and affordably. Unfortunately, there are still plenty of financial and physical barriers in the way of folks finding the right sports bra. However, having access to sports bras can have real health benefits, and finding the right fit for you may be well worth the effort in the long run.
The history of the bra is less than supportive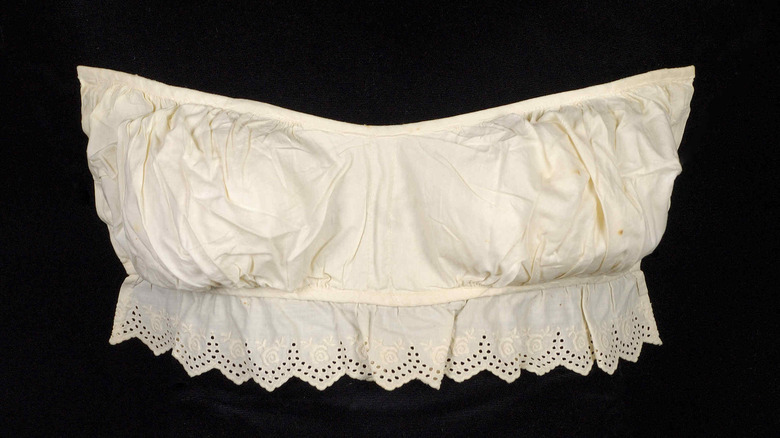 Heritage Images/Getty Images
Different cultures have had their versions of the bra — likely a bandeau or other binding mechanism — since at least the days of ancient Greece, per NPR. Corsets have been around since 1500, but it wasn't until 1914 that the modern-day bra showed up, invented by Caresse Crosby. A shortage of metal during World Word I led to decreased production of corsets, and women taking up work in factories were discouraged from wearing such restrictive undergarments. This cleared the way for the bra to take center stage, and the brassiere was a light item that suited the aesthetic of the flapper era — though more supportive bandeaus were also popular.
Then, it wasn't until 1977 that college students Lisa Lindahl and Polly Smith created the first sports bra by sewing two jock straps together, calling it the Jogbra (via National Inventors Hall of Fame). Necessity is the mother of invention, but it's hard to believe that such a crucial item was only invented 46 years ago. However, bras still have a long ways to go. In a 2012 survey of London Marathon runners, 75% of people still reported bra fit being an issue with things like chafing and digging into the shoulders. These issues were only exacerbated for those with larger breasts. 
Per Runners' World, breasts can move in a figure-eight shape while running, and a 2022 study confirmed that increasing breast size also increased three-dimensional kinematics and displacement. Having a well-fitting sports bra can make a significant difference in our performance and comfort during psychical exertion.
A good fit makes all the difference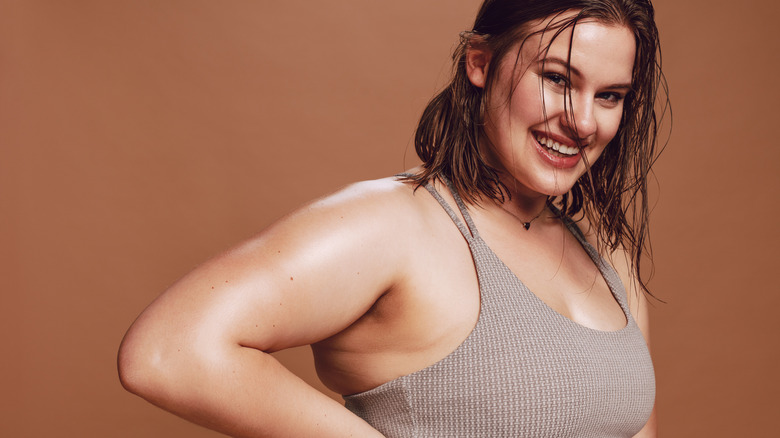 Jacoblund/Getty Images
The need for finding a supportive bra is great. For instance, Women's Health cited a 2018 study that found unsupported breasts can move up to 14 centimeters during exercise. Joanna Wakefield-Scurr, a professor and Head of the Research Group in Breast Health at Portsmouth University, also shared some of the potential consequences of less than adequate support during exercise. She warned, "[Y]ou have the potential for negative consequences, such as pain, as well as stretching the skin of the breast [which can cause sagging] if the breasts are not supported enough." 
Without a proper bra, you may even have to work harder. The breast's fatty tissue sits on muscles, and another study from Portsmouth University found that proper support during exercise can reduce these muscles' use up to 55%, meaning you'll have more strength left for when the workout gets extra tough. A study of 112 Olympic athletes also found that after receiving prescription sports bras, 87% found that they benefitted and 17% said they saw a marked improvement in their athletic performance.
If you're looking for a great sports bra, Wakefield-Scurr has worked with Under Armor and Adidas, brands that have done their own research to design size-inclusive and scientifically-informed sports bras. Some top rated high-impact sports bras include Under Armer's Infinity sports bra, the plus-size sports bra from Shefits, and Kinx's comfortable pullover. To find the right bra for you, Girlfriend Collective also has a sports bra guide for finding low, medium, and high-impact options. It's also vital to find a level of compression that is both comfortable and affirming of our identities. Refinery29 shouted out the viral Dylan Tank Bra from Girlfriend Collective as an excellent binder alternative.