Willow's Newborn Baby Has General Hospital Fans Amused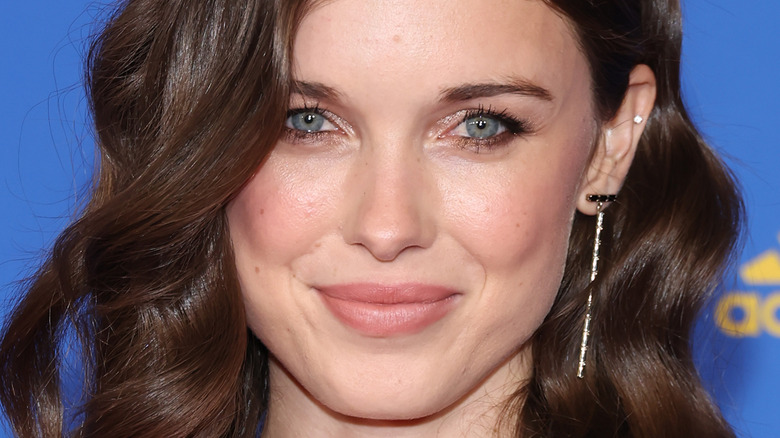 Amy Sussman/Getty Images
Willow Tait (Katelyn MacMullen) has had a long feud with Nina Reeves (Cynthia Watros) on "General Hospital." According to Soaps In Depth, they first clashed when Willow was the teacher of Nina's then-stepdaughter. Nina then learned that her long-lost daughter Nelle Benson (Chloe Lanier) was the mother of Michael Corinthos' (Chad Duell) son. Nina hadn't learned that she was Nelle's mother until after her death, so an enraged Nina fought for visitation rights as a grandparent. But Willow teamed up with Michael to prevent it, deeming Nina toxic, per Showbiz Cheat Sheet. The animosity between the two women would escalate into a feud that got so bad Willow couldn't stand the sight of Nina anymore. 
Now, the truth has been exposed that Nina actually gave birth to twins while in a coma, and Willow was the second daughter. Willow has been pregnant with Michael's baby while also battling Leukemia. Horrified to learn that her nemesis Nina is her mother, Willow was even more distraught that Nina's bone marrow wasn't a match to save her. The only hope was to have a premature birth via C-section and use the baby's placental stem cells instead (via Soap Hub). To everyone's relief, the baby was born healthy.
While the fans remain divided over Willow and Nina's mother-daughter reveal, they were even more shocked when they finally saw the premature baby.
Willow's baby was not what viewers were expecting
According to the Radio Times, while newborn baby actors in the UK can literally be several hours old, California law states the very least they can be is 15 days old. While sometimes a newborn portrayed in a film or TV show can be slightly older, the criterion is that they are small enough to appear freshly born. Premature babies are generally much smaller than babies that come to term, so when fans got to see Willow's preemie on "General Hospital," they were shocked that the child looked far older and bigger than expected. The show's official Twitter site posted a picture of the child with the question, "Has Willow made the ultimate sacrifice for her daughter?"
Most fans ignored the question as hilarity ensued. Someone replied, "She was so nervous to deliver a few weeks early and ending up having a 12-pound baby? Lol. That baby would have been 16 pounds if she delivered when she was due." The jokes flew on with one reply stating, "Good thing she had a C-Section cause that would have hurt like hell. That's a big baby." Other hilarious posts came in the form of, "That 'early' baby is almost old enough to order a steak" and, "Did they count her teeth?" 
We rolled on the floor laughing at a response to a separate post that stated, "Daughter? You mean that college-aged kid she pooped out?"