Alison Brie On How Her New Film Somebody I Used To Know Gets 'Personal' - Exclusive Interview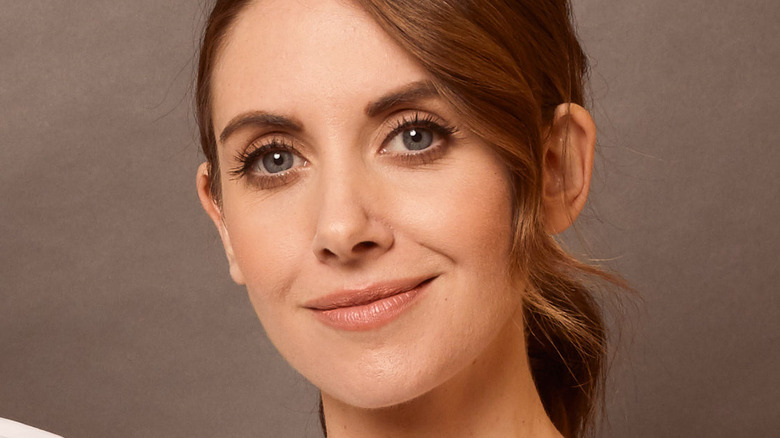 Emily Assiran/Getty Images
What if you had never walked away from that special someone all those years ago? It's a question that creeps up on a woman named Ally in the new film "Somebody I Used to Know." After choosing her dream job in Los Angeles over her longtime love, Ally (Alison Brie) finds herself back in her hometown bar with him a decade later. As she begins to feel those same familiar sparks, she now questions whether she made the right choice to leave him all those years ago. Ecstatic about her second chance, Ally then decides to surprise him at his home — only to realize that he is set to get hitched to someone else.
"Somebody I Used to Know" explores the concept of everything that could have been, an idea that inspired Alison Brie and her husband, Dave Franco, to write the film. Though the plot is nothing like Brie and Franco's own love story, the story they wrote is still "personal" — so personal that they placed themselves in it. Brie encapsulates the creative spirit of Ally, and her husband has taken a spot in the director's seat for a film viewers are sure to never forget.
In an exclusive interview with The List, Brie told us how her love of rom-coms inspired "Somebody I Used to Know," recalled the "special" scene that didn't make it into the final cut, and shared everything she knows about the long-awaited "Community" movie.
The real-life inspiration behind Somebody I Used to Know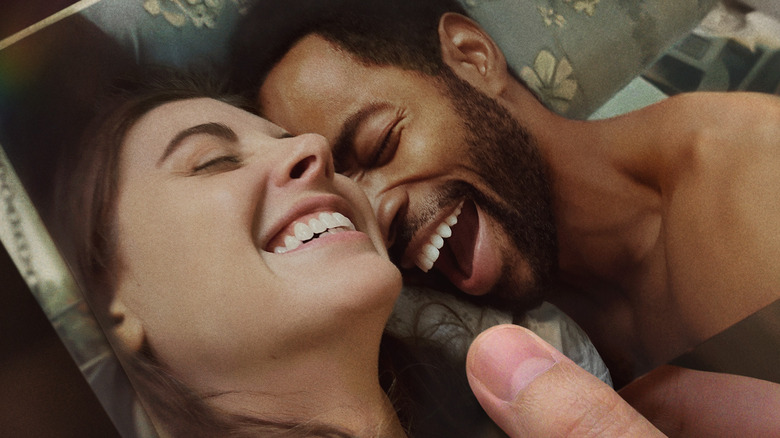 Prime Video
Making "Somebody I Used to Know" had to have been such a memorable experience for you, not only to film it with your husband, Dave Franco, but also to be able to create this world and these characters together. What inspired you two to write this story? It was written during lockdown, right?
Yes, it was, but we actually had hatched the idea just before lockdown. We were home for the holidays in Davey's hometown in Northern California and taking a walk around his old neighborhood. [We were] exploring that idea of going back home, what it brings up for people, the nostalgia elements there and what happens when you run into people that you used to know, how you're affected emotionally, how you end up taking stock of your life now versus who you were then, seeing where other people landed, and things like that. That was the initial impetus.
Then, during lockdown, we were watching so many romantic comedies. There's a lot of dark stuff going on in the world, and we wanted to watch things that were uplifting and optimistic. That really fueled this, where we wanted to make something like that. We were like, "Let's put something positive out into the world."
Were there any scenes that you two wrote or discussed that didn't end up making it in the final cut?
Oh, gosh — so many. Our original draft had this whole set-piece scene where the characters are playing the paper game [cootie catcher] ... I mostly remember it because we had a ton of rom-com references. We have a lot of references in the film as is, but in that scene, we were firing them off one by one. That didn't make the cut.
The scene that kills me the most is a great scene with Danny Pudi and me that came at the end of the movie that we shot. We even sent a version of the film to some friends for some early screenings of it. It was a fan-favorite scene, but it didn't serve the story. It was sort of interrupting. It was giving the audience too much closure before the characters have closure, and we had to get rid of it. That's the biggest heartbreaker of the movie. If people still made DVDs, I'm like, "Got to put it in the special features."
All of the 'personal' touches that were put into Ally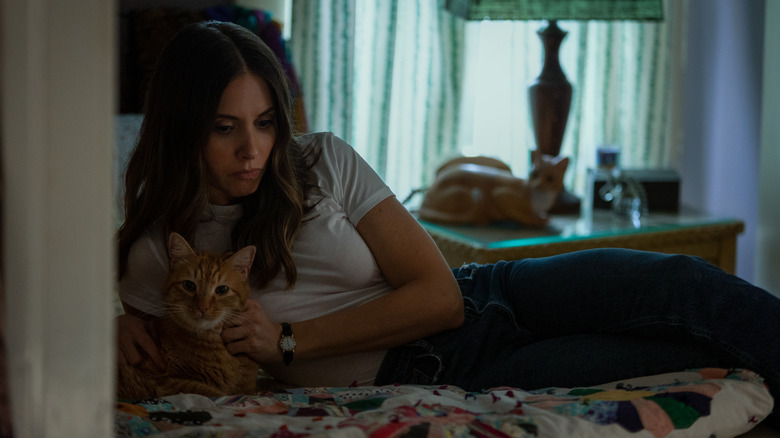 Scott Patrick Green/Prime Video
Your character's name is also Ally. Was that intentional? What other personal touches did you put on your character?
Yes — so many. Part of it was a placeholder name. I'm Ally. Danny [Pudi]'s character was Danny. There were things like that in the script at the start. I don't know if Davey [Franco] even knows this, but part of it was also a fun nod to "My Best Friend's Wedding," because Julia Roberts' character is Jules in that movie. I thought that was a fun parallel.
But even though the main storyline of the movie is not pulled from our lives, we infused the movie with so many specifics from our lives, down to ... Kiersey Clemons' character, Cassidy, has a band with her girlfriends — Jules and Serena — which is based off of [my experience]. I used to be in a cover band with my two best girlfriends, Jules and Serena. We wanted to tap into that.
All of Ally's little ditties that she sings, that's me around the house in our day-to-day life, singing little ditties to our cats and things like that. Speaking of our cats, our old cat — Harry, may he rest in peace — we've put him in the film as a character, Harry. The scene with him and me on the plane is ripped out of life.
There's a lot of little moments in the movie that are nods to our personal life or to situations that have happened with our friends, funny stories that they've told us. In general, the whole movie is very personal, even though the main storyline is not, I'm happy to say.
The special person that made working on this film 'really easy'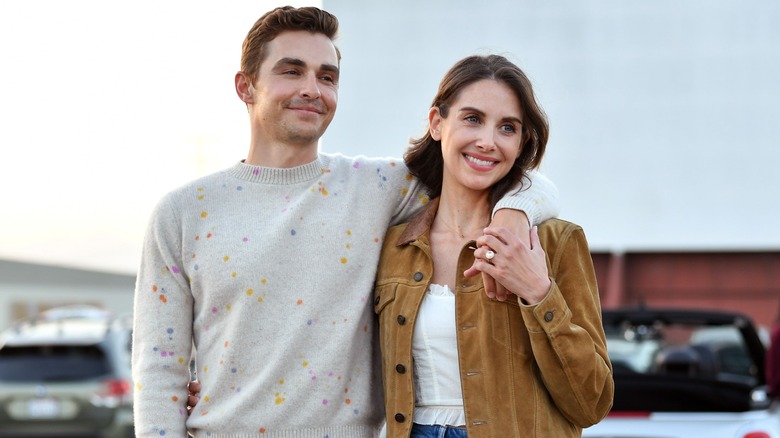 Amy Sussman/Getty Images
From an actor's perspective, I feel like you have to have a lot of trust in your director. In this case, it was your husband, Dave Franco. Did acting feel any easier for this film since the person in the director's seat was someone who's so close to you, knows your strengths, and knows you so well?
Absolutely. This is something that I learned working on Dave's directorial debut, "The Rental," because that was our first time working together in this capacity with him directing and me acting. It was like all of my actorly insecurities went away, because I trust Dave so much. To your point, I trust him more than anyone, and we know each other probably better than anyone.
There's a real unspoken language that makes it really easy — and even easier on this one because we had written it together. By the time we're on set, we've had so many conversations about every aspect of my character and her arc and every character, and how the scenes should feel, and how the room should look, and all of that stuff. There were very few surprises for me, versus sometimes when I'm acting in projects, I picture something one way, and then you get to set, and even at the way the room looks, you're like, "Oh, wow. This is her house?" It's a surprise.
It's obviously a great advantage, building something from the ground up and getting to create it all together.
Why fans of Community will fall in love with this new rom-com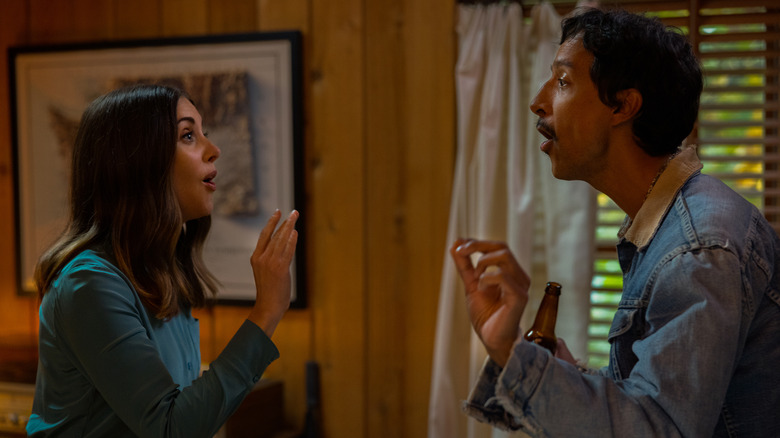 Scott Patrick Green/Prime Video
We won't be able to see that reunion scene between you and "Community" co-star Danny Pudi, like you said, but it's still great to finally see you reunited in a film like this. I read that you two improvised a lot of scenes using some of your real-life inside jokes. Which ones got included in the movie that we get to see?
When you see our characters first reconnecting in the movie, this moment opens with the two of us going, [singing] "This is my note." I swear that is a Jim Rash joke. It doesn't even sound like a bit or a joke, but I have so many memories of Jim Rash doing that on the "Community" set and all of us coming in being like, [singing] "This is my note. I'm right here. Match me here. This is the note."
You see where our sense of humor lies. [Laughs] It's a lot of theater school-style jokes.
What can you tell us about the "Community" movie now that it's in the works?
I know as much as anybody else knows, which is to say that Joel McHale was on national television saying we're shooting the movie this summer — so that's as much as I know. It sounds like we're planning to shoot it this summer.
I hope that's the case and that it comes together. I would love to shoot it this year. I'm so excited to make that movie, even more so after getting to work with Danny on this. That was like a toe-dip into the "Community" movie reunion. It's so fun, and I love those guys so much.
"Somebody I Used to Know" launches globally Friday, February 10, on Prime Video.
This interview has been edited for clarity.