White Gold Hair Takes Platinum Locks To A Whole New Level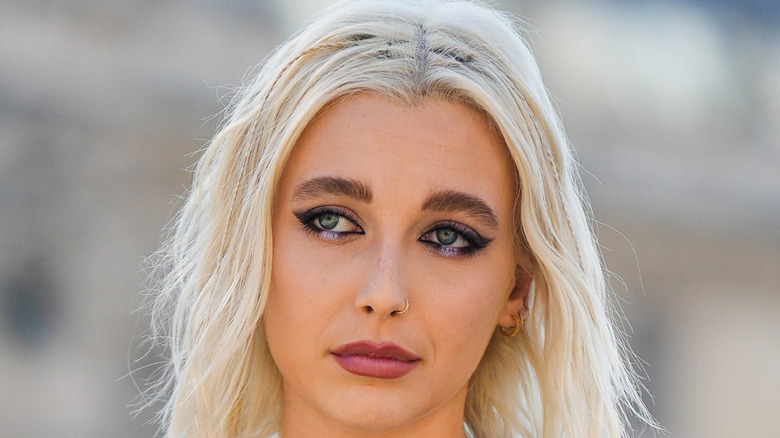 Edward Berthelot/Getty Images
Dark hair, we love you . . . but summer is right around the corner, so we're going to have to break up for now.
As the days grow warmer, everyone seems to be making the switch from winter's deep brown locks to brighter, sunnier hues. While the summer of 2022 was taken over by the expensive brunette hair trend, this summer is forecast to be all about white gold hair. This fun, highly blonde color mimics the effect of sun-bleached hair but gives it a chic twist. Celebs like Kim Kardashian and Emma Chamberlain are among the first to wear the newest bleached color, paving the way for this color to be worn by every beachgoer in the coming months.
Platinum hair used to be the standard summer hair color, but the latest white gold trend takes platinum to a whole new level. You can easily rock this modern color any time of the year; all it takes is the right hairstylist.
What is white gold hair?
For those new to the world of hair bleaching, white gold hair could easily be mistaken for platinum hair. After all, they're both bright, metallic shades that resemble a very light shade of blonde. However, there are key differences between the two that will help you easily know which is which. Per Hairfinder, platinum hair usually leaves hair strands with little to no pigmentation in an effort to resemble the metal of the same name.
Creative director of Evo Hair and celebrity colorist Tom Smith further explained the nuances between white gold and platinum during an interview with Glamour, expressing that "it's not as cool as a silver or ash shade but most certainly not warm enough to be golden. It's characterized by a neutral, cream shade—rather than too silver or too golden." 
White gold is considered ultra-blonde because the soft, creamy colors lean into the bright tones blonde is known for without leaning too far into silver or white. It's a happy medium for anyone looking to go between the shades.
How to get white gold hair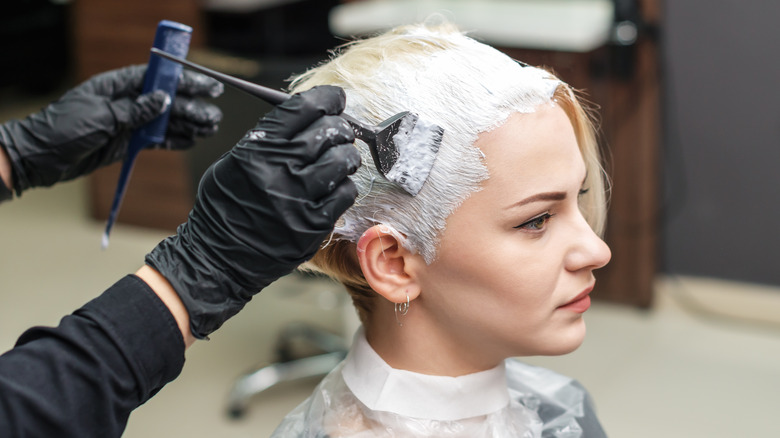 Okskukuruza/Getty Images
Bleached hair looks amazing on anyone and any hair type, so you shouldn't hold back if this is the color you want. Just know in advance that it's likely to take a few bleaching sessions with your stylist before you achieve the white gold hair that you're after. 
This is true in most cases, particularly if you are starting off with a dark base. (via The Beauty Department). You should take it slow in your journey to get white gold locks. "It's not something that you can instantly go to. It's something that you have to build over time. If you tried to go down that route directly too quickly, you're going to get really bad process damage," famed British hair stylist Larry King told Harper's Bazaar.
You can, however your chance of getting white gold in the first few tries by choosing a stylist that is up-to-date on what's popular in hair colors right now. Walk into the salon and tell your stylist you want white gold hair — they'll know exactly what color you're going for. And with the help of a kit that specifies the white gold color that you want, like the Schwarzkopf Palette Deluxe in White Gold Blonde, you'll achieve the perfect white gold hue for your locks. Unless you're uber confident in your hair treatment skills and want to try bleaching your hair at home, we recommend leaving this shade to the professionals.