The Truth Behind The Expensive Brunette Hair Trend
Kourdakova Alena/Shutterstock
Keeping up with celebrity hair trends can feel like an Olympic feat. From balayage and shag haircuts to bobs and bangs, once you finally master a popular look, the next new thing takes the world by storm and you're left in the unfashionable dust. To combat this issue, it's time to learn the truth behind the expensive brunette hair trend that's currently sweeping the nation ... or at least Hollywood, anyway.
Have you seen the recent pictures of Hailey Bieber on her Instagram where she's rocking gorgeous brown tresses? That is the pinnacle of expensive brunette hair, and Bieber was inadvertently at the forefront of the movement. Speaking with Refinery29 in August, Bieber said she noticed a significant improvement in the health of her hair once she stopped coloring it blonde during the pandemic. "I did see a big difference when I stopped coloring it — I don't dye it blonde anymore," Bieber told the publication.
Instead, Bieber decided to embrace her natural brunette locks but with a glossier, more polished finish. Thus, the expensive brunette coloring was born! Low-maintenance, budget-friendly, and painfully stylish, this hair trend is going to be the key toward looking your best while still keeping up with the latest styles.
Expensive brunette is a combination of shades and tones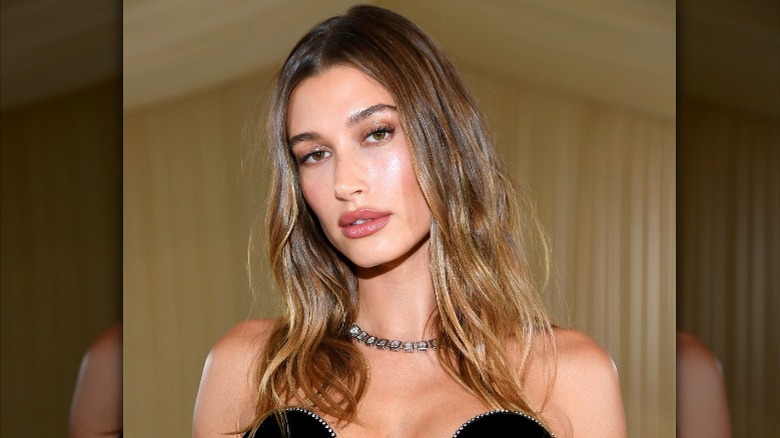 Kevin Mazur/mg21
Celebrity hairstylist Liam Curran best explained the expensive brunette hair trend when speaking with Stylist. "Expensive brunette is all about a luxurious feel to the hair, focusing on dimension, shine, and hair health. It gives the client the chance to create a hair color that's bespoke to their needs," Curran said. What sets expensive brunette hair apart from other traditional coloring is the depth of tones and dimensions woven into the strands. This specific trend features a range of brown and darker blonde shades to create a unique blend of colors.
"If you're interested in trying out an expensive brunette color, explore dimension, high shine, depth, intermixed tones, and custom blends with your stylist," Curran suggests. The brunette tones you select are going to vary depending on your skin tone and preferences, as some people may opt for more of a copper look while others will head down more traditional warm brown routes.
For Hailey Bieber, the model has a base color of chestnut brown with peekaboo honey blonde coloring toward the ends of her hair, per InStyle. This type of color is super easy to maintain because the highlights will grow out naturally with your hair. You won't have to worry about touching it up as frequently at the salon, either, because your roots are dark, which means you'll save money in the process, too.
How to get expensive brunette hair at the salon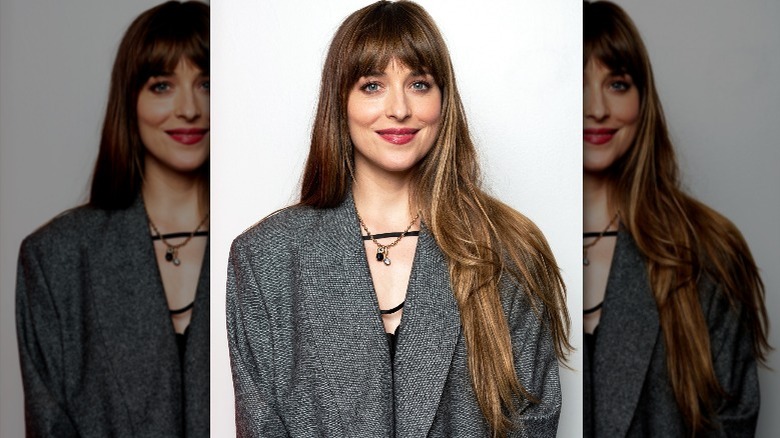 Amanda Edwards/Getty Images
If you dye your hair blonde and you want to give your locks a break, embrace the expensive brunette hair trend while it lasts. The look is much healthier as it requires little to no-maintenance to preserve, and it's equally glamorous as blonde hair because of the endless tone combinations available. Celebrity hairstylist Tom Smith spoke about the expensive brunette hair trend with Glamour and said, "Now that a brunette can look equally as 'expensive' and 'designed' as brighter or bolder shades, it makes sense that many celebrities are interested in the deeper tones."
To emulate the gorgeous tresses rocked by Hailey Bieber and Dakota Johnson, work with your stylist to determine which tones and shades of brown work best for you. Smith said to Glamour, "It's also worth discussing whether warmer or cooler tones suit your skin, as this decision can be taken independently of how light or dark you want to be. Warmer shades would present as coffee, caramel, copper, and gold, while cooler tones would present as iced chocolate, ash, taupe, silver, and ice."
Bieber's colorist, Cassondra Kaeding, recommends using Redken's Shades EQ Hair Gloss at the salon to achieve the signature expensive brunette shine, per InStyle. This is crucial because it helps elevate your hair color to the next level. To make sure you get the exact color you want, bring reference photos to show your stylist — they'll take care of the rest!