Lizzo's Acceptance Speech Celebrating Body Positivity Is The True Grammys 2023 Winner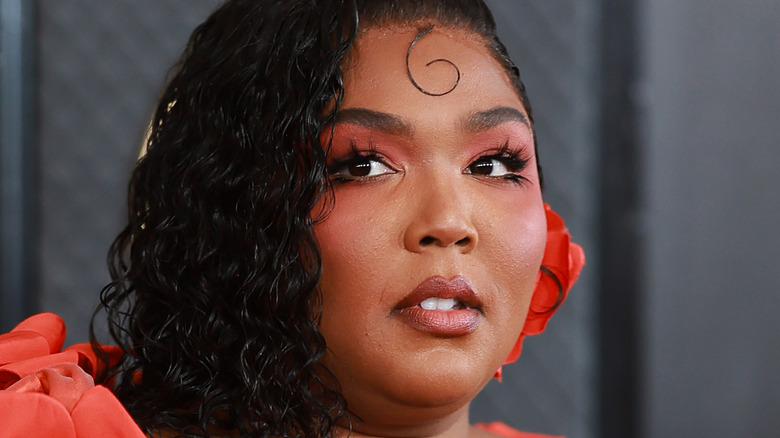 Matt Winkelmeyer/Getty Images
Within the past six years, Lizzo has catapulted into superstardom, and the singer, rapper, songwriter, and flutist is beloved around the world. For all her current international renown, there's been a lot of work over several years that she's done to get to that place and not always with the recognition she gets now, via Elle. In 2017, Lizzo said "I just felt like I was throwing music into the world and not even making a splash [...] I said, 'If I stop making music now, nobody would f***ing care,'" according to Elle. Thankfully, she didn't stop making music, and 2017 was the same year that her song "Truth Hurts" was released. But it wasn't until 2019 that the song got the traction and the recognition that it deserved, per E! News.
Since then, Lizzo has stayed a major part of the musical conversation with feel good hits like "Good as Hell" and "Juice" confirming that she is, in fact, 100% that b****. She showed up at the 2023 Grammys with five nominations, three previous wins, and a very trendy red carpet dress. She even ended the night with a fourth Grammy to her collection for "About Damn Time" as the Record of the Year. In her acceptance speech, she leaned in on the signature of so many of her songs — positivity.
Lizzo is focused on making positive music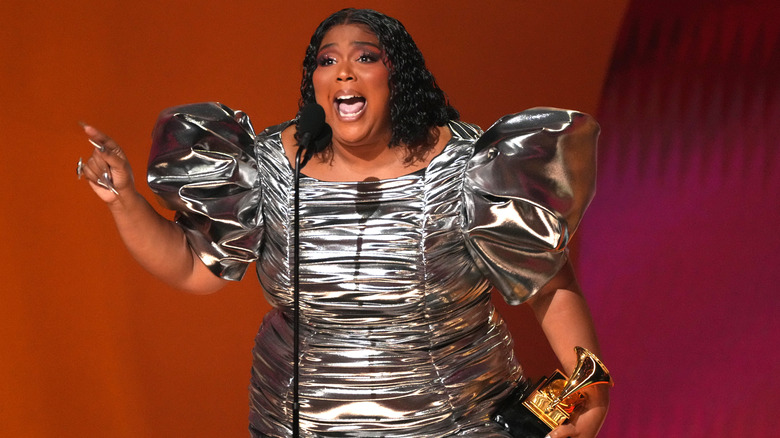 Kevin Mazur/Getty Images
Lizzo took the stage to accept her win for Record of the Year for "About Damn Time" from her album "Special," which was also nominated for Best Pop Vocal Album and Album of the Year. In her speech, she dedicated her award to Prince and said: "When we lost Prince, I decided to dedicate my life to making positive music." Lizzo worked with Prince in 2014 on his album "Plectrumelectrum," according to Rolling Stone. Lizzo spoke about how positive music hasn't always been mainstream, but that's still what she wanted to do. She said, "I had to be that change to make the world a better place."
Things have indeed changed for the better and it's a change that she's proud to be a part of. As Lizzo went on to say in her speech: "[A]ll of these songs are about loving our bodies and being comfortable in our skin [...] and I'm just so proud to be a part of it. In a world where there's a lot of darkness and a lot of scary s***, I like to believe that not only can people do good but we just are good."
And people loved her for it. "Every time Lizzo has a mic she says some uplifting motivational s*** and we don't appreciate her enough for that," one fan tweeted. Another said, "I love seeing Lizzo win. Awards. At life. All of it!!!"