Kate Middleton's New Project Seen As Her Chance To Make 'Generational Change'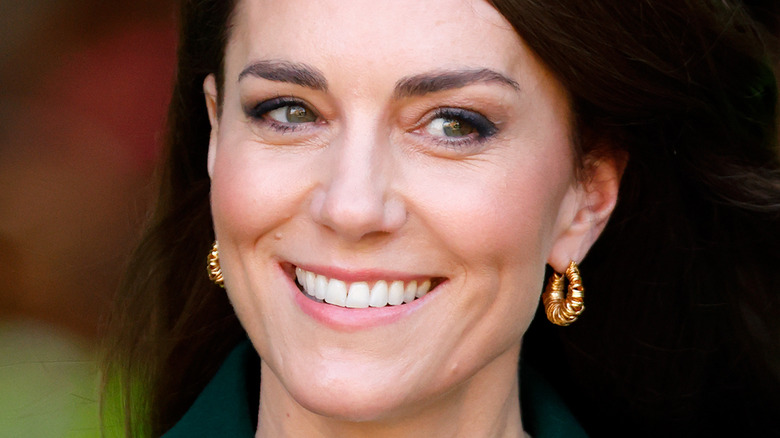 Max Mumby/indigo/Getty Images
In spite of the controversy and bad blood surrounding the royals these days, Catherine, Princess of Wales, seems determined to bring good vibes and good press to her famous family. 
While she hasn't publicly commented on the startling revelations from Prince Harry's controversial memoir, "Spare," she has had a few memorable moments in the media as of late. From the viral video of her sweet response to a nervous fan asking for a selfie to her Instagram post sharing a never-before-seen baby photo that had fans drawing comparisons to her lookalike son, Prince Louis, Kate Middleton proves that while all press may be good press, good press is definitely better. However, the good press that Kate is getting isn't just about heartwarming moments in the public eye. She's also on the road to enacting real change. 
According to the royal family's website, Kate recently launched her "Shaping Us" campaign, which focuses on in, her own words, helping "support parents and caregivers provide loving, safe and secure homes for their babies and young children to thrive." So far, the campaign has been met with praise, and it's clear that Kate has nothing but faith in the project's future (via Express).
The future of Shaping Us
As the future queen, Catherine, Princess of Wales, has a huge platform that gives her the tools to do good in whatever way she chooses. Per Express, the "Shaping Us" campaign shows the world that Kate knows exactly where her priorities lie: in supporting childhood development and helping to equip parents with the tools they need to help their young children grow. Early childhood development has always been vital, but Kate calls the cause "more important than ever."  
In a speech, Kate explained, "It is essential, to not only understand the unique importance of our earliest years, but to know what we can all do to help raise future generations of happy, healthy adults." While the campaign's focus is to support young children, it's evident that Kate aims to help folks at a young age to ultimately shape the future. Her goal is to "make a huge difference to generations to come."
In a recent interview with radio host Roman Kemp, Kate admitted that parenting is difficult, and parents must understand the importance of being there for their children. She said, "It's not about the number of toys they've got or the number of sort of trips that you go on with them. It's just making sure that they've got the right emotional support around them, and that comes from the adults in their lives."  
Ultimately, Kate believes that "love goes a long way," and we have a feeling that Shaping Us will, too.