Vail Bloom Opens Up About Her Long-Awaited Return To The Young And The Restless
Jason Merritt/Getty Images
Heather Stevens has been involved in much intrigue as assistant district attorney on "The Young and the Restless." Not only was she shocked to learn that her father was the charming Paul Williams (Doug Davidson) and not the abusive Dr. Robert Lynch (Terrance McNally), but one of her biggest cases involved sending Victor Newman (Eric Braeden) up the river for murder (via Soaps In Depth). However, Victor was innocent and ensured that Heather was fired for her actions. Fortunately, she figured out who the real murderer was, solved the case, and got her job back.
Heather went on to have a romance with artist Daniel Romalotti, Jr. (Michael Graziadei). The couple, and Daniel's daughter Lucy, moved to Georgia in 2016, but Daniel recently returned to Genoa City. He has reconnected with his mother, Phyllis Summers (Michelle Stafford), and father, Danny Romalotti (Michael Damian), revealing that his jealousy of Heather's successful career caused a rift between them, per Soaps Spoilers. Now developing a video game with his parents' help, Daniel is holding out hope that he and Heather will one day reconnect.
Actress Vail Bloom began playing the role of Heather in 2007 but was subsequently recast with Eden Riegel in 2010 and, later, Jennifer Landon in 2012. Now that it has been revealed that Heather and Lucy are returning to "Y&R," Bloom is reprising her role.
Vail Bloom is excited to return to Genoa City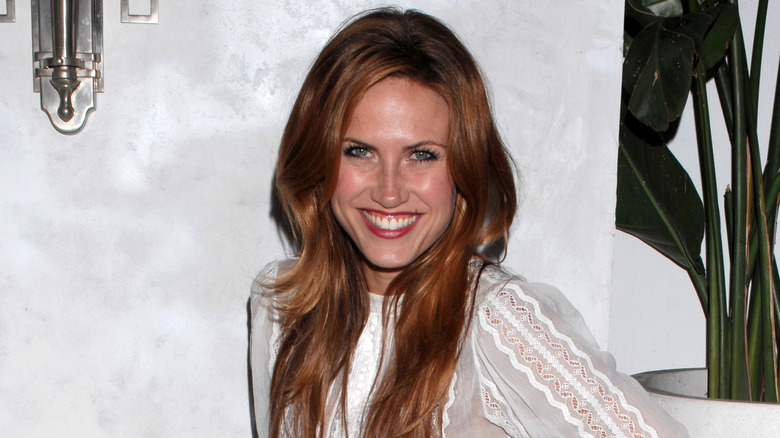 Avalon/Getty Images
Vail Bloom told Soap Opera Digest that a couple of chance encounters with co-star Michelle Stafford and Jennifer Gareis — who plays Donna Logan on "The Bold and the Beautiful" — were signs that preceded her call back to "The Young and the Restless." She stated, "I was primed and ready when I got the call from my agent that 'Y&R' wanted me to come back as Heather. I was completely surprised, but I was really happy to hear from them." The actress felt that coming back for the 50th anniversary of "Y&R" was a no-brainer. Bloom said, "I missed being part of a story in film and television that connects people, and what can better do that than a 50-year-running show with history and consistency that has a viewership crossing generations?"
Bloom is enjoying working with Lily Brooks O'Briant, who will play her step-daughter Lucy, explaining, "She's a real professional and has that 13-going-on-30 vibe." Bloom's also looking forward to reuniting with Michael Graziadei (Daniel Romalotti), exclaiming, "I couldn't have picked a better person to have a storyline with now than Graz because we've had so much fun together and really respect each other." 
Bloom is open to a longer stay on the show this time, though Showbiz Cheat Sheet reports that she's got her hands full between work and her two children. We've got our fingers crossed that she'll be able to fit in more "Y&R" time!