The 3 Makeup Products Emily Ratajkowski Always Has On Hand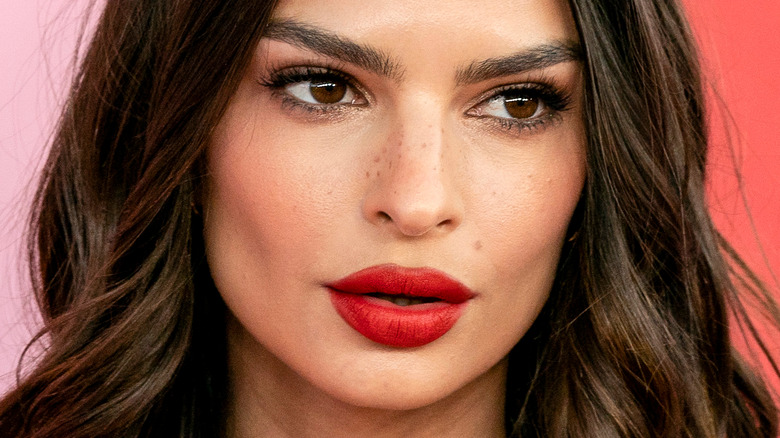 Ovidiu Hrubaru/Shutterstock
These days, model, actor, and author Emily Ratajkowski is busy making headlines for her post-divorce dating adventures (hello, Brad Pitt, Pete Davidson, and Eric Andre) and her refreshing — and sometimes surprising — takes on parenting, divorce, sex, and body positivity. Ratajkowski is also a huge presence on social media, boasting millions of followers across her platforms. Unsurprisingly, her social media activity also makes waves. In September 2022, she posted a TikTok that seemingly shaded her now ex, Sebastian Bear-Mcclard. In the video, which she duetted with another creator, Ratajkowski nods in agreement with the text in the original video, which read: "When he thinks he's a 10 because he pulled you but you like ugly men."
And while we live for hearing Ratajkowski's unfiltered thoughts — like her take on the "worst type" of man to date – the star's beauty routine is also top of mind. While we may not have Ratajkowski's sultry doe eyes or perfect bone structure, we can still learn a thing or two from her. Bonus: There are countless videos on YouTube and other social media outlets of Ratajkowski applying her makeup, which means you can get a more up-close-and-personal look at her whole routine, straight from the source.
But since we can't do a deep dive into her makeup bag every day, we'll settle for knowing a few of her favorite products she's talked about over the years that help her achieve her famous golden glow.
Emily Ratajkowski's go-to products for avoiding 'smushed' brows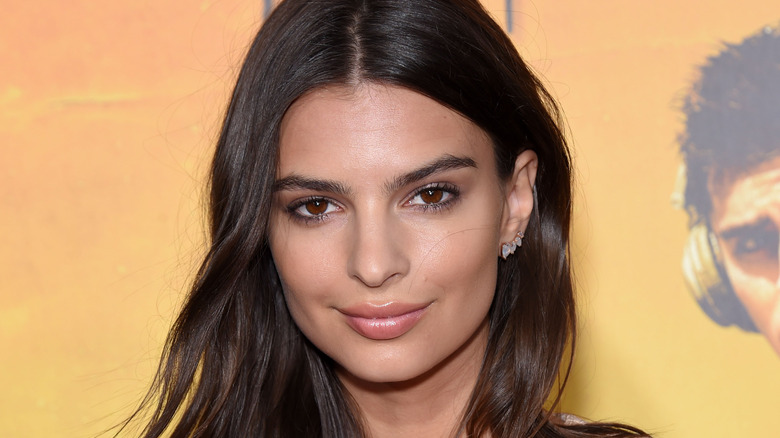 DFree/Shutterstock
Emily Ratajkowski's famously unruly brows are a major part of her effortlessly chic look. Gone are the days of overly manicured brows with nary a hair out of place. Instead, Ratajkowski opts for a controlled chaos look above her eyes. In 2018, she told Vogue, "I don't feel like a normal person unless my eyebrows are brushed up. There's nothing sadder than an eyebrow when it's smushed down." Nothing sadder, indeed.
To combat smushy brows, Ratajkowski relies on iconic industry favorites. In 2020, she told British Vogue she keeps her brows in check with go-tos like the Anastasia Beverly Hills Brow Wiz and the Anastasia Beverly Hills Clear Brow Gel. She uses the Brow Wiz to shape her brows and fill in any gaps, while the Brow Gel locks them into place for a wild, yet still controlled, look. 
Perfect for a minimal, natural brow look that doesn't look overly done.
Emily Ratajkowski uses this product to achieve a 'sunburned' look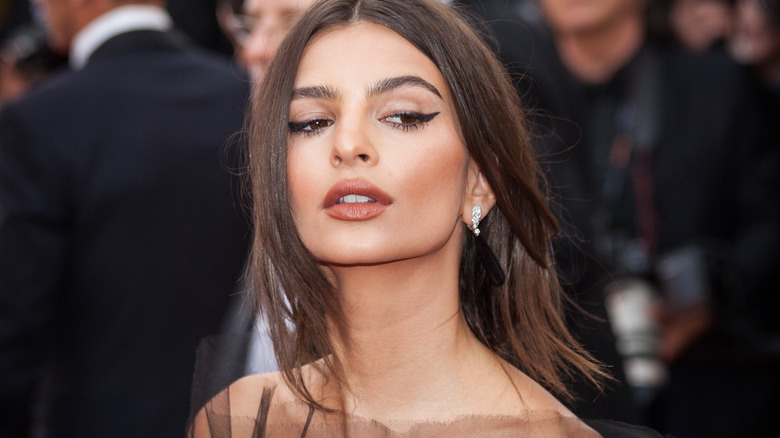 taniavolobueva/Shutterstock
In the past, Emily Ratajkowski's revealed a somewhat unconventional approach to obtaining a rosy glow on her cheeks. She's admitted to using lipstick as a blush because she liked the texture more than powder. However, in a January 2023 interview with Byrdie, Ratajkowski raved about the healthy flush she gets from Patrick Ta's Major Beauty Headlines – Double-Take Crème & Powder Blush. And she doesn't worry about going overboard, either. She told Byrdie, "Blush is just so underrated. Whenever I get my makeup done I'm like 'put more, put more!' and they're like, 'you look crazy.' I'm like 'no, I don't, I look great.' I want to look sunburned." Hey, if the sunburned look works for a queen like EmRata, who are we to judge?
Like the rest of us, Ratajkowski is a fan of cult British beauty line Charlotte Tilbury. The brand's products are all over social media, with people raving about everything from the Hollywood Flawless Filter to the famous Pillow Talk collection. For Ratajkowski, the brand's Magic Foundation is one she swears by. In a 2019 video for Vogue detailing her five-minute date night look, she said that she uses her fingers to apply the Charlotte Tilbury foundation because it makes the product "blend more seamlessly."
In the video, she also revealed that while she's always been obsessed with makeup, she didn't get good at applying it until later on in her career. She's gotten so good, in fact, that she's her friends' go-to makeup artist for special events. Lucky friends!