Prince William And Kate Middleton Dodge Disgruntled Protestor During Royal Outing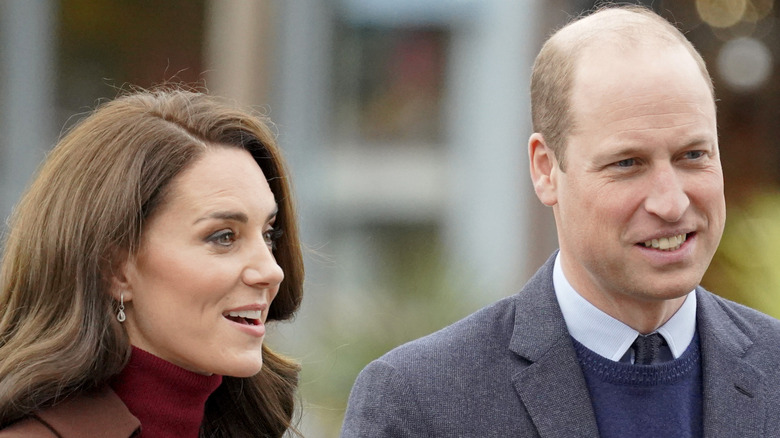 Hugh Hastings/Getty Images
After the publication of Prince Harry's memoir "Spare," William, Prince of Wales and Catherine, Princess of Wales saw their popularity ratings take a tumble. In fact, everyone in the royal family, including Prince Harry and Meghan Markle, the Duke and Duchess of Sussex, saw their approval ratings drop in an Ipsos poll from January 2023. However, despite the drop, the Prince and Princess of Wales are still some of the most popular members of the royal family, with William at 61% favorability and his wife tying for second along with Anne, Princess Royal at 60% — Princess Anne has consistently been one of the hardest working members of the royal family. The royal family as a whole only dropped one favorability point since December, sitting at 53%.
Fans of William and Kate showed up outside the National Maritime Museum Cornwall for the couple's first joint visit to Cornwall after having become the Duke and Duchess of Cornwall upon Queen Elizabeth's death. But it turns out that not everyone in the crowd was a fan, and the sole protestor who showed up was quickly and quietly dealt with by police, per Twitter.
Around 25% of Britons think the monarchy should be abolished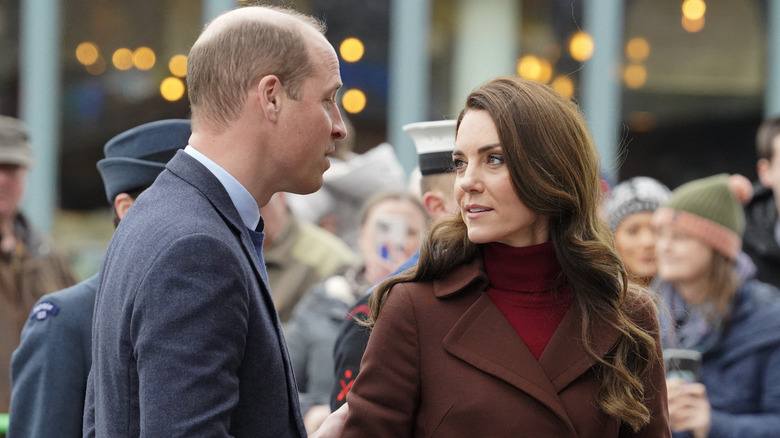 Hugh Hastings/Getty Images
The one protestor at the walkabout in Cornwall was towards the back of the three or four person deep crowd waiting to see the Prince and Princess of Wales, per Express. His protest took the form of holding up a blank sheet of paper. Blank pieces of paper have been a sign of protest in recent months in China as a symbol of people being or feeling silenced by the government, according to BBC News. Police restrained the protestor and removed him from the crowd until after the royal couple departed the area, but he wasn't arrested. William and Kate met well-wishers in the crowd with no indication of being bothered by or noticing the protestor.
Matt Wilkinson, royal editor for The Sun, tweeted about the encounter and said the protestor told him he did it because "'It's the 21st century we don't need a monarchy any more, it's f****** ridiculous.'" His opinion that the monarchy should be abolished is shared by about a quarter of the country, according to the Ipsos poll that showed the recent approval ratings of William and Kate and the rest of the royal family.