Princess Anne Once Again Comes Out On Top For Earning Royal Label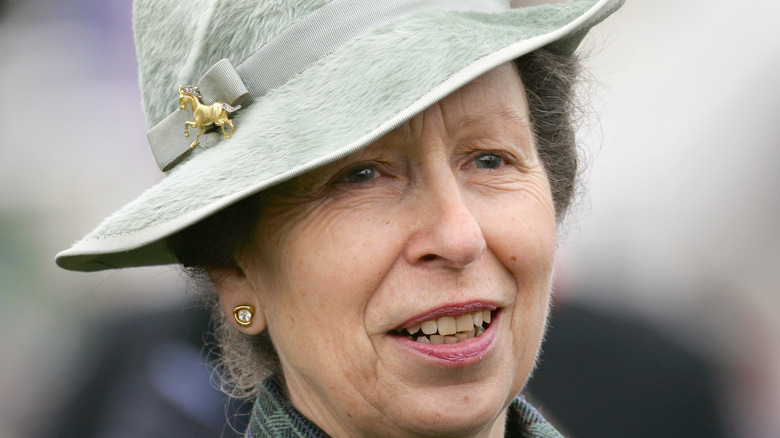 Max Mumby/indigo/Getty Images
Time and again, Princess Anne has proven she's a force to be reckoned with. As noted by the royal family's website, Anne has been a working royal since she was 18. In between royal duties, during the 1970s, Anne won gold and silver medals at equestrian events in the European Eventing Championships and competed with the 1976 British equestrian team, becoming the first royal Olympian, per The Telegraph.
Anne also showed her grit during a terrifying attempted kidnapping in 1974. As reported by the BBC, besides telling the kidnapper that it was not "bloody likely" she would come with him and that she didn't have the £2m he wanted, Anne got angry. "I nearly lost my temper with him, but I knew that if I did, I should hit him and he would shoot me," she wrote at the time.
More recently, the Princess Royal has earned respect from royal fans following the heartbreaking death of Queen Elizabeth II when she accompanied her mother's coffin to Edinburgh and walked behind it with her siblings during the funeral procession, per The New York Times. A few days later, Anne was back at work, visiting Portsmouth Naval Base. Weeks later, Anne was in the U.S. for an overseas tour (via Tatler). 
Anne takes her work seriously, and, while she is only 16th in line for the throne, this senior royal just earned the distinction of being No. 1 in a different part of royal life.
Princess Anne is the hardest working royal for the fifth time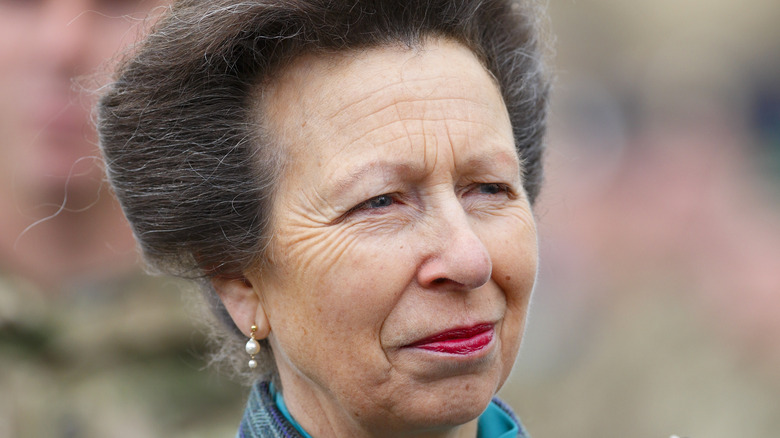 Max Mumby/indigo/Getty Images
Once again, Princess Anne has taken the No. 1 spot as the hardest working royal. As reported by the Mirror, Anne attended 214 events in 2022. In 2021, Anne was the hardest working royal, too, with an impressive 387 appearances. In addition, she earned this title in 2015, 2016, and 2018.
This number of appearances is calculated by Reboot SEO using Court Circular data, per Daily Mail. This year, King Charles III came in second, with just 33 fewer appearances than his younger sister. The two siblings are frequently close competitors, with Charles earning the hardest working distinction in 2019 and 2020. The 2019 numbers were particularly massive, with Charles at 521 events and Anne at 506.
According to historian Edward Owens, "[Anne's] always recognized that the family can only enjoy the privileges of royal life if they work hard," per The New York Times. She's so committed to work that she prefers to focus on the tasks at hand, rather than stopping to take a break. "I think during the day, eating's not really an issue," she told Vanity Fair in 2020. Instead, Anne's been known to carry a kiwi in her purse, for a quick bite on the go.
However, the princess doesn't mind adding in extra work time. During a visit to University College London, Anne was so fascinated by a discussion of prostate cancer cells that she extended her appearance, per Town & Country.
The Princess Royal is a key part of King Charles's monarchy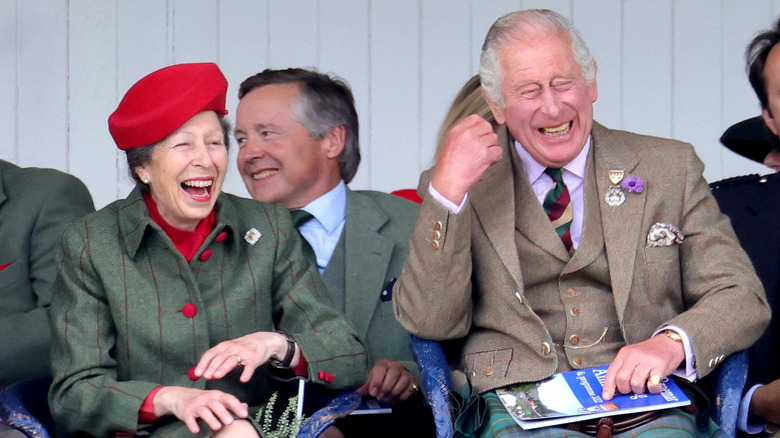 Chris Jackson/Getty Images
Earlier this month, as People reported, King Charles III made his sister, Princess Anne, and brother, Prince Edward, lifelong Counsellors of State, meaning either of his siblings can take over royal responsibilities if Charles is ever unable to do so. The legislation was fast-tracked following the death of Queen Elizabeth II, since Prince Harry and Prince Andrew are no longer working royals. Anne and Edward both previously served as counsellors for the late monarch, so this is nothing new for them. 
As royal author Katie Nicholl noted in Vanity Fair, the Princess Royal played a key role during Her Majesty's reign and is expected to do likewise for Charles. Although the king has been toying with slimming down the working members of the monarchy, Anne has no cause to worry that she'll be cut out since Charles's sister has more than proven her worth over the past few decades. The queen's only daughter shows no signs of slowing down either.
She told Nicholl, "I don't think retirement is quite the same [for me]. Most people would say we're very lucky not to be in that situation because you wouldn't want to just stop. It is, to a large extent, the choice of the organizations you're involved with and whether they feel you're still relevant." Evidently, there's no doubt Anne continues to be relevant both with royal watchers and Charles, who's already made his sister instrumental to his rule.