Queen Camilla Promises Young Royal Fan She'll Pass Along Playdate Invite For Princess Charlotte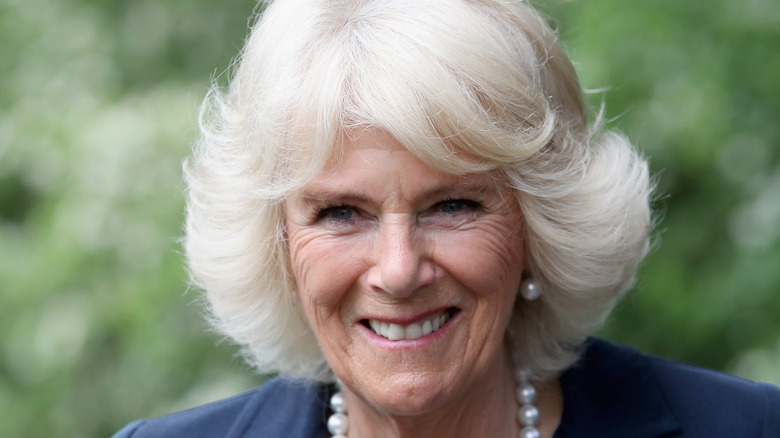 Chris Jackson/Getty Images
As an advocate for victims of domestic violence, Queen consort Camilla has made numerous visits to locations that support a cause that's close to her heart. For her first official outing as queen consort, Camilla visited healthcare workers and patients at a hospital that helps victims of domestic violence. On February 9, she attended an anniversary event at the STORM Family Center, per the royal family's website. Founded in 2004 by Marie Hanson, MBE, STORM stands for Support, Trust, Opportunity, Rebuilding, and Motivation.
During the visit, Camilla cut an anniversary cake and participated in a group art project. According to Hello!, she used a paint pen to add her own flourishes and sign CR, her royal initials. As reported by the Daily Mail, Camilla also took time to speak to all the survivors present who had relied on the charity's services. When one woman started to cry as she told her story, Camilla replied sympathetically, "Don't worry, we will all cry with you." She complimented the women who had come to STORM for support and later became volunteers at the center. In addition, the queen consort took time to chat with other attendees at the event, including one young fan who had a very special message for Princess Charlotte.
If you or someone you know is dealing with domestic abuse, you can call the National Domestic Violence Hotline at 1−800−799−7233. You can also find more information, resources, and support at their website.
An 8-year-old girl invited Princess Charlotte on a play date
Wayne Hickson and his daughter Charlotte, nicknamed Charlie-Rose, were guests at the STORM charity event. Charlie Rose has given toys to the organization, and her grandmother volunteers there, per The Independent. During the event, the young girl worked up the courage to hand a special message to Queen consort Camilla. Her dad revealed the contents to Hello!, saying, "The note read, 'Dear Princess Charlotte, My name is Charlotte-Rose and I'm eight.' It said her primary school and where we lived and said did she fancy a play date. It ended with, 'Here's my phone number, hopefully you will, love Charlie-Rose.'"
Camilla graciously accepted the note, complimented Charlie-Rose's dress, and confirmed that she'd deliver it to her step-granddaughter. When Rebecca English, the Daily Mail's Royal Editor, tweeted a picture of the happy father and daughter, Charlie-Rose's mother replied, "That's my daughter so proud of her," along with 3 purple hearts.
According to Wayne, his daughter has felt a connection to Prince William and Princess Catherine's middle child. Charlie-Rose has a sign referring to herself as "The Original Princess Charlotte," per Mirror. She's slightly older than Charlotte, who will turn 8 on May 4, per the royal family's website. While Charlie-Rose would gladly host a play date, she wouldn't mind a trip to a royal residence. "I'm hoping [Charlotte will] agree, you never know, and I think I'll go to her house," she said, per Independent.
Royal play dates involve additional planning and security clearance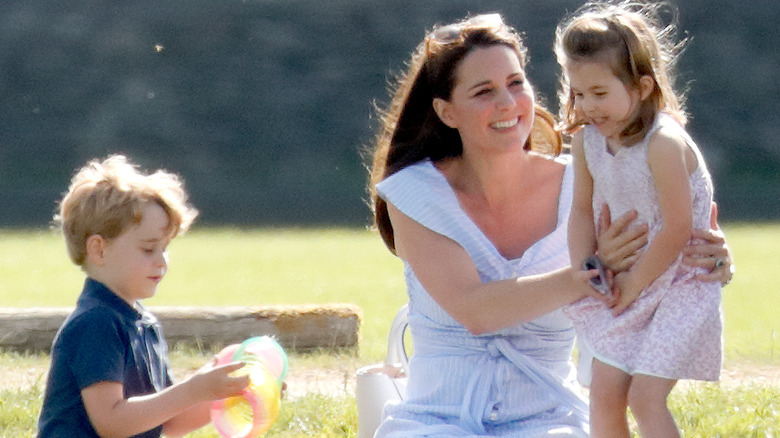 Max Mumby/indigo/Getty Images
Now that she's delivered Princess Charlotte's play date invitation to Queen Consort Camilla, Charlie-Rose Hickson remains optimistic. When William, Prince of Wales and Catherine, Princess of Wales, lived at Kensington Palace, they hosted play dates for Prince George, Charlotte's older brother. The children's parents were also invited to attend, although a royal insider told The Sun, "It does involve a bit more planning than a normal play date, as everyone visiting the palace has to be security vetted."
However, in some locations, a royal play date can be more impromptu. In 2016, actor Ben Affleck related how his son played with George and Charlotte at an indoor play park in London. The meeting was serendipitous since Affleck happened to take his child there on a rainy day. Although he was surprised to see an abundance of security, the actor commented, "I was the very last person to realize that Prince George and Princess Charlotte were in there playing with my kid," per Daily Mail.
Even if Charlotte is unable to accept Charlie-Rose's invitation, she may get a thoughtful response. When a 6-year-old girl invited Prince George to her birthday party, William and Kate sent a kind RSVP. After offering their regrets that George couldn't attend, the Prince and Princess of Wales applauded the girl's caring invitation. The child's mother was excited to receive the letter and posted it on Twitter, dubbing it "something amazing for her to keep," per Express.