Rethink Using Blue Shampoo For Every Wash To Avoid Undesirable Results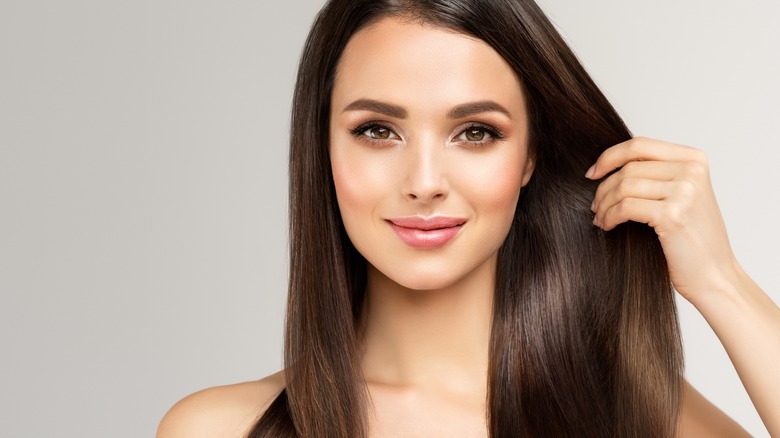 Sofia Zhuravetc/Shutterstock
We may receive a commission on purchases made from links.
Purple shampoo has been a staple for blondes everywhere, hoping to cool their bright tones and keep their blonde looking fresh. But did you know that brunettes have their own version of purple shampoo? According to Business Insider, those with color-treated brown hair can use a blue shampoo to have the same effect as purple shampoo for blondes. In fact, using blue shampoo is important for brunettes who have lightened their hair a bit, per Jamielynn De Leon, owner of Rogue House Salon in the East Village, who says that using the product will help prevent your hair from turning orange-red.
Since brunette hair is having a moment — according to The New York Times, brown tones have been the it-girl style since 2022 — those who have recently gone from blonde to brown should consider switching out their shampoo colors to avoid unwanted results like fading, per John Frieda. But if you've been dousing your locks with blue shampoo every wash, you may want to reconsider.
Why blue shampoo shouldn't be used daily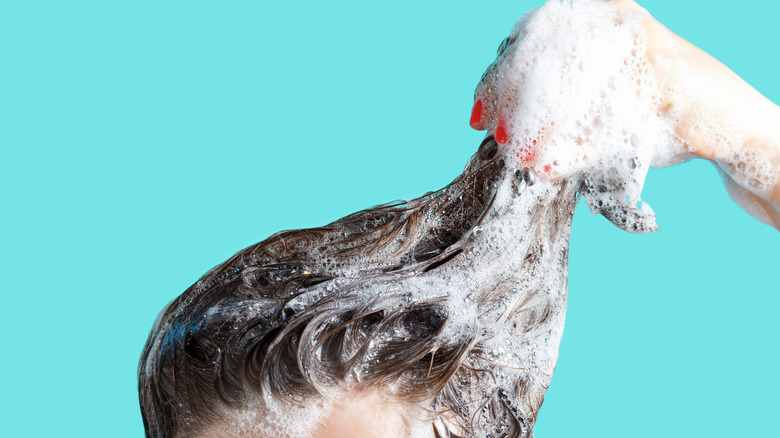 Tatiana/Getty Images
While it has shampoo in the name, blue shampoo is tailored more towards maintaining the color of your hair and less about simply washing this. According to John Frieda, blue shampoo works by counteracting unwanted colors in your color-treated hair, like orange and red. This sounds great, but too much can make your hair look darker and erase your desired lightened colors. Instead of dousing your hair with blue, stick to just once or twice a week instead.
If you've never taken your brown locks to the salon but still find your hair getting red or orange hues in the sun, Jamielynn De Leon says you can also benefit from using the shampoo. Still, you should only use the blue shampoo occasionally, keeping a regular shampoo in your shower for the in-between washes. If you have followed your favorite influencers who have recently gone brunette, you're going to want to add a blue shampoo to your repertoire.
The best blue shampoos to buy
You may not want to be dousing your hair in blue every wash, but using a blue shampoo every few washes can do wonders for your color-treated brunette hair. But not every blue shampoo is treated the same. Some shampoos are meant for dry hair, while others are best suited for natural brunettes.
If you are hoping to keep your newly lightened hair fresh, the Fanola No Orange Shampoo is a great option, particularly for those who revamped their entire mane from blonde to brown. And don't let the super low price (under $8 on Amazon!) scare you — over 16,000 reviewers raved about the product reducing brassy tones. Other blue shampoos we love include the DevaCurl No-Poo Blue® Anti-Brass Zero Lather Toning Cleanser, which is ideal for curly-haired girls who want to keep their bounce and the l'ange Brunette Boost Blue Toning Shampoo, which is great for all brunettes, whether you are naturally brown-haired or recently colored it.