Super Bowl 2023: All The Worst-Dressed Stars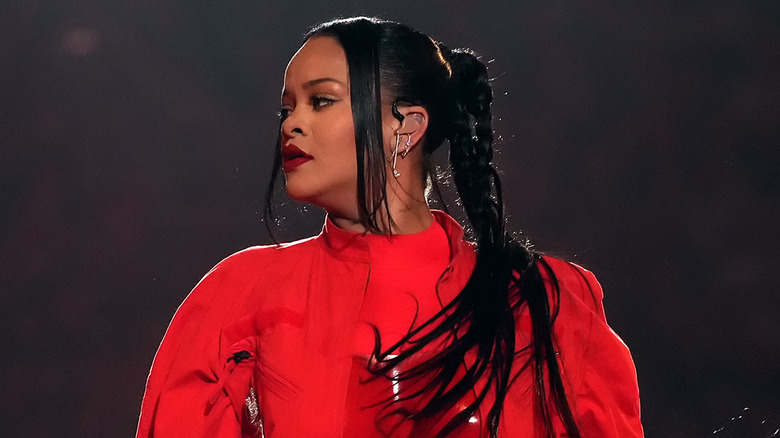 Kevin Mazur/Getty Images
Cara Delevingne used her outfit to show who she was rooting for
It's safe to assume simply from her Super Bowl outfit that model and actor Cara Delevingne is not the biggest fan of American football. Delevingne donned a wordy, oversized t-shirt that let everyone know Rihanna was her number one priority. "Rihanna concert interrupted by a weird football game, weird but whatever," her shirt read. Delevingne posted the look on Instagram, with the second post of her slide giving away a twist to her outfit. She pulled the shirt over her head to reveal an image of Rihanna wearing a football helmet.
Jordin Sparks' feathers felt a little out of place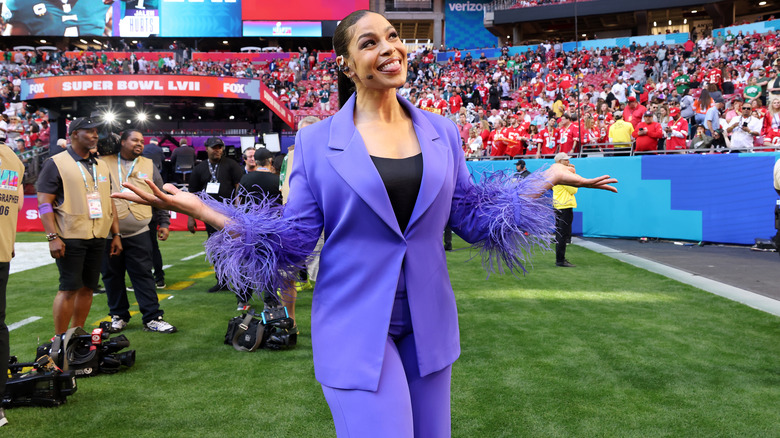 Mike Coppola/Getty Images
Singer Jordin Sparks attended Super Bowl LVII, wearing what at first appeared to be a timeless suit. The deep v-neck of the purple suit jacket revealed a black top underneath, and she wore classy black heels to go with it. But we soon realized the look featured a quirky, out-of-place detail: Sparks' suit had thin feathers lining the arm cuffs. While we appreciate the uniqueness, this detail didn't quite fit the vibe of the event (i.e., the football game).
Donna Kelce had a heartfelt story behind her unconventional Super Bowl outfit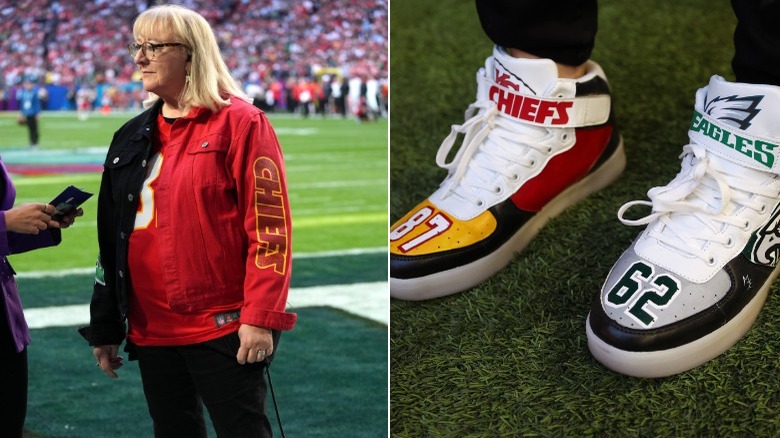 Kevin Mazur, Gregory Shamus/Getty Images
Donna Kelce wasn't your average mom watching the Super Bowl. At Super Bowl LVII, Donna Kelce had not one but two sons, Jason and Travis Kelce, playing in the biggest American sporting event of the year. But her motherly love was tested at the Super Bowl, as Jason plays center for the Philadelphia Eagles and Travis is the tight end for the Kansas City Chiefs (per People). To show her love equally for both sons, she wore a 50/50 split outfit that honored both teams — but didn't quite hit the mark in terms of style. She even sported two different shoes, one for each son's team and number. 
Rihanna and her backup dancers got roasted on Twitter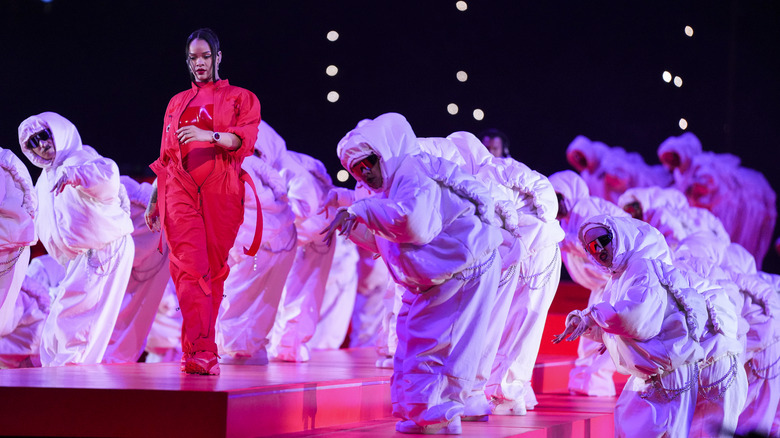 Cooper Neill/Getty Images
All of us waited eagerly for Rihanna's half-time performance, which was the first time she performed since the 2018 Grammys (according to Billboard). Her voice blew us away, as well as the selection of songs she performed from her impressive repertoire. Her and her backup dancers' outfits, on the other, weren't as impressive. Unlike many other Super Bowl halftime performers, Rihanna chose not to do an outfit change. The decision makes total sense — quick changes are hard, and it was later confirmed that she is pregnant with her second child — but many on Twitter poked fun at her all red outfit (with one "troll" likening her to Elmo). In white jackets and baggy pants, her dancers looked a bit like the Michelin Man, as pointed out by another Twitter user – not the chicest of looks for the world's biggest stage, but probably comfy!