The Difference Between Tinted Moisturizer And Skin Tint Explained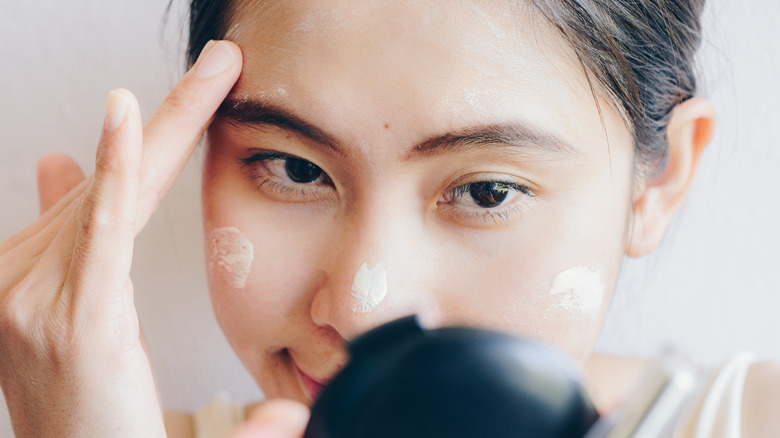 Boyloso/Getty Images
If you have dabbled in the world of skincare or makeup, you've likely heard people mention their favorite tinted moisturizers or rave about the latest skin tint on the market. It can be easy to think that these terms were simply interchangeable or referring to the same type of product, but there are actually distinct differences between a tinted moisturizer and a skin tint.
While both products are used to even out your skin's complexion, they are formulated differently, with unique goals and looks in mind. Selena Gomez is one celebrity who often raves about her own Rare Beauty tinted moisturizer on TikTok, with much of the brand's mission centered around natural makeup that allows the skin to shine through. Another familiar minimalistic option is a TikTok viral skin tint from Ilia, which also claims to have light coverage and contains SPF.
Although it may be hard to see any major differences between these products at first, or even once they are applied, understanding the intention of each product and who they are created for will likely shed light on these distinctions. 
What are your makeup goals?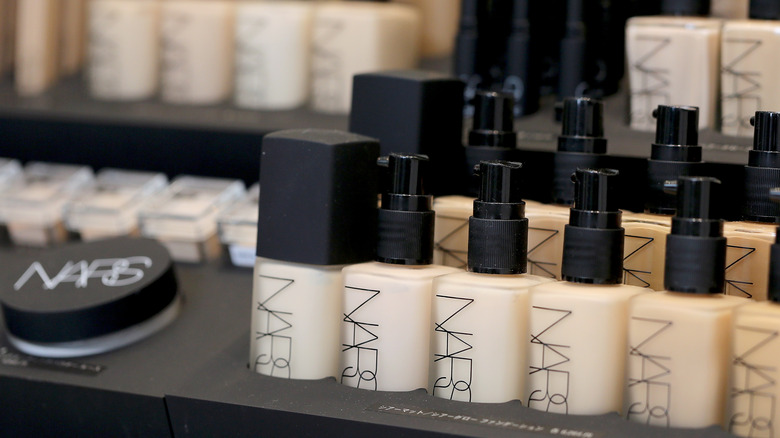 Yuriko Nakao/Getty Images
Understanding what you want out of your makeup and skincare products can help you decide which ones are right for you. Naseeha Khan, a professional makeup artist, told Martha Stewart that a skin tint is actually more like a serum because it's designed to provide little coverage and more of a glow. While it can make your skin look smooth and balanced, the main purpose is to provide that dewy radiant look without irritating the skin.
While some makeup products should just be avoided if you have sensitive skin, light coverage is ideal because the product itself is breathable and not heavy. Because skin tints provide the smallest amount of coverage, they seem to be the go-to option for those who are unfamiliar with face makeup or simply want to feel more hydrated throughout the day.
As the name suggests, a tinted moisturizer is thicker than a serum-like skin tint and hydrates the skin while also improving your overall complexion. It's an ideal option for those who don't love wearing foundation every day because it's lighter and sheerer but still provides that "put-together" look. However, InStyle does mention that the coverage of tinted moisturizers can range from sheer all the way to medium, so there may be more versatility with this option in your makeup collection.
It's all about personal preference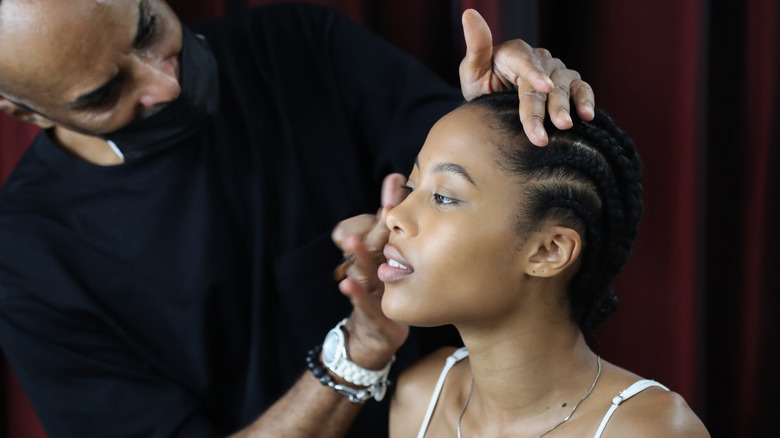 Manny Carabel/Getty Images
Whether you have acne or dry skin, want more coverage, or are looking for the quickest option in the morning, choosing between a tinted moisturizer and a skin tint will largely depend on your personal preferences. Of course, there are different occasions where one product might be more ideal than the other. For example, if you are experiencing some acne breakouts and want a little more coverage, going in with some concealer then using a tinted moisturizer will likely hide that redness and even out your skin tone more. However, a skin tint may be more breathable and less irritating to your skin.
Women's Wear Daily describes skin tints and tinted moisturizers as sisters because they both provide little coverage but enhance your skin's natural complexion. While all skin types can use skin tints, tinted moisturizers may be a better option for those with dry skin because of the beneficial ingredients that are designed to moisturize.
While many people struggle to keep track of the differences between these products, once you know, it can be hard to not want both. Some people actually choose to keep one of each in their collection so that options will be available depending on the day's activities, and if this is the route you choose to go, no one will be judging.