All The Heated Texts Released From The Royal Family Rift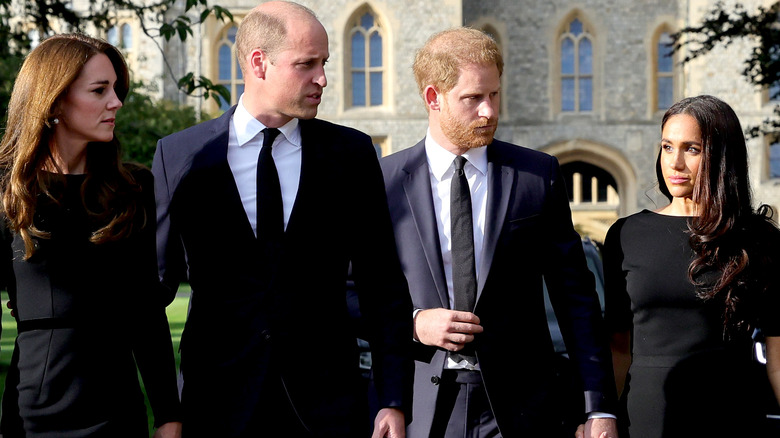 Chris Jackson/Getty Images
Meghan Markle and Prince Harry are two of the most noteworthy members of the royal family — senior royals or not — and they are also two members of the royal family who have very publicly been forced to contend with a lot of pain and drama from both within and outside of royal circles.
Not everyone has been on Harry and Meghan's side throughout their relationship, and in recent years the two have shared a number of private text messages that were exchanged between themselves and other members of their families that appear to back up the claims they have made of racial and personal prejudice and mistreatment. For example, in his 2023 memoir, "Spare," Harry hits out at claims that Meghan made her sister-in-law, Catherine, Princess of Wales, cry, and he produces text messages that support another version of events. However, those aren't the only text messages that have been released amid the royal saga.
Understanding Princess Catherine and Meghan Markle's pre-wedding spat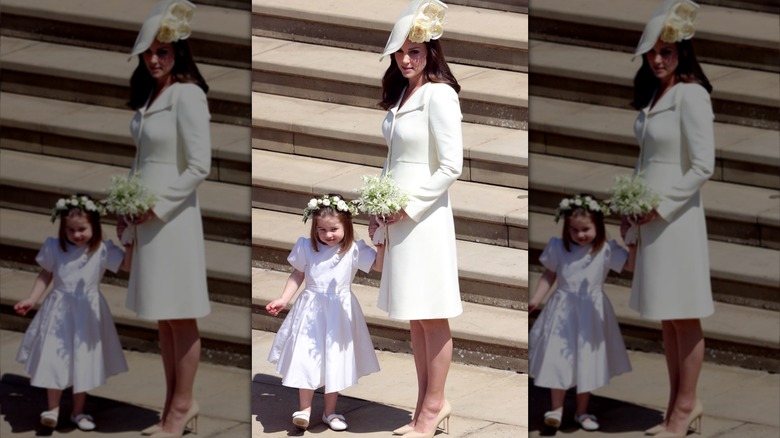 Wpa Pool/Getty Images
Rumors that Catherine, Princess of Wales, and Meghan Markle had some kind of falling out began circulating back in 2018 ahead of Meghan and Prince Harry's wedding in May of that year. At the time, it was unclear what exactly might have happened between the two women, but the dominant story insisted that Meghan had done something to make Catherine cry.
Author Tom Bower wrote in his book "Revenge" that a disagreement happened over Princess Charlotte's bridesmaid outfit, including the hem, fit, and absence of tights. He claimed that Catherine "burst into tears" because Meghan had compared Catherine's daughter Charlotte to the daughter of her friend Jessica Mulroney. The story persisted for years until Harry and Meghan addressed the rumor in their 2021 interview with Oprah Winfrey. While speaking to the talk show host and author, Meghan was asked directly if the rumor was true. She replied simply, "No, the reverse happened."
Meghan then took the opportunity to explain her side of the story. After noting that her goal wasn't to take Catherine down, she said, "It was a really hard week of the wedding, and she was upset about something. But she owned it, and she apologized, and she brought me flowers and a note apologizing. She did what I would do if I knew that I hurt someone, to just take accountability for it." However, the story persisted in the months that followed, and Harry attempted to shut down the rumors once and for all when he shared texts exchanged between the sisters-in-law in his book "Spare."
In his memoir, Prince Harry shared text messages from the spat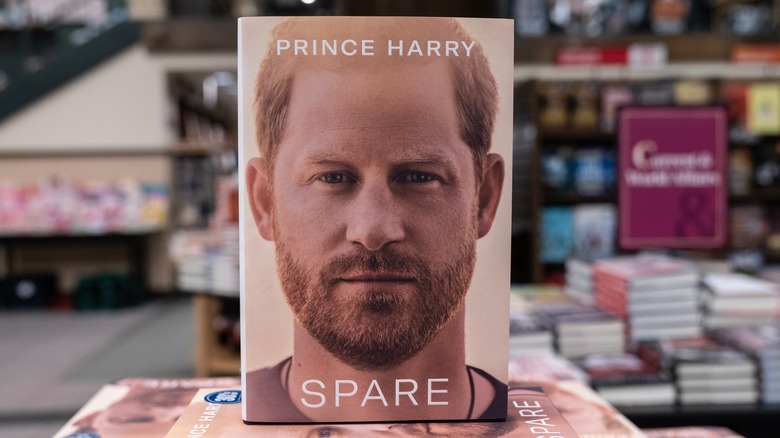 lev radin/Shutterstock
In his 2023 memoir, "Spare," Prince Harry makes it abundantly clear that he intends to defend his wife against the ongoing rumor that she made Catherine, Princess of Wales, cry. In the end, Harry does so by sharing the exact text messages reportedly exchanged between the two women. According to his account, Catherine initiated the disagreement. She texted Meghan about the bridesmaid dresses, writing, "Charlotte's dress is too big, too long, too baggy." She reportedly continued, "She cried when she tried it on at home."
Meghan reportedly agreed, but reminded Catherine that a tailor had been available since early that morning to adjust the dresses. After asking if Catherine will take Charlotte to the tailor, where the rest of the moms are having their daughters' dresses adjusted, Catherine replied, "No, all the dresses need to be remade."
Harry went on to explain that Catherine sought the opinion of her wedding dress designer, who apparently agreed that the dress needed to be remade. Meghan then asked her future sister-in-law if she was aware of the additional stress she was under surrounding her wedding, including her father not attending. Although Catherine acknowledged that fact, Harry wrote, "Kate had other problems with the way Meg was planning her wedding. Something about a party for the page boys? ... It went back and forth. ... A short time later I arrived home and found Meg on the floor. Sobbing."
Prince Harry and Prince William have had their own heated exchanges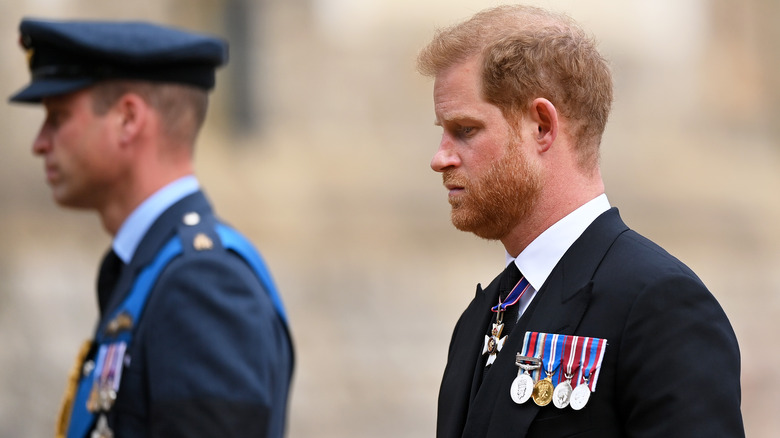 Justin Setterfield/Getty Images
Catherine, Princess of Wales, and Meghan Markle aren't the only members of the royal family who have battled things out via text messages. In their 2022 docuseries, "Harry & Meghan," Prince Harry and Meghan share that the younger royal and his brother Prince William have exchanged more than their fair share of heated texts.
In a scene that was filmed soon after Harry and Meghan's 2021 interview with Oprah Winfrey aired, Harry is seen showing his phone to Meghan, who pauses to read what's on the screen. Meghan first asks, "What am I looking at?" before adding simply, "Wow," and indicating to the camera that the text is from William. While neither Harry nor Meghan shares what the text was about, Meghan stands up, hugs Harry, and says, "I wish I knew what to do."
The text came through as Meghan was on the phone with the couple's friend, actor and producer Tyler Perry. Meghan is also shown reading an official statement from Buckingham Palace to Perry. The palace said in part, "While some recollections may vary, they are taken very seriously and will be addressed by the family privately. Harry, Meghan and Archie will always be much loved family members."
Amid the rift, Meghan Markle received texts of support from Beyoncé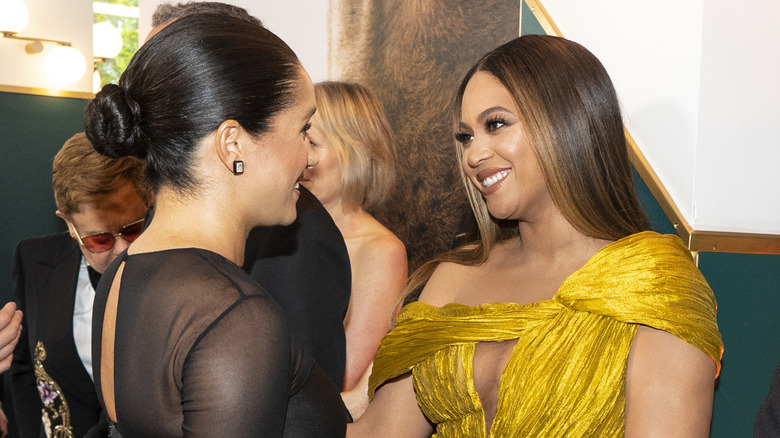 Wpa Pool/Getty Images
Not all of the text messages that Prince Harry and Meghan Markle have shared have been dramatic or negative. In fact, a few have been downright positive, including one that Meghan received from none other than Beyoncé.
In the sixth episode of the Netflix series "Harry & Meghan," Meghan tells her husband, "Beyoncé just texted." Harry then pretends to gasp and answers, "Shut up. Just checking in. Just casual." In a moment that is extremely "Stars: They're Just Like Us," Meghan marvels at the fact that Beyoncé is aware of who she is at all. She then reads the text to her husband.
Meghan says, "She said she wants me to feel safe and protected. She admires and respects my bravery and vulnerability and thinks I was selected to break generational curses that need to be healed." Meghan and Beyoncé had previously shared a moment at the premiere of "Lion King" in 2019, during which the two hugged and the singer referred to Meghan as "my princess" before the two joined their husbands in conversation about their children. At the time, Meghan and Harry's son Archie was 2 months old.
Meghan Markle's texts about her father were released in court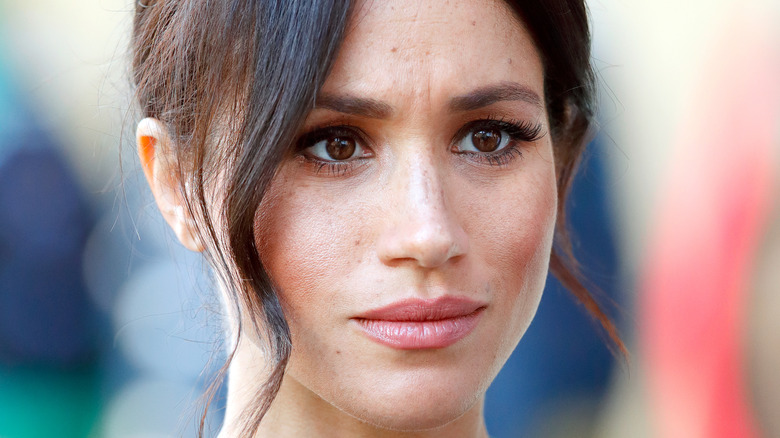 Max Mumby/indigo/Getty Images
Meghan Markle's troubled and dramatic relationship with her father Thomas Markle has been subjected to scrutiny almost as long as Prince Harry and Meghan's relationship has been public. Thomas famously backed out of attending Meghan and Harry's 2018 wedding at the last minute, telling his daughter and son-in-law that he was in the hospital.
A letter that Meghan wrote to Thomas about their relationship was published by the MailOnline and The Mail on Sunday; as a result, Meghan sued the publisher of the outlets, Associated Newspapers Limited, and eventually won her case. However, text messages that she and her father exchanged were also released during the court battle.
In the messages, Meghan explains to her former press chief Jason Knauf that she wants to write a letter to her father because of what her husband is enduring on her behalf. As she puts it, "The catalyst for my doing this is seeing how much pain this is causing H. Even after a week with his dad and endlessly explaining the situation, his family seem to forget the context — and revert to 'can't she just go and see him and make this stop?'" Meghan continued, texting, "They fundamentally don't understand so at least by writing H will be able to say to his family... 'She wrote him a letter and he is still doing it.' By taking this form of action I protect my husband from this constant berating, and while unlikely perhaps it will give my father a moment to pause.'"
Thomas and Meghan Markle have shared each other's text messages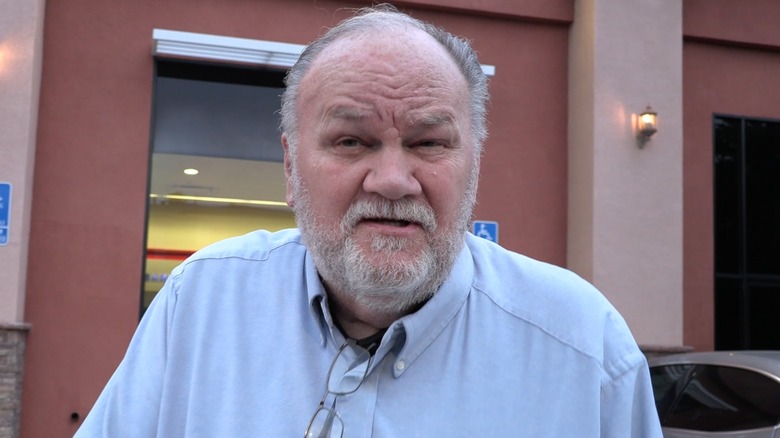 BACKGRID
In the third episode of Prince Harry and Meghan's Netflix series, "Harry & Meghan," text messages from Meghan to her father were shared. Not to be outdone, Meghan Markle's father, Thomas Markle, also shared text messages he sent to Meghan following the announcement that he would not be present at her wedding. He explained, in part, "The doctor will not allow me to fly so of course I'm sorry but I can't come love you and wish you the best of everything." In a separate text, he wrote, "'Who will be giving you away? If you really need me? I will come I'm sorry about all this."
In one message from May 2018, as shown in the Netflix series, Meghan wrote to her father, "Please can I ask that you stop talking to any press... You haven't returned any of our 20+ calls since we all spoke on Saturday morning; which only adds to the hurt you've been causing." Thomas replied, explaining to his daughter that he wasn't aware of the phone calls and that he believes he hasn't done anything to hurt her or Harry.
The two continued going back and forth, and Meghan admitted in the docuseries that the style of texting didn't resemble her father's, and she could only conclude someone else had his phone. However, Thomas later denied that claim. He told the Daily Mail, "I wrote every word that I sent from that phone which is still in my possession."