The Bold And The Beautiful's Kimberlin Brown Predicts What Could Go Wrong With Sheila's Latest Plans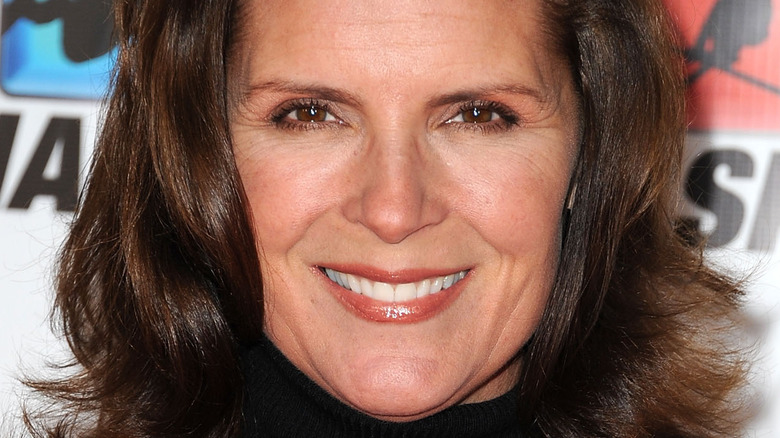 Allen Berezovsky/Getty Images
For over 30 years, the diabolical Sheila Carter (Kimberlin Brown) has been one of the most cunning characters on "The Bold and the Beautiful." Having committed countless crimes over the decades, Sheila often manages to escape punishment by the authorities. This time around — after shooting her son John "Finn" Finnegan (Tanner Novlan) and his wife Steffy Forrester (Jaqueline MacInnes Wood), leaving them for dead — Sheila was not prosecuted by the court. While in hiding after faking her own death, she stayed with Deacon Sharpe (Sean Kanan) and would sneak out every so often in disguise. While out and about, Sheila happened to strike up a friendship with the ruthless Bill Spencer (Don Diamont), and the two fell in love.
Recently, Sheila was captured, and Steffy and Finn planned to testify about the shooting, but Bill stepped in to stop them. Years ago, Taylor Hayes (then Hunter Tylo) believed that Bill had taken advantage of her daughter, Steffy. She went to his house to confront him, found his gun, and shot him in the back. Bill survived, and Taylor eventually confessed that she was the culprit. At the time, Bill agreed to stay silent, but in the present, he used the information to blackmail Steffy and Finn. If Sheila goes to prison, so will Taylor. The traumatized couple had no choice but to acquiesce, and Sheila is once again a free woman, now living with her new love, Bill.
Kimberlin Brown shared some interesting thoughts about how Sheila's current plans could go sideways.
Sheila's hidden feelings could undo everything
Sheila Carter and Deacon Sharpe began a physical relationship while she was hiding out at his apartment and grew to have feelings for each other. Now that she's with Bill Spencer, Deacon has implored her to leave the other man and reunite with him instead. Sheila has been hiding her affection for Deacon, and Kimberlin Brown recently spoke to Soaps about whether those feelings could jeopardize her relationship with Bill.
"The one thing she's ever wanted is love," Brown explained, adding that while Sheila was with Deacon, she knew their relationship wouldn't last. Regarding Bill's role in the story, the actress said, "Being the powerful man that he is, he can pull strings that other people don't even know exist. He can keep her safe, and he is providing her a life she always wanted." Sean Kanan also gave his thoughts, saying, "Deacon is already in so deep with this secret he's been keeping, that die has been cast. The new risk is the possibility of going up against Bill." Though he added that Deacon would be ready for the confrontation. 
Brown also explained that Sheila's relationship with Deacon was something the character hadn't seen before. "At the end of the day, she's a survivor," she said. "She's going to do whatever it takes." TV Season & Spoilers theorizes that Sheila might simply be using Bill and could possibly have an affair with Deacon. This story's outcome is impossible to predict, but we're sure enjoying it!