Who Are Nikki Haley's Children, Rena And Nalin Haley?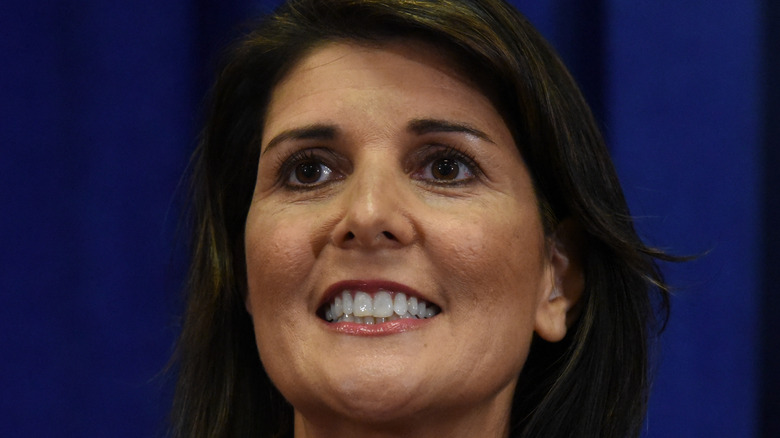 Stephanie Keith/Getty Images
As the 2024 election year draws closer, presidential hopefuls are emerging out of the woodwork. While candidates like Maryland's Larry Hogan and Senator Ted Cruz are still only rumored, South Carolina's former Republican governor Nikki Haley officially announced her campaign on Tuesday, February 14, making her the first official opponent of former President Donald Trump. "The Washington establishment has failed us over and over and over again," said Haley in a presidential campaign video posted to her Twitter account, adding, "It's time for a new generation of leadership."
Haley, who was born and raised in South Carolina, served as the state's first female and first Asian governor from 2011 until 2017. In 2017, she joined Trump's cabinet as the United States Ambassador to the United Nations, a position which she held until 2018. While only 4% of registered Republicans currently back Haley — 43% say they will vote for Donald Trump and 31% lean towards Florida governor Ron DeSantis, per Reuters — the former governor has pointed out a specific advantage. "When you kick back, it hurts them more if you're wearing heels," she said in her campaign announcement. In the coming year, Haley and her family will be in the national spotlight more than ever. With this in mind, who are her two children, Rena and Nalin?
Rena Haley works as a nurse and Nalin is a college student
After graduating from Clemson University in 2021 with a major in nursing and a minor in psychology, Rena Haley began working as a pediatric nurse in South Carolina, as evidenced by her LinkedIn. Rena's mother also attended Clemson, graduating in 1994 with a bachelor's in accounting, and has served on the school's Board of Trustees since 2021 (via Clemson News).
In July 2022, Rena got engaged to her long-time boyfriend, Joshua Jackson, a fellow Clemson graduate and a member of the school's football team. "He asked . . . She said yes! And just like that, we have another son. So proud and happy for both of them," wrote South Carolina's former governor in a celebratory Twitter post. As evidenced by Rena's Instagram, the pair met and started dating as undergrads. "1 year of dating my best friend and it has been nothing short of amazing," she posted in December 2019. The wedding is scheduled for April 2023.
Nikki Haley's youngest child, Nalin, is currently in his third year at Villanova University. "Our little one has finally picked his second home. Nalin is #GoingNova and we couldn't be more excited for him," wrote the presidential hopeful on Facebook in April 2020. Nalin posed with former President Donald Trump in a 2018 Instagram post.
Nikki Haley previously said she would not run against Donald Trump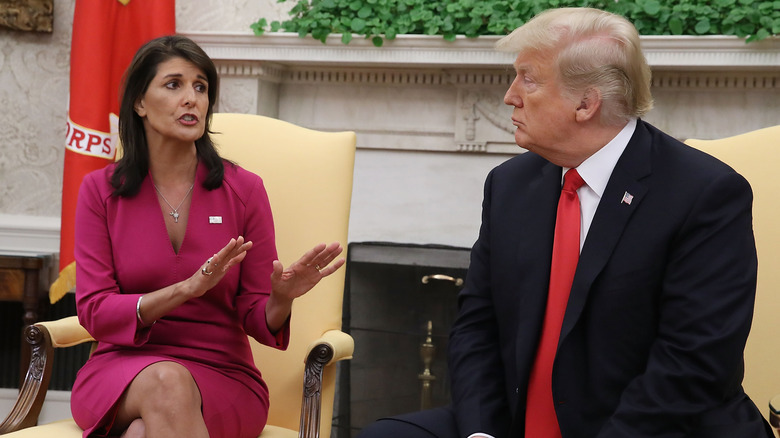 Mark Wilson/Getty Images
In 2021, Nikki Haley told The Associated Press that she wouldn't run against Donald Trump if he announced a 2024 campaign. "I would not run if President Trump ran, and I would talk to him about it," she said, adding, "That's something that we'll have a conversation about at some point, if that decision is something that has to be made."
Despite her contradictions, Haley's presidential aspirations have been rumored since 2018 when she resigned from her position as United Nations Ambassador. In 2019, the politician released a memoir, "With All Due Respect: Defending America with Grit and Grace," detailing the truth about her experiences within the Trump administration. Though Haley was widely praised by Republicans during her time as South Carolina's governor, the state's treasurer, Curtis Loftis, predicts a Trump victory in 2024. "I'm not aware of many Republicans that would be Haley supporters over Trump supporters," he said in a statement (per The New York Times).