Micro Makeovers: Why Pinterest Predicts Beauty Trends Are Simplifying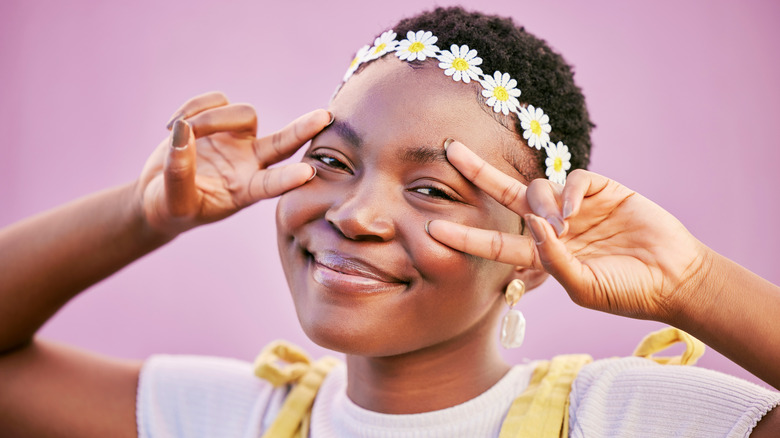 Peopleimages/Getty Images
Swinging to the extreme of "more is more" in the 2010s, beauty trends are now predictably pummeling toward the opposite end of the spectrum. After years of chasing a full-figured body standard — which was somehow popularized by the Kardashian family and not curvy women who have been killing it all along — we're seeing celebs removing their fillers and implants. It's even trendy to get buccal fat removal, aka losing fat in your face, though that's pretty much the last thing you want to do if you're hoping to look younger for longer. 
Beauty standards have never been fair, and their changeability is just one of the factors that make them impossible to invest in, attain, and keep up with. So, we'll have to start trusting ourselves on what's beautiful and forget the rest. Though, of course, we still love referencing looks for inspiration, which is where Pinterest comes in. 
Pinterest's trend report analyzed keyword searches on their site between September 2020 and 2022 to measure increasing interest in specific trends, allowing them to prophesize the looks of tomorrow. Pinterest's 2023 trend report is all about doing more with less, moving away from drastic alterations and toward more subtle shifts in artistic direction and vibe. From the invisible glitter makeup trend to five-minute makeup routines, it seems that minimalism is having its shining moment (outside of interior design) and might just simplify our routines while loosening our culture's chokehold on perfection.
We're aiming for natural-plus looks
Everything short and sweet has been gaining attention, according to Pinterest's findings on micro makeovers, with a reported 235% increase in searches for micro french nails and 110% growth in searches for micro bangs. But can trends' data really show us the future of beauty and lifestyle? Well, in the past three years of reporting, Pinterest has had an 80% accuracy rate for its predictions of major trends in the next year. So with up to 30 trends showcased per report, it seems likely that we can expect micro makeover vision boards to start coming to life in 2023.
With the skincare reset ushered in by the pandemic, we aren't jumping through hoops to achieve a fully beat face of makeup that might interfere with our skin's ability to breathe. Today found in 2014 that the majority of 2,000 women surveyed spent an average of 55 minutes on their beauty routines, and in 2016, Superdrug found that users took an average of 40 minutes to finish a beauty routine with 27 steps. In contrast, the company's 2006 study found it only took 17 minutes, per Yahoo!. 
We could chalk these increasingly intense beauty routines up to elaborate makeup looks glamorized by online celebrities, YouTube, and TikTok. But now, with over 40% of people spending less time on their beauty routine than we might think — averaging just 15 minutes! — we may choose to simply add flare to our natural looks rather than going all out.
Low-maintenance doesn't mean low impact
Alicia Keys went completely makeup-free in 2016, telling Us Weekly she'd become "addicted" to it. But in 2020, she launched her own skin nourishing beauty line, Keys Soulcare, and shouted out SPF mixed with a favorite illuminating serum in an Instagram caption we could all use: "Today's mantras 'I protect my inner light' + 'I give myself permission to glow!!'
Like Keys, many of us have started taking extra care of our skin since 2020 and may have added a serum or face oil to provide extra nourishment. As a result, we've learned that different product formulas can interact poorly on our skin and lose their effectiveness, so less really is more if we want to avoid pilling.
We may also be looking for minimal hassle when it comes to hair this year since Pinterest's trend report found searches for chopped bobs were up a staggering 550% between 2020 and 2022. Spending less time on our beauty routines, it only makes sense for us to have less hair to take care of too. With a drastic chop, we can cut down on the time it takes to wash, dry, and style our hair, not to mention how much product we'll save on our shorter locks. Short braid hairstyles were also up 45% in searches, indicating that we're about to swap out high-maintenance looks for low-stress styles that will stay put throughout the day.