Who Is Tom Sizemore's Ex-Wife Bold And The Beautiful Star, Maeve Quinlan?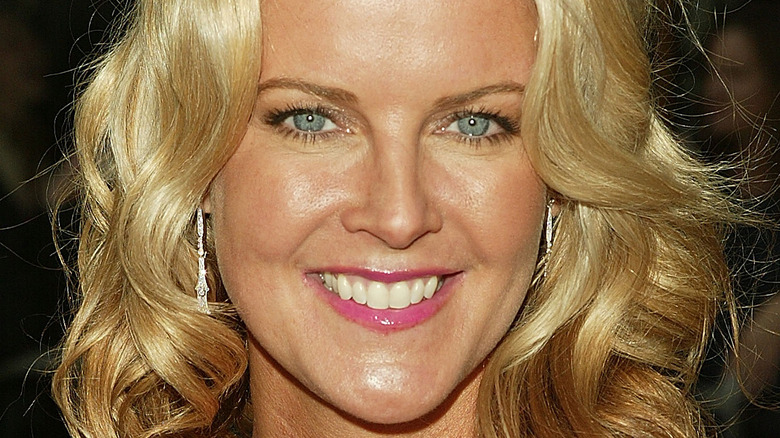 Peter Kramer/Getty Images
This article mentions domestic violence. 
Tom Sizemore, best known for his role in "Saving Private Ryan," has suffered a brain aneurysm and is in "critical condition," according to a representative (per Fox 11 Los Angeles). The 61-year-old actor's once renowned career peaked in the 1990s as a part of A-list casts in the films "Heat" and "Natural Born Killers." However, Sizemore started on a downward spiral after reportedly dealing with hard drugs, battery charges, and eventually bankruptcy, according to the Los Angeles Times. His reputation plummeted due to allegations of domestic abuse and sexual misconduct. Multiple rehab and jail stints filled Sizemore's years after his initial bout of success.
The actor's prognosis following his aneurysm is unknown. "He is in the hospital," Charles Lago, a representative of Sizemore, told Fox News Digital. "His family is aware of the situation and are hoping for the best. It is too early to know about [a] recovery situation as he is in critical condition and under observation."
With a life filled with scandals not unlike those of a soap opera, many are remembering Sizemore's ex-wife and "The Bold and the Beautiful" cast member Maeve Quinlan. Unlike her ex-husband, Quinlan's career has steadily risen following their split in the late '90s. What she's been up to in the meantime has been nothing short of impressive.
Before acting, Maeve Quinlan was a professional tennis player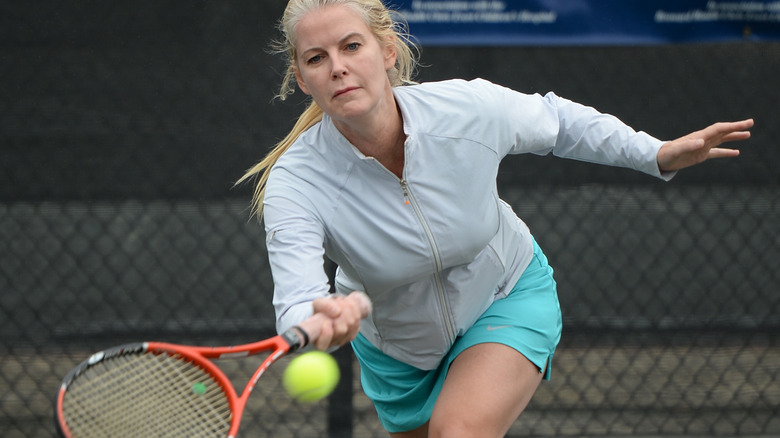 Larry Marano/Getty Images
Though recognized for her time spent on the screen, actor Maeve Quinlan had an exciting career predating her years in television and movies. Quinlan was a successful tennis player, attending both Northwestern University and University of Southern California on tennis scholarships as a collegiate athlete. In 1983 at just 18, Quinlan was one of the top-seeded players in the U.S. National Amateur Tennis Championships. 
Eventually she went pro and grew to fame in the world of tennis after the rise of the legendary Billie Jean King. "When I played tennis, it was the incredible golden era of Chris Evert and Martina Navratilova, who drew large crowds in Tournaments, but it was Billie Jean King that we have to thank for all of that," Quinlan told The Eden Magazine. However, her tennis career wouldn't get in the way of her true passion: acting. "I played as a professional for one year only because at USC, I was able to study my real love, which was acting."
While Quinlan is now dedicated to her career in acting, she hasn't set down the racket forever. Alongside other stars in the entertainment and sports industries, Quinlan has played in a number of celebrity tennis tournaments, including The Chris Evert Pro Celebrity Tennis Classic.
Maeve Quinlan and Tom Sizemore hung around in A-list circles in the '90s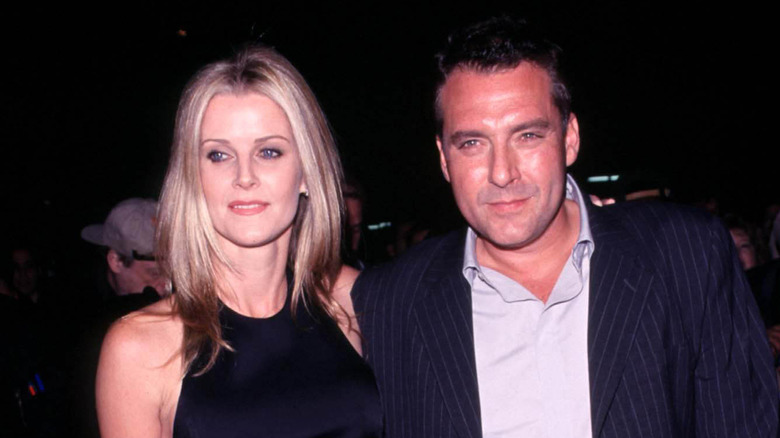 Evan Agostini/Getty Images
Maeve Quinlan and Tom Sizemore married in 1996, according to Fox News Digital. During that time, Quinlan starred in "The Bold and the Beautiful" while Sizemore took on high-grossing movie gigs. All seemed well during their three-year marriage from the outside, but eventually, Quinlan and Sizemore divorced in 1999. Quinlan hasn't publicly said much about their relationship, but Sizemore said, according to the Los Angeles Times, that the divorce was something he "didn't want." The outlet also reported that he implied his "career unraveled" following their split. 
Before their divorce, Sizemore got called in for an audition for what would become his most well-known movie, "Saving Private Ryan." According to the New York Daily News, director Steven Spielberg wanted Quinlan to accompany Sizemore to the audition, and reportedly asked her if he could "stay clean and sober." While Sizemore managed to get through the shoot for the blockbuster movie, he and Quinlan soon called it quits.
Maeve Quinlan wants to use her platform to speak out against domestic violence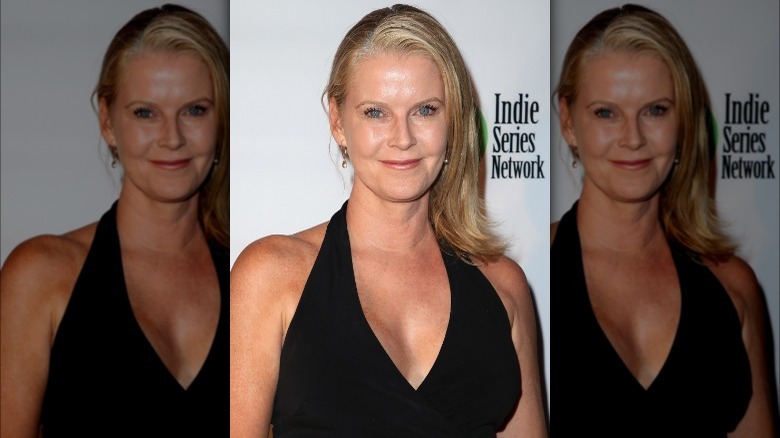 David Livingston/Getty Images
After their divorce, Maeve Quinlan dated other actors like Matthew Perry and Colin Farrell, but she has only married once. Quinlan spoke about her painful divorce to The Eden Magazine. While she did not name Tom Sizemore, she did mention being a survivor of domestic abuse. "I am finally ready to say this and make it public, that I am a survivor of domestic abuse, and that's something I intend to bring awareness to in my fifties," Quinlan said. "I didn't like to talk about it earlier because I was just grateful to be out of that marriage and out of harms' way."
Meanwhile, her career has elevated beyond just acting, with Quinlan adding writer and producer to her resume. "Now I have started to get into producing because as I was closing in on 50, the industry wasn't as 'excited' about that because they didn't know what to do with me," Quinlan said. However, she isn't hiding her age. "I am very vocal about [my age] because I want to help other friends embrace moving into your 50s," she said. "[T]here is so much value in it."