Kate Middleton's BAFTAs Look Revives A Glamorous Accessory Trend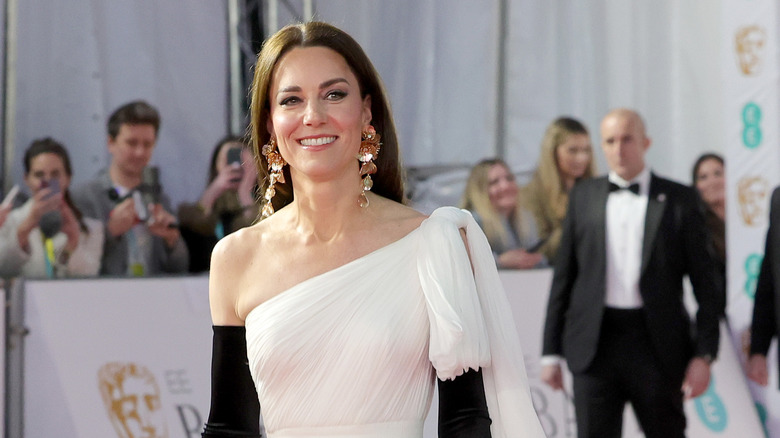 Chris Jackson/Getty Images
Ceremonies like the Golden Globes, the Grammy Awards, the Brit Awards, the British Academy of Television and Arts Awards (BAFTAs), and the Academy Awards make up awards season for the entertainment industry. This period of time from January through March allows us to look back at the previous year's standout songs, albums, films, and television shows on both sides of the Atlantic. What can often make just as many headlines as the nominees themselves is what everyone is wearing. 
In this way, fashion worn by A-listers at these award shows can sometimes reveal current trends and trends that will likely soon catch on. Despite the fact that the average person cannot afford most of the clothing worn by these stars (and the fact that outfits are often custom-made for the stars), people still enjoy seeing the glamourous and sometimes outrageous outfits on the red carpets. At the 2023 BAFTAs, Kate Middleton's look revived a glamorous accessory trend that you may want to try for yourself. 
Kate Middleton wore opera gloves to the BAFTAs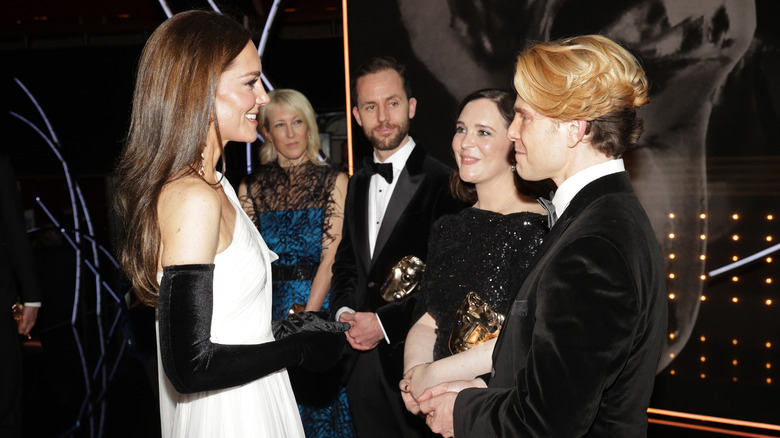 Chris Jackson/Getty Images
A frequent accessory has woven its way through the first few months of 2023, and it is incredibly reminiscent of old Hollywood glam. At the British Academy of Film and Television Awards (BAFTAs), Kate Middleton, Princess of Wales wore a white Alexander McQueen dress. However, this time around, she added a pair of black opera gloves. Not to be confused with evening gloves, opera gloves reach above the wearer's elbows. They first gained popularity in the Regency Era, and remained in style throughout the Victorian and then Edwardian Eras of the 1800s and early 1900s. Opera gloves were popular even in the 1940s and 1960s (per TV Tropes).
Some of old Hollywood's biggest stars wore opera gloves. For instance, the image of Audrey Hepburn in a black dress and black opera gloves to match remains iconic even 60 years after she wore the look in the film "Breakfast at Tiffany's" — complete with a tiara. Marilyn Monroe wore a pair of pink opera gloves in the film "Gentlemen Prefer Blondes" as well.
Beyoncé wore opera gloves at the Grammy Awards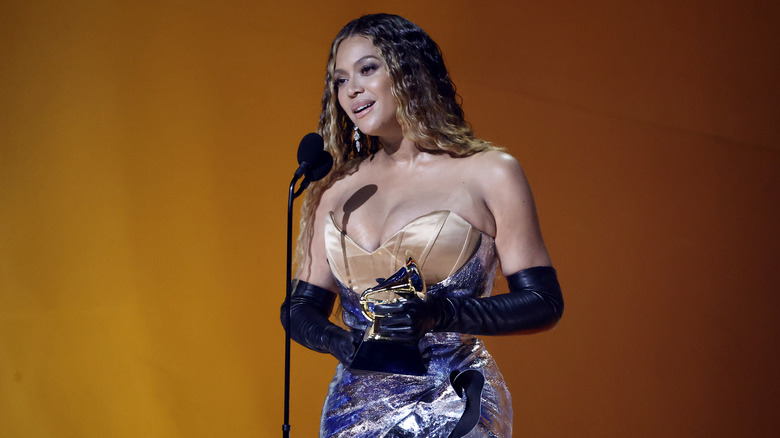 Frazer Harrison/Getty Images
Though opera gloves have existed for centuries, they have always evoked themes of high-class. Even the name "opera gloves" makes the accessory sound like they should only be worn to glamourous, formal events. "Initially they were used to determine a woman's wealth and status. Today, it's a frequently used accessory among international top-stylists," CEO of Handsome Stockholm Ingrid von Konow explained to Vogue Scandinavia. Opera gloves appeared on Regina Hall at the Golden Globes in January 2023. Then, at the Grammy Awards in February, Doja Cat, Bebe Rexha, and Beyoncé all sported them as well.
At the BAFTAs, Princess Kate Middleton followed an environmentally-friendly trend in fashion as well. Vanity Fair states that she had previously worn the white Alexander McQueen gown to another event. Most clothing is not biodegradable and 75% of what is produced ends up in landfills. Despite expressing desires to be more sustainable, many well-known clothing brands have not made these desires a reality (per Harvard Business Review). Wearing the same garment more than once before discarding it like Middleton did at the BAFTAs can help.