Looking To Save Money On Your Wedding? An 'Off-Season' Date Could Be The Answer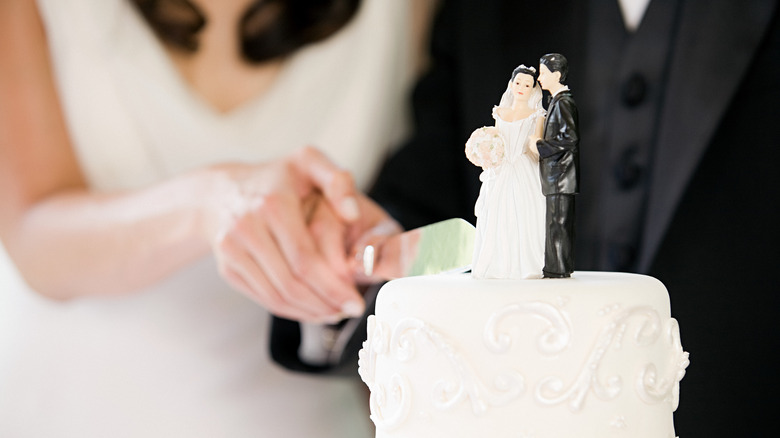 Image Source/Getty Images
You don't have to be a bride or a groom to know that if you want to follow the wedding trends, it can be astonishingly expensive. According to Zola, the average wedding price in 2023 is $29,000. Besides the price of the venue and the dress or suit, other expenses include catering costs, invitations, entertainment, and much more. That said, there's also the added pressure of choosing a suitable wedding date for you. Every season, of course, has its advantages and disadvantages. Winter weddings can be dreamy but tricky due to possible weather complications. Spring is an ideal time, but due to its popularity, you risk being unable to book the vendors you want.
With summer and fall, the heat might be unbearable, and guests might have other weddings to attend or vacation plans. Despite this, these seasons' natural beauty and long nights have increased their appeal. It might not be a surprise to learn then that "wedding season," which is defined as the most sought-after time to get married, extends from May to October. Arguably, the biggest downside to these months is their price. Simply put, a high demand equals a higher price. If you have a tight or limited budget, you might want to think twice about getting married in the summer or fall.
The rise of the winter wedding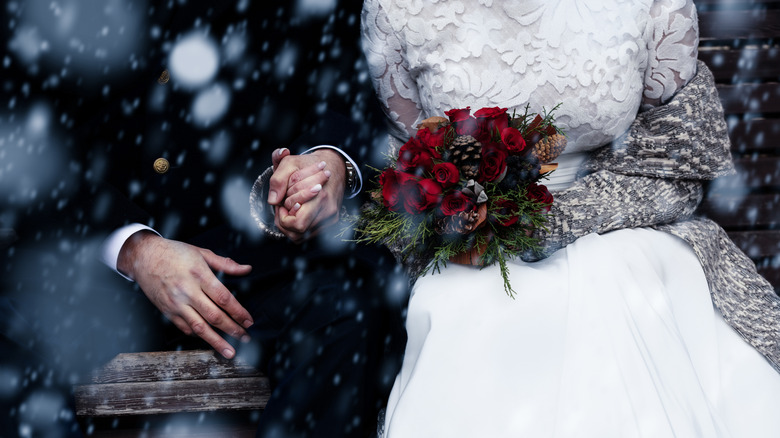 Kristinajovanovic/Getty Images
Suppose you're set on saving money for your wedding and don't have a specific date in mind. In that case, the winter season, also known as the "off-season," won't break the bank as much as spring, summer, or fall weddings. These include the months of November, December, January, and February. Keep in mind that December can be a busy month thanks to the holidays. Other factors to consider are the location of your wedding. For example, due to the sweltering heat, the off-season in the Midwest includes the months of July and August. Nevertheless, experts agree that getting married during the off-season, specifically winter, will get you more bang for your buck.
Because there is less demand for these months, the price of a winter wedding is lower than in the other seasons. Likewise, there's more possibility that the venue you want will be available and a better price than it would be during "wedding season." If business is slow during the winter months, vendors, florists, venues, etc., will likely be more flexible and open to negotiations. They might even be willing to cut some charges like the wedding cake-cutting fee.
You can splurge elsewhere with more money in your pocket, such as on your honeymoon. If you decide to have your honeymoon in winter and are looking to travel internationally, chances are it will be cheaper than if you were to travel during the peak travel season in summer.
The other benefits of an off-season wedding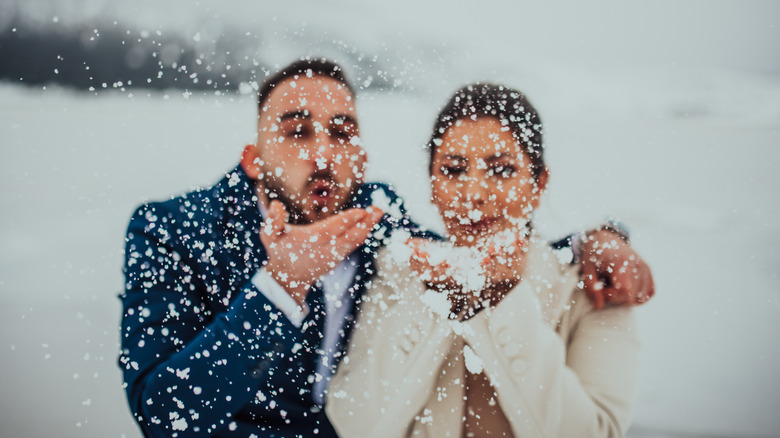 Minet Zahirovic/Getty Images
Per The Knot, winter weddings have increased in recent years. In 2022, 11% of couples had a winter wedding with good measure. Saving money is one of many perks; a slower demand means you'll have fewer logistics to worry about. Wedding venue owner Debbie Ley told Brides, "Fall is tough for vendors and venue owners as they're juggling so many events, brides, families, vendors, and logistics. You'll have more flexibility to come in and set up early or break down late, as there's likely not another event right after yours that the venue needs to prep for right away."
The slowness of the winter months means may receive your wedding video and photos earlier than if you have a wedding in the spring or fall. There's also more chance you'll be able to pick the day of the week you want your wedding on. However, having an off-season wedding benefits more than just the individuals walking down the aisle. There are advantages for guests, especially if they have to travel to attend the wedding. Plane tickets and other travel accommodations are usually cheaper during winter as well. Most importantly, with a winter wedding, guests won't have to deal with an overwhelming amount of heat and humidity that can risk making them feel uncomfortable throughout the big day.