What You Should Know About Redensity Fillers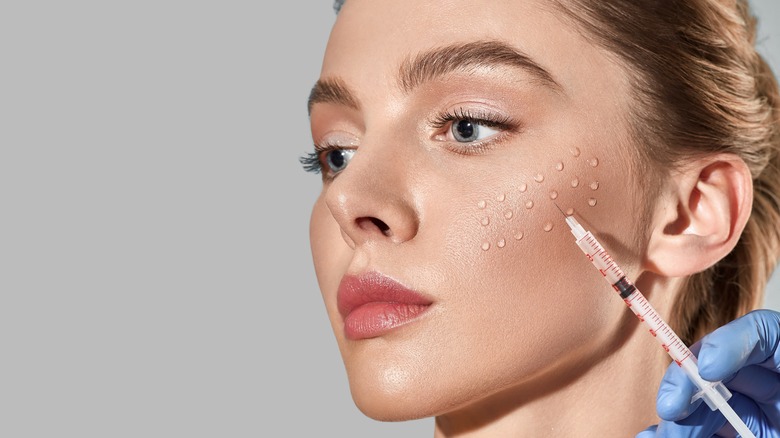 Peakstock/Shutterstock
In case you haven't noticed by now, dermal facial fillers are taking the world by storm. They are, in essence, injectables that target a variety of cosmetic concerns, including plumping the lips, smoothing fine lines and wrinkles, contouring jaws, and even reducing the appearance of scars. They blew up in popularity largely because they're non-invasive, require barely any recovery time, and best of all, the results can be seen almost immediately.
Unlike Botox, which primarily works to relax the facial muscles, fillers are engineered to "fill" your skin with volume, hence the name. Fillers can help in both boosting sagging skin and filling out wrinkles and fine lines, explained Beverly Hills-based dermatologist Dr. Simon Ourian (to Glamour). The longevity fillers have is quite impressive, too, with most lasting between 12 to 18 months. And thankfully if you're not happy with the results, you can also have it easily reversed and have your filler dissolved.
The dermal fillers you choose depends on what skin concern you want to address, but the most popular options are HA fillers, or hyaluronic acid fillers, which are touted for their ability to offer a more youthful appearance. "Hyaluronic acid fillers add volume and decrease wrinkles all in one visit, with results that typically last six months to a year," dermatologic surgeon Dr. Michelle Henry told Byrdie. "HA fillers can stimulate collagen production, which leads to fresher-looking skin, and can be used for preventative reasons, to combat volume loss and fine lines earlier on in the aging process." If facial lines are your primary concern, HA fillers like Redensity are ideal.
What are Redensity fillers?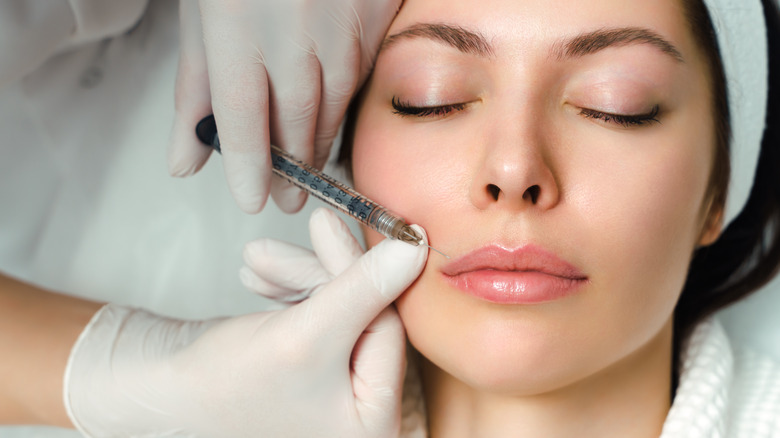 Aleksandr Rybalko/Shutterstock
Redensity fillers can also act as a form of supercharged skincare too, at least according to experts. Per the Evening Standard, these hyaluronic fillers contain a cocktail of amino acids and antioxidants, minerals, and vitamin B6. "So it's got all of those other ingredients that are the best of what you get in over-the-counter products — but in injectable form, meaning you get a much higher concentration than you would with topical application," explained Dr. Christine Hall.
According to Pharmaceutical Technology, Redensity fillers work best to reduce the appearance of perioral rhytids, or what most people know as lip lines or "bar code lines". A clinical study found that most patients electing to have these fillers injected can enjoy results for up to 12 months. It's also worth noting that Redensity fillers are FDA-approved, with Dr. Ava Shamban, a board-certified aesthetic dermatologist, telling Glamour that they "improve the appearance of the tissue around the mouth by increasing hydration and infusing amino acids and antioxidants." And per dermatologist Dr. Amelia Hauser, "those little cheek lines and those under the eyes are nice areas to treat. So are the horizontal lines on the neck, which is an area where I've been using it a lot because the filler is delicate and thin, so it doesn't tend to get as lumpy under the skin," (via InStyle).
Is Redensity right for you?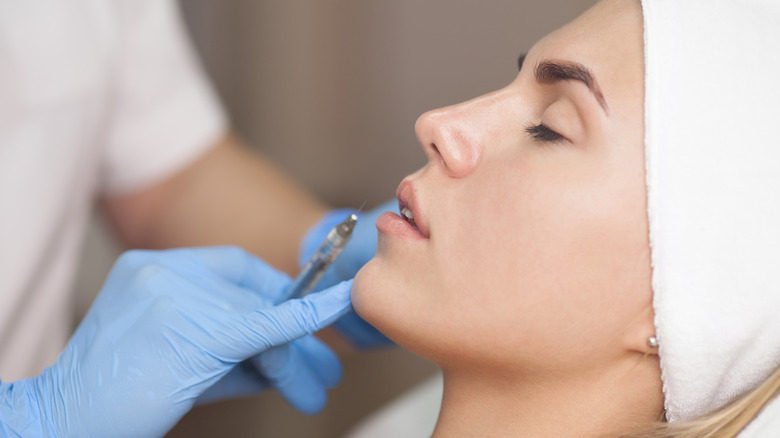 LTim/Shutterstock
As with all cosmetic treatments, you should always first and foremost consult with a professional before doing anything related to injectables like Redensity. But Dr. Wassim Taktouk, an advanced aesthetic doctor, says that "as a rule, for younger skins wanting to improve skin health, hydration, skin protection and a get a 'wow' glow I would direct to Teoxane Redensity 1," (via Harper's Bazaar).
Fair warning, though, you have to be prepared to be injected more than a handful of times. Dr. Christine Hall revealed to the Evening Standard that around 50 rounds of injections are involved, but numbing cream is applied to reduce discomfort. No pain, no gain, right? The results can be well worth it, though. "In the first few days skin starts to look more dewy and hydrated," she added. "Between four and eight weeks after the treatment, your skin starts producing more collagen and elastin — that's when you get a plumping effect which really helps to reduce fine lines and signs of tiredness, as well as improve texture."