What To Know Before Getting Facial Fillers In Your 20s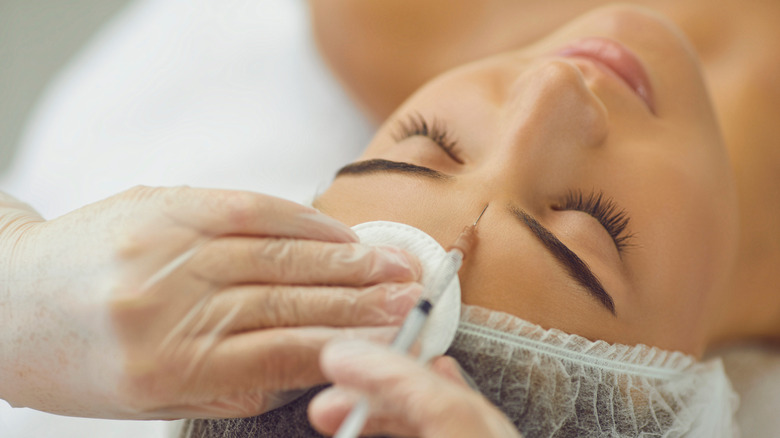 Shutterstock
Having dewy, plump skin is now a priority, particularly if you're keen on following TikTok trends. Influencers, celebrities and beauty enthusiasts alike now aspire to propagate plump skin all over the internet with themselves as the gold standard. While some stick to a strict skincare regimen, others opt for artificial treatments such as fillers. As a result, people are signing on their plastic surgeon's dotted line earlier and earlier.
Cosmopolitan reports that dermal fillers originally gained popularity among women over 40 in the 1980s, but now, women in their 20s have taken up the trend. A plastic surgeon the outlet interviewed noted that some of her patients were as young as 19. Between 2009 and 2014, injections among those in their 20s increased by nearly a third, according to the American Society of Plastic Surgeons. Nowadays, fillers are more readily available than ever — spurring the increase in treatments. "Dentists, ob-gyns, and other medical professionals are offering fillers because they see how lucrative it can be," Norman Rowe, M.D., a plastic surgeon, explains to the outlet.
According to Allure, you probably aren't hallucinating: your face can start to sag slightly in your 20s. The outlet notes that hyaluronic acid injections early in life can help mitigate this phenomenon and stay ahead of the curve. Plus, after they fade, the build-up of this acid can spur collagen production for longer periods of time — keeping your skin supple and smooth. Consider these types of treatments first. 
Starting early with under eye skin isn't a bad idea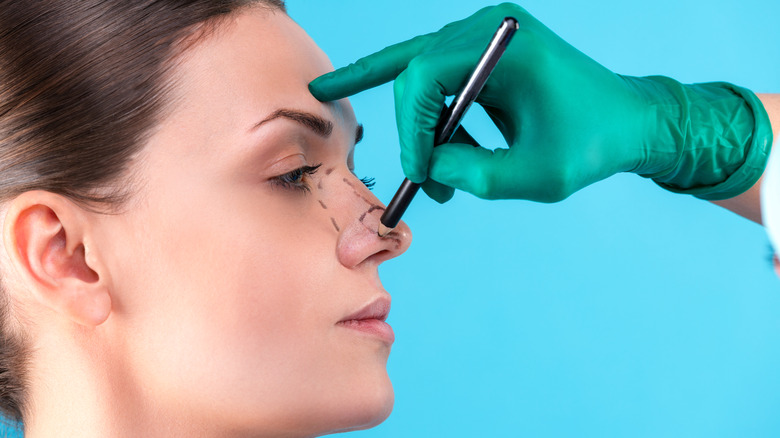 Shutterstock
If you're thinking about heading to a plastic surgeon early in life, note a few spots that may be particularly beneficial to work on during this time. For instance, your under eyes may actually respond better to treatment. "I treat patients in their twenties who've inherited premature bags or hollows," dermatologist Karyn Grossman tells Allure. "We get better, more lasting results under the eyes when the skin is still thick — you don't want to wait until you're forty for this."
Plus, those who need just a gentle lift can actually use a specific type of filler to do the trick. Two types of fillers — Dysport and Xeomin — offer the lift many are after, but without the immobility that characterizes many treatments, according to the outlet. If you notice pronounced lines, consider these types of fillers rather than a more intense product. That way, you'll have less of a tolerance to the drug later in life, making it more effective for longer.
Cosmopolitan adds a word of caution for those seeking a full facial treatment in their 20s — ensure your doctor knows not to overdo it. Since many doctors are used to the full treatment for those over 40, make sure you make it clear that you want to start slow. Indeed, too much filler can have the opposite effect on youthful skin, adding years to your skin. To ensure you're undergoing a filler treatment for the right reasons, the outlet recommends asking yourself if you're attempting to follow a trend or if you really want to change up your look.