General Hospital's Jon Lindstrom Has Nothing But Praise For His Co-Stars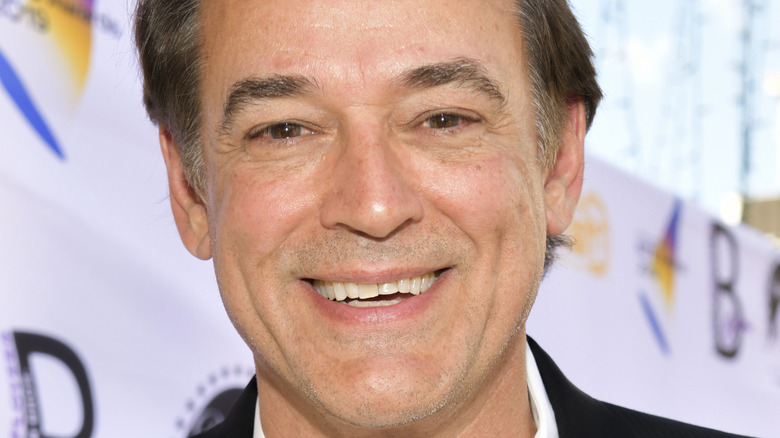 Rodin Eckenroth/Getty Images
On "General Hospital," two equally intense storylines — the first about villains terrorizing Port Charles and the other about personal betrayal — are finally coming to a head. Dr. Portia Robinson (Brook Kerr) has kept secret for 20 years that her just-married husband, Curtis Ashford (Donnell Turner), could be the father of her daughter, Trina Robinson (Tabyana Ali) rather than her ex-husband, Marcus Taggert (Réal Andrews). 
Just a short time after Curtis and Portia tied the knot, Trina learned that her mother was keeping a secret from them. She confronted Portia and the awful truth came out, jeopardizing Curtis and Portia's marriage. Meanwhile, serial killer Ryan Chamberlain (Jon Lindstrom) and the homicidal Heather Webber (Alley Mills) escaped from the Shadybrook sanitarium. Heather was revealed to be the maniac plaguing the city known as The Hook. The duo also took their daughter, Esme Prince (Avery Kristen Pohl) on a wild ride with them. The amnesiac and pregnant Esme doesn't recall all the evil things she's done and was one of the first suspects in the Hook murders. 
Now the three are on Spoon Island and are holding Felicia Jones (Kristina Wagner) and Ava Jerome (Maura West) hostage, with a wounded Austin Gatlin-Holt (Roger Howarth) bleeding out from Heather's hook. The tension was running high as Esme's water broke, and the police tried desperately to find a way to subdue the villains without getting anyone killed. And, as it turns out, one of the actors was just as impressed as the fans.  
Jon Lindstrom was all over soap opera Twitter
Jon Lindstrom took a moment to praise his co-stars for their work on the latest dramatic episode, tweeting, "Tuned in to watch myself & wound up being captivated by the 1st-rate work of @brookkerr and @donnellturner1. Something about watching talented actors portraying intelligent adults trying to honestly confront past mistakes is just compelling." Soap Hub recognized Lindstrom's stellar performance, too, writing, "Congratulations to #JonLindstrom for getting #SoapHub Performer of the Week honors!" 
Fans overwhelmingly applauded Lindstrom too, with one stating, "He is such a great actor. The way he goes from Ryan to Kevin and back again is phenomenal!" Lindstrom retweeted Soap Hub's post, noting, "Well, thanks very much @Soap_Hub! Always appreciate a little compliment. But you [know], one never does it alone." One thrilled fan responded, "When Ryan was at the door at Wyndemere ... I *literally* SCREAMED out loud! I cannot think when was the last time I did that!"
Another gushed, "I'm also drawn in while watching you Jon as Ryan. You don't overplay it as a bad evil guy; More like a guy who IS bad but believes in what he's doing." One viewer summed up everyone's thoughts succinctly: "#sprina @nicholasachavez and @iamaliford also knocked it out of the ballpark. You did too. The look on Kevin's face when Laura told him Esme was Ryan's daughter was priceless. ... The episode was #gh at his finest."