The British Skincare Line Beloved By TikTok To Keep On Your Radar
If you have replaced your makeup bag and shower lineup with new products you've seen on TikTok, you aren't alone. According to Shopify, so many people are looking to the social media app for what they buy that by 2025, it is expected that $79.6 billion will be spent through it. But even more than just buying power, TikTok is bringing brands and people together with 73% saying that they bought a product due to feeling like they had a relationship with the brand, even if they weren't intending to purchase anything that day.
Knowing this, it makes sense that so many brands are turning to TikTok to help promote their product. And while not every brand finds success, and there are certain beauty trends that will ruin your skin, some are flourishing by posting videos and forming connections with their followers. One such brand is a British skincare company that has been making waves throughout the TikTok beauty community. In fact, Refinery29 is touting it as the "next big thing in skincare." Here's why you should keep this skincare line on your mind when looking at the signs it's time your skin needs a new routine.
People from everywhere are flocking to Facetheory
If you haven't heard of Facetheory yet, get ready to. The British skincare line has made waves through TikTok and people are taking notice. A quick search of #facetheory shows over 60 million views, many of which are of videos made by the company. But instead of posting ads, Facetheory is instead posting relatable content, including skincare routine videos where users apply their products in their daily routine and even inside looks at how they make their products.
But beyond their own content, creators have also taken note of the brand. Dr. Simi Adedeji, who has over 3 million followers on TikTok, posted a viral video about clogged pores, recommending the Facetheory Clarifying Cleanser as a great option to remove blackheads. TikToker @dermatologist.mia posted a video recommending cleansers that won't clog pores, and the Facetheory Supergel Moisturizer made her list. So if you're ready to hop on the trend, there are a few Facetheory products you'll want to try.
The Facetheory products you'll want to get your hands on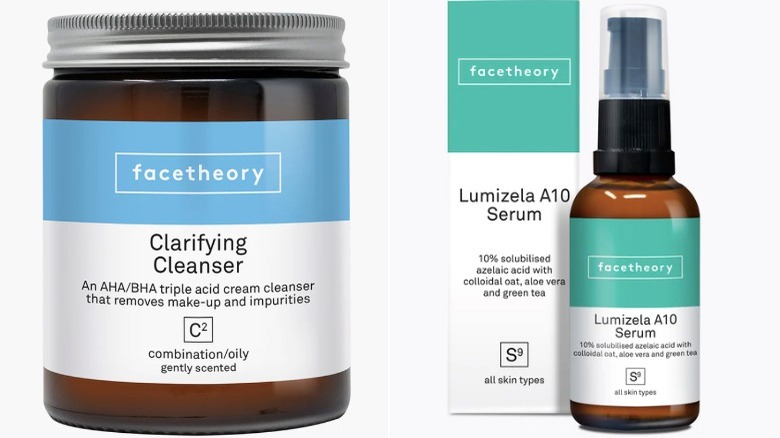 Facetheory
Facetheory is getting a lot of traction — and for good reason. Not only are the products vegan, clean, and effective, but they are also relatively inexpensive. They have a ton of different products depending on your skin woes, from anti-aging to anti-breakout, so you'll be able to find just about anything you need for gorgeous skin.
If breakouts are your concern, their line of anti-breakout products is a perfect option. The Clarifying Cleanser is great for removing makeup and buildup and is ideal for oily or acne-prone skin. If you are looking for a serum, consider their Lumizela Azelaic Acid Serum A10, which is plant-based and helps with acne, rosacea, and hyperpigmentation. If you want to fight aging, the Amil-C Whip Daily Defence is a must. It brightens your skin and minimizes pores, all while fighting acne, reducing redness, and making your skin look younger. If you are newer to the vegan skincare game and don't have a specific worry, start out with their Vitamin C Cream Cleanser, which is way better than your average soap and good for all skin types. No matter which product or products you choose to use, you'll likely be joining your fellow TikTokers in raving about Facetheory in no time.