The Visia Scan Takes You Beyond The Surface Of Your Skin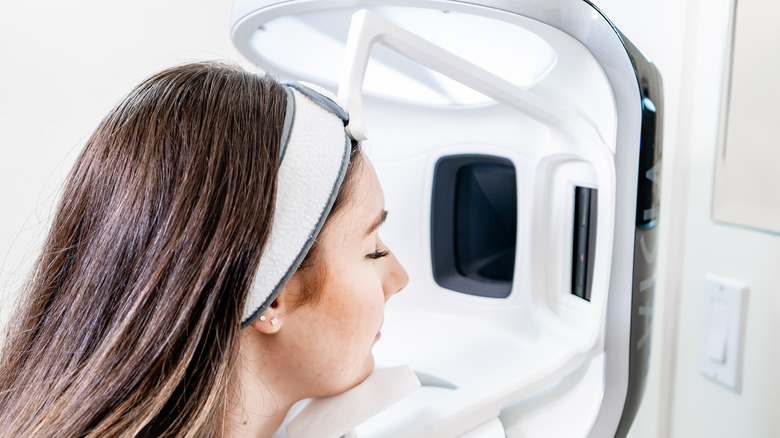 thoughtsofjoyce/Shutterstock
Do you sometimes feel like you're playing a guessing game with your skin? We can totally relate. Without medical-grade knowledge, it can be challenging to pinpoint skin problems or correctly identify skin triggers. Dermatology consultations can also cost hundreds of dollars, so it used to be much easier to self-skincare and hope for the best.
That is — until Visia scans became available at your local esthetician. Visia machines provide more skin-care-focused information than other 3D body scanning machines. They take you beyond the surface of your skin, analyze, and provide critical assessments. You can be confident of precise results, as The Dermatology Center of Atlanta states that Visia's analysis offers accurate insight into the state of your dermis.
These scans aren't entirely new technology, despite what social media would have you believe. However, the excitement about them might seem justified when you consider just how much information they provide after scanning for only 20 minutes. Even better? The information can double as an assessment of your skincare efforts so far.
The Visia scan shows your skin age vs. your real age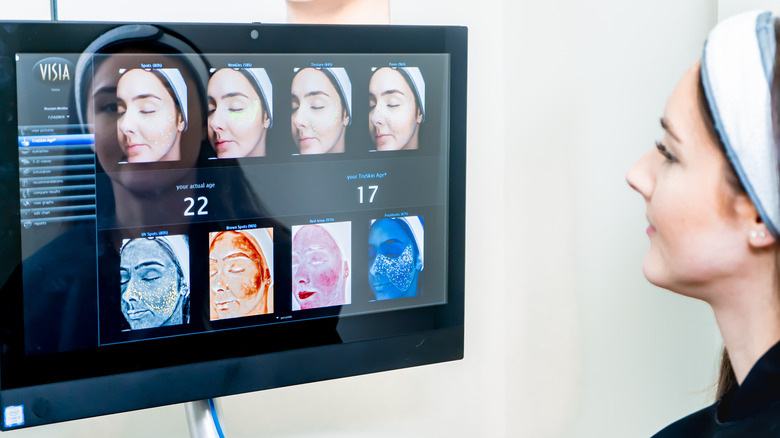 thoughtsofjoyce/Shutterstock
Visia scans measure your skin age versus your actual age by considering several factors, including your UV spots and sun damage. UV spots are a sign that you're getting too much sun, so this analysis can help you see if you need to beef up your sunscreen game. Visia scans also measure pore size and check for how much bacteria are in them, which can be extremely helpful if you're battling acne or any other skin issues.
Another vital thing that Visia scans reveal is your pigmentation level. A pigmentation analysis will show you how naturally colored or toned your skin is. Pigmentation disorders are one of the major causes of abnormal skin coloration, however, since we don't keep hourly track of changes to our skin, it's really easy to miss discoloration spots.
Visia scans also analyze skin texture as well as wrinkles and their patterns. This information is critical in assessing and guiding your anti-aging goals. Visia machines use all the collated data to compare your skin's age versus your peers. What's more, you can also get an accurate picture of what you'll look like when you're 80.
The Visia scan isn't expensive, and there's an at-home dupe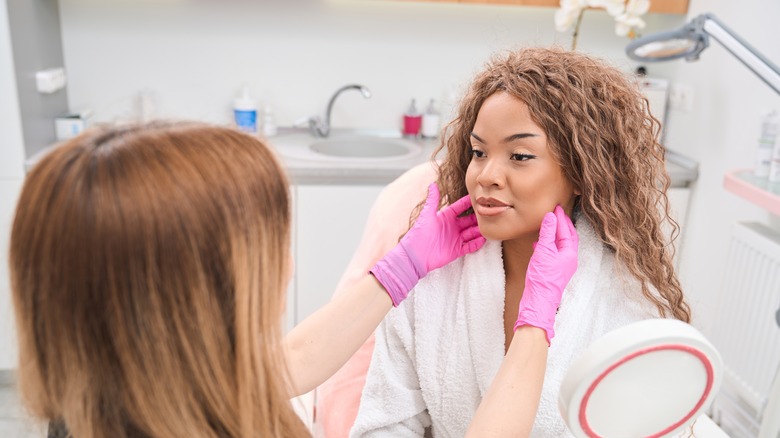 Yakobchuk Viacheslav/Shutterstock
With all the information it provides, we figured a Visia scan would set you back at least a hundred dollars — we were wrong. Visia scans typically cost $45 to $70, with the more expensive options offering one-on-one consultations to discuss your results. 
Preparing for your consultation is easy too. You should do your routine as usual, but makeup and sunscreen aren't advised, as they can affect the accuracy of your results. And that's it! Before the consultation, your esthetician or skin therapist will assess your face and then prepare you for the scan.
If you wish you could have a Visia scan anytime, you might be pleased to find that there's actually an Amazon dupe. No, we do not mean getting your face scanned on Amazon, we mean updating your collection of expensive beauty tools that are worth the price with this $179 find. The Professional Portable Facial Skin Scanner uses "filtered long-wave UVA light" to scan beneath the epidermis so you can analyze your skin. The manufacturers will email you a manual explaining how to use it correctly after purchase. This machine is CE-certified but doesn't come with the professional knowledge that a Visia scan does. Still, it's an incredible tool to guide your anti-aging skincare efforts.