The Mini Face-Lift May Be A Better Choice For Your Anti-Aging Goals. Here's Why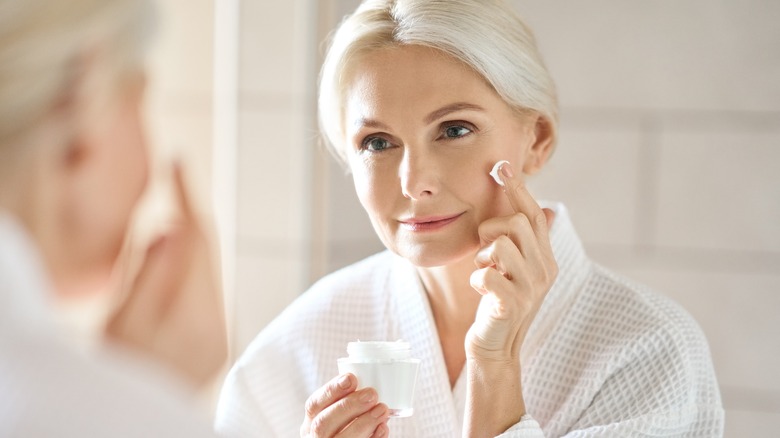 Ground Picture/Shutterstock
Face-lifts are one of the most effective ways to combat aging, wrinkles, and sagging skin. They are more effective than skincare routines and anti-aging creams and serums. During standard face-lifts, surgeons remove and sculpt fat deposits on the face and neck. When it's at the desired shape, they refit the skin and snips off any excess. This results in the firm and sag-free look that face-lifts are known for. Standard face-lifts are as thorough as they are sound, so it is no surprise that they cost at least $8,000 and require four to six weeks for recovery.
Considering this, many people spend months deciding whether a face-lift is right for them. If you've been toying with getting one but would rather not have such an invasive surgery, we've got an alternative that will thrill you. Introducing the mini face-lift, a far less invasive procedure that may be a better choice for your anti-aging goals.
The less-invasive 'mini face-lift' may be a better choice for your anti-aging goals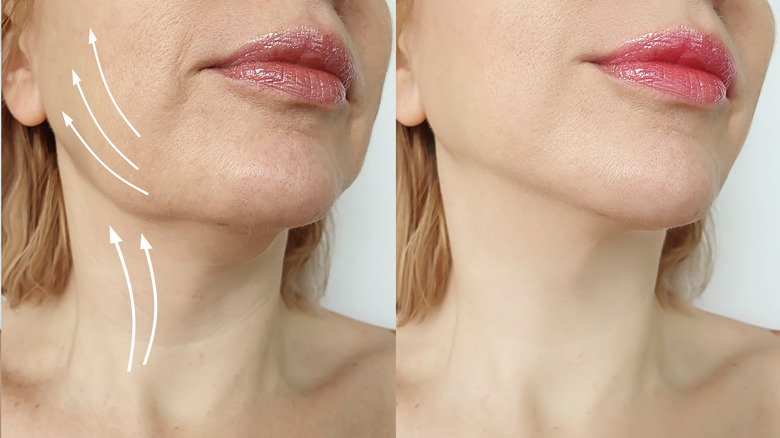 TanyaLovus/Shutterstock
Mini face-lifts are the quicker alternative to standard ones. They are called "weekend face-lifts" because they require little time — especially compared to standard face-lifts. While a standard face-lift surgery takes up to six hours, you can expect to be done with your mini in less than two. The large difference in time is because of how a mini face-lift is done.
According to the University of Utah Health, the surgeon starts by cutting out a "narrow S-shaped section" in front of the ear. The location and incision shape allow them to operate without any cuts to the neck. Next, the surgeon uses sutures to "pull the underlying fat and muscle toward the cheekbone" before sealing the cut up.
This gives the cheeks and beneath the jawline (also called jowls) a firmer look. Minis are the perfect procedure for people above 40 with significant (but not extreme) amounts of fatty deposits and loose skin looking to tighten up their jowls without major scarring. The incision is sewn very close to the ear, and you can cover the scar with makeup.
The mini face-lift alone may only meet some of your anti-aging goals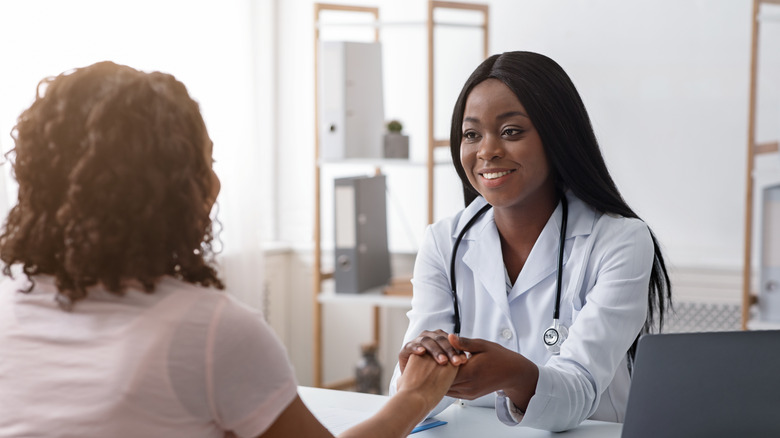 Prostock-studio/Shutterstock
This is the part where you wonder if a mini face-lift is as effective as a standard face-lift, and the answer is no — they are called minis for a reason. Mini face-lifts do not tighten saggy neck skin as well as standard face-lifts. One important fact you should know about mini face-lifts is that the package or the areas touched slightly differ from surgeon to surgeon.
Eric Cerrati, the director of facial plastic surgery at the University of Utah Health, explained in an interview that "there is no consensus" about what the surgery entails. So, it would help if you got a clear explanation from your surgeon. You should also know that mini face-lifts are less comprehensive than standard ones, so the effects don't last as long.
Matt Hershcovitch, a double board-certified facial plastic surgeon, suggests that mini face-lifts be refreshed after about 10 years but explains that standard ones can last 20. If you're planning a mini face-lift, be sure to invest in a skincare routine for aging skin and foods that prevent wrinkles. One final tip is to ensure you consult a licensed and registered surgeon to ensure your health and safety are not compromised.